SONS OF DEWITT COLONY TEXAS
© 1997-1999, Wallace L. McKeehan, All Rights Reserved

Braches House 1998. The following is the "statement of significance" for this home of the Charles Braches family in the national register. The restoration of the exterior of the house in near completion in summer 1998 (photo). From this view the Runaway Scrape Oak (below) and the McClure-Braches Cemetery is to the right in front and back of the house, respectively. The site is about 12 mi southeast of Gonzales on US 90A on the left just after the Peach Creek bridge, about an eighth of a mile from the highway where a State Historical Marker for the Runaway Scrape Oak stands.
"The Braches home, twelve miles southeast of Gonzales, Texas, is a handsome Greek Revival plantation house and stage stop, built while Texas was an independent republic. The building is large and its full two-story Greek Revival gallery was quite advanced in comparison to most of the structures of inland Texas at this time. In front of the house there is a large old live oak that is marked by the State of Texas as the site of at least one significant incident in Texas history. It is said to have been Sam Houston's location on March 11, 1863, nine days after the signing of the Texas Declaration of Independence, when as Commander-in-Chief of the Texas Army he heard of the fall of the Alamo. It was there that he sent orders to Fannin to retreat from Goliad, and made plans for his men to fall back in order to induce Santa Anna to divide his forces in pursuit. Panic took the settlers and most abandoned their homes to flee east. This event is known as 'The Runaway Scrape,' the tree as the 'Runaway Speech Oak' and the Sam Houston Oak. Santa Anna is supposed to have followed and stayed in this same location for three weeks."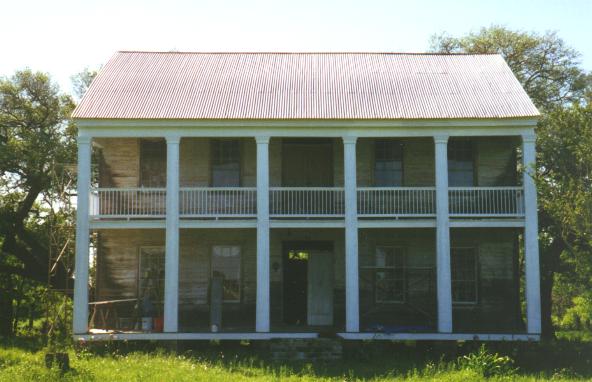 The Runaway Scrape Oak. Also called the Sam Houston Oak, it was near this tree on the McClure and later Braches property and the Braches House above that Gen. Houston and his assembling army camped after the burning of Gonzales. He is said to have at sunrise on 14 Mar 1836 announced to his men, while standing under this oak, the plan to evacuate and retreat to the east.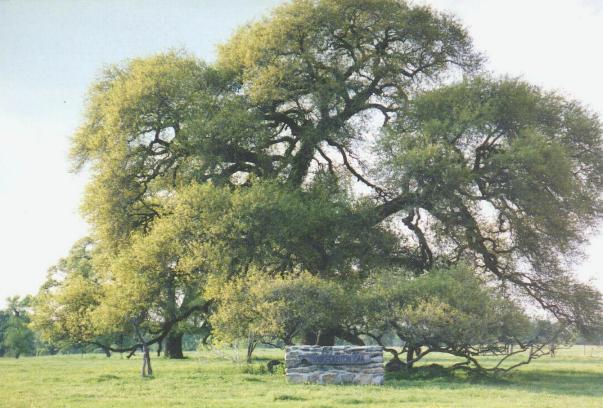 ---
SONS OF DEWITT COLONY TEXAS
© 1997-1999, Wallace L. McKeehan, All Rights Reserved.