Feliz Navidad--Happy New Year
Featuring this month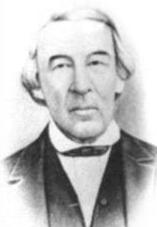 José Antonio Navarro
Unwavering supporter of the DeWitt Colony
----Hispanic Texian Delegate Texas Statehood Convention 1845
--------Republic and State of Texas Senator
------------Voted for secession, 4 sons (two captains) served the CSA
"I have sworn to be a Texan. I shall not forswear."
...Montclova, 2nd. day of March 1835...Senator for the State of Coahuila to the Genl. Congress of Mexico...2nd. of March 1836...subscribing to the declaration of the Independence of Texas...sufferings, the loss of property, and afflictions...the impulse of liberty conquered them all.--Lamar Papers
Staved off limiting suffrage in the new Republic to the "free white population"....contended the words "white" in any legislation were "odious" and "ridiculous."
Defending Mexican Valor in Texas
Commentaries from the San Antonio Ledger 1853-1857
"I write in order to inform our Americans, however indignant some of them among us may be, who with base, aggressive pretexts want to uproot from this classic land its legitimate people who are the descendants of those who fifty years ago spilled their blood searching for the liberty of which we now vaingloriously boast."