SONS OF DEWITT COLONY TEXAS
© 1997-1999, Wallace L. McKeehan, All Rights Reserved
John Newton Sr., Andrew Jackson, Asa Jarmon Lee, John Newton Jr., Lewis Dean, Sarah Carpenter, William A.
Biographies of the Sowell families by author Dorcas Baumgartner in the History of Gonzales County Texas describe the families in detail:
John Newton Sowell Sr., one of the "Immortal Eighteen" who remained to defend Gonzales against the Mexicans in September, 1835, was no stranger to war. He and his brothers William, Lewis and Newton, described as "stout, athletic men except for John" had all served in the Indian wars and the War of 1812. They were in the battles of Tippecanoe, Horseshoe Bend, Mackinaw Island and at New Orleans where Andrew Jackson defeated the British. It was said that as "….arms were hard to procure….John Sowell being a gunsmith was taken from the ranks to make them." Born in North Carolina around 1770, the son of John and Mary Newton Sowell, John Sowell married Rachel Carpenter who was born in 1785 in Hart County, Kentucky. They had at least seven children, all born in Davidson County, Tennessee. John Sowell's family, with Humphries Branch, the husband of eldest daughter Rebecca, and their two small children arrived in Gonzales in May 1830 as part of DeWitt's Colony. The families first settled in the Town of Gonzales, later locating on what was then the western frontier of the colony, about six miles below the present town of Seguin, at the mouth of Sowell's Creek. However, because of trouble with Indians and Mexicans, the two families returned to Gonzales in 1834 and John Sowell "….resumed his trade . . . making and repairing guns, blacksmithing, etc." In the fall of 1835 as volunteers gathered to join the original "old eighteen" in their defense of the small cannon, Sowell's shop was described as "….the principal blacksmith and woodworking shop in town….a very busy place….fires were kept burning day and night…." Sowell had improvised "rude work benches" where he and others "….repaired rifles, molded bullets, turned out lances and cannon balls." The story was told of how "Old Man Sowell," as he was often called, knew that ammunition for the cannon was scarce and he picked up iron scraps" around his shop and told the boys that when he heard the cannon discharge he would come "a running" to reload it with his scraps. Early next morning as he sat eating his breakfast he heard the cannon's roar in the distance; he jumped up and shouted, "There it goes!" As he "hurried to the scene of action," he was met by the men as they were returning to town, the battle was over, his scraps were not needed. In March, 1836 when news of the approaching Mexican army reached Gonzales, son John Jr. joined the volunteer army and Andrew "took leave" to accompany the family as they joined other settlers in the terrifying flight known in history as the "Runaway Scrape." Upon arriving safely at Matagorda Bay, Andrew "….hastened back to join Houston's Army," and daughter Rebecca Branch with her family embarked from Decrow's Point "….on board the brig Tensaw bound for Mobile," leaving Texas forever. The remainder of the Sowell family boarded a small ship which sailed into the Gulf, not to return to Texas shores until after the Battle of San Jacinto. After a joyful reunion at Columbia with their sons Andrew and John Jr. the family resided for a while on a vessel which also housed Mexican prisoners. It was said that Rachel Sowell who was "very deaf" could not hear normal conversation and did not realize that seated near the head of the table where she ate each day was none other than Santa Anna. When she learned his identity "she rose from the table" and refused to eat another bite with..….that old scamp," taking her meals elsewhere until the Mexican general was sent ashore. John Sowell lived only a few months after the family returned to Gonzales in 1838. He died before July 30 of that year and was buried in the "old burying ground." Shortly after the "old man's" death the Sowell clan moved with others to the Humphries Branch League and founded the Town of Seguin. Widow Rachel remarried in 1840 George W. Nichols; however, that marriage ended in divorce in March, 1848. Rachel died possibly in the 1860's and was buried in the San Geronimo Cemetery. John Newton Sowell was a small but strong man, brave, energetic and sometimes ornery, but always a master of his craft. He carved his name in Texas history as the "Blacksmith of Gonzales." Dorcas Baumgartner (From The History of Gonzales County, Texas. Reprinted by permission of the Gonzales County Historical Commission).
Research of Russell L. Sowell of Castroville, TX (deceased) provided by Patricia A. Grout patgrout@juno.com]:
John Sowell (father of John Newton Sowell) was born about 1754 in Duplin County, NC, had brothers Lewis and Shadrach, and all three settled on the Yadkin River in NC. Lewis and John remained in North Carolina, but Shadrach returned to Albemarle County, VA where they had previously lived. John and Mary Newton Sowell had children John Newton, Sarah, Mary, Lewis, Newton, William and Shadrach. John Newton Sowell was born in 1780 in Rutherford Co., TN. John Newton Sr. and Rachel Sarah Carpenter Sowell moved to BooneCo, MO before coming to Texas. He died on May 10, 1838. Rachel Sarah Carpenter (b. 1785 near Mammoth Cave, KY) was daughter of John Carpenter and married John Newton in 1808. They had children Rachel Rebecca (b. 1809; m1. Newton Sowell Sr.; m2. Humphrey Branch), Sarah (1810-1837), William A. (1811-1835; m. Sarah Grogan), Lewis Dean (1813-1838), Andrew Jackson (1815-1883; m. Lucinda Smith Turner); John Newton Jr. (1819-1858; m. Elizabeth Nichols) and Asa Jarmon Lee (1822-1877; m. Mary Mildred Turner).
According to grandson and writer, Andrew Jackson Sowell, John Sowell fought in the War of 1812 under Andrew Jackson at Horseshoe Bend. He claims that Shadrach Sowell was such a powerful man physically that he killed three Indians using his rifle as a club from the breastworks. William and Louis Sowell were killed in Indian battles at Makinaw Island or Tippecanoe under Gen. Harrison. John Sowell as a gunsmith at one time made thirty rifles to arm a company of Tennesseans in the Battle of New Orleans. Author Sowell says that the Sowell family moved from Tennessee to Missouri where they heard of Green DeWitt, arrived Gonzales in 1829 and set up a gunsmith shop, mending guns and made a knife for James Bowie which became as the Bowie knife. Sowell's great grandmother on his mother's side was John Carpenter, one of Francis Marion's men and was killed by Indians and Tories in the Revolutionary War.
JOHN NEWTON SOWELL FAMILY
William A. Sowell. William A. Sowell's life was short; his death was dramatic and tragic. Born around 1811, he arrived in Gonzales with his parents John and Rachel Sowell. He received 1/4 league of land in 1831 as a single colonist of Green DeWitt. On June 1, 1834 William and Sarah "Sally" Grogan were married by bond in Gonzales. Sally Grogan had arrived in Gonzales probably February 20, 1831 as was there testimony that she "came with Matthews and McKean." William A. Matthews and John C. McKean introduced seventeen families from Tennessee [Tennessee-Texas Land Company] to DeWitt's Colony on that date. Sally had first married by bond in September, 1832 Fredrick Roe; however, they lived together only three or four months. She moved into the home of the Sowell family, and early in the year of 1834 a daughter was born to Sally and William. On May 14, 1834 the bond between Fredrick Roe and Sally was, "….by mutual consent of both parties….forever null and void." Within three weeks Sally and William were married; it was said that daughter Rachel was about six months old at the time. One week later on June 8, 1834, William was stabbed to death on the streets of Gonzales by Silas M. Morris. There were no records or later testimony that revealed the cause of the dispute between William and Morris; however, it was known that Morris also went to Texas with Matthews and McKean and he may have known Sally before arriving in Texas. A.J. Sowell's book, "Rangers and Pioneers of Texas," had an interesting tale of how William's murder was avenged. (Mr. Sowell referred to Morris as "Morrison;" however, all court records have his name as "Silas M. Morris.") William had befriended and employed a Shawnee Indian from Arkansas. After William's death the Indian grieved for his slain friend and said that Morris "…..he kill my friend; me kill him." The morning after William was buried, the Indian "….rigged out, as if for a journey….with arrows, knife and tomahawk….and the war-paint on his face…" shook hands with the family and road (sic) off in the direction that Morris had fled. The Sowells never saw William's Indian friend again, but later it was reported to them that the body of Morris "….was found near the Rio Grande with an arrow stuck deep in his breast." Eight months after William's death, on February 19,1835, Sally married Elijah Tate; she and Tate had three children and after his death she married in 1850 David Harmand. In November, 1853 Sally married a fifth and last time Charles Thomas. It was said that Sarah "Sally" Grogan Roe Sowell Tate Harmand Thomas died in the 1860's and was buried in Guadalupe County. Rachael Sowell, the daughter of William and Sally, married John P. Turner. In 1855 the Supreme Court of Texas upheld the validity of the marriage of William Sowell and Sally Grogan and ruled that Rachael was their "legitimant" daughter. Dorcas Baumgartner (From The History of Gonzales County, Texas. Reprinted by permission of the Gonzales County Historical Commission).
Sarah Carpenter Sowell (circa 1810) married Winslow Turner Jr. in Gonzales June 16, 1831. Winslow (circa 1811) was the son of Winslow Turner Sr. and Elizabeth who first went to Texas in 1827 and settled on the Colorado River as part of Stephen F. Austin's Colony. In December, 1829 the Turner family arrived in DeWitt's Colony. As far as was known Winslow and Sarah Sowell Turner had no children. Sarah died in the fall of 1837.
Lewis Dean Sowell, like his father John Sowell Sr., was a blacksmith by trade. He was born circa 1813 and went to Texas with his parents in May 1830. It was said that Lewis was not an outdoorsman like his brothers and that he took a fine library to Texas from his old home in Tennessee. Lewis was granted a 1/4 league of land as a single settler in DeWitt's Colony. In March, 1836 after the settlers fled Gonzales, Sam Houston gave orders to "torch the town." "Everything was consumed, including the fine library belonging to Lewis." Lewis never returned to Gonzales after the Runaway Scrape; he died unmarried in Brazoria County in 1838.
John Newton Sowell Jr. at age twenty-eight was described as six feet tall and of dark complexion with dark hair and eyes. Born in 1819 he was a lad of eleven years when he arrived in Gonzales with his parents. He joined Houston's army in 1836 and at age seventeen was in the Battle of San Jacinto. In 1838 he served with the "Gonzales Rangers" and in 1847 was with the "Mounted Texas Volunteers." On April 10, 1840 John Jr. and Elizabeth Nichols were married. She was the daughter of George W. and Mary Ann Walker Nichols. Not long after the young couple was married it was said that Elizabeth's father, George Nichols who had lost his wife in 1838, had "….become disgusted at a widowers life" and that Rachel Sowell, widow of John Sowell Sr., was one of only two widows living in the area. George decided to court the Widow Sowell who was "delicate and very deef." She was so hard of hearing he could not make her understand "….without being heard all over town," and as her son Asa was the only person around that "could converse with his mother….Asa done the courting for them and they married." The marriage ended in divorce in 1848. John Sowell Jr. and Elizabeth had two children. Elizabeth died between 1844 and 1855. John, according to the Galveston Weekly News died September 31, 1856 at the residence of his brother, Asa J.L. Sowell, On Nash's Creek "….of hemorrage of the lungs." Both were buried in the San Geronimo Cemetery where the State of Texas erected a marker in 1857 to pay tribute to John and his brother Andrew J.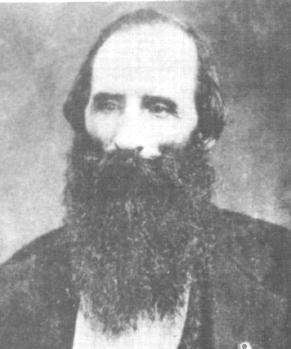 Asa Jarmon Lee Sowell (April 30, 1822) was the youngest of the Sowell children. He had not reached his eighth birthday when he arrived in Texas with his parents. Like his brother Lewis he loved books, learning early to read and write and to speak the Spanish language. At age seventeen, with his big brothers Andrew and John, he joined Matthew Caldwell's "Gonzales Rangers." In March, 1845 it was said that Asa and Calvin S. Turner were hired by Prince Solms to guide the German settlers to their land on the Comal River, where later was founded the town of New Braunfels. Asa served as district clerk in 1846 and as chief justice from 1870 to 1874 in Guadalupe County. On August 29, 1844 Asa and Mary Mildred Turner were married. Mary (October 15,1829) was the daughter of Major William S. and Elizabeth Smith Turner who had other children William, Calvin, Hardin, John and Lucinda. Major Turner served on Andrew Jackson's staff at one time and under him in the war with Creek Indians at Talladega, Horseshoe Bend and New Orleans. He was twice wounded. The Turners came to Texas in 1840. Mary Mildred Turner Sowell's great grandfather was governor of North Carolina, James Turner. Asa and Mary had children Andrew Jackson, Leroy Polk, Pleaman Smith, John, Adaline, Lucy, Isabel, Laura and Molly.. Mary died April 28, 1873 and Asa died December 21, 1877; both were buried in the San Geronimo Cemetery. Dorcas Baumgartner (Adapted from The History of Gonzales County, Texas. Reprinted by permission of the Gonzales County Historical Commission).
From the journal of James Wilson Nichols (Now Your Hear My Horn, C.W. McDowell, ed.):
Asa Sowell was almost the only person, after his sister married, that could converse with his mother who was delicate and very deef. He had learned to talk to her by signes as the other boys ware almost constantly in the woods and his father at his anvil while he lived. The old man died in 1838 and the family mooved to Seguin whare they had a league and a labor of land near that place but not thinking it safe to occupy their land they baught property and settled in Seguin. My mot-her haveing died the same year 1838 and Father almost compeled to be away from home a great potion of his time after his stock or chaceing Indians and when I was not thare had to leave four girl children at home by themselves, he became disgusted at a widowers life and as the Widow Sowell was one of only two widows living in Seguin he undertook to court her. It was in the spring of 1840 that he taken this notion and he tried every plan that he could conceive to make her understand but failed in every effort. She was so deef he could not hollow in her ear for fear of being heard all over town and he fail to make her understand by his signes so he had to call on Asa to interpet for him. Asa done the courting for them and they married.
Andrew Jackson Sowell (1848-1921), son of Asa and Mary Sowell, was a Texas Ranger and participant in numerous Indian encounters. He recorded his experiences as well as first hand accounts of earlier Texas battles for independence related to him by his uncle Andrew Jackson Sowell and associates Ben Highsmith and David Boyd Kent in numerous books. According to him, the Sowells are of the Sewell surname of Celtic origin in the highlands of Scotland. Brothers settled on the Yadkin River in North Carolina and descendants migrated to Virginia and Tennessee.
---
SONS OF DEWITT COLONY TEXAS
© 1997-1999, Wallace L. McKeehan, All Rights Reserved