SONS OF DEWITT COLONY TEXAS
© 1997-2009, Wallace L. McKeehan, All Rights Reserved
DeWitt Colony People-Index
Margaret Wright
Madame Trudeau (1789-1878)
Biography Handbook of Texas | Pioneer of Victoria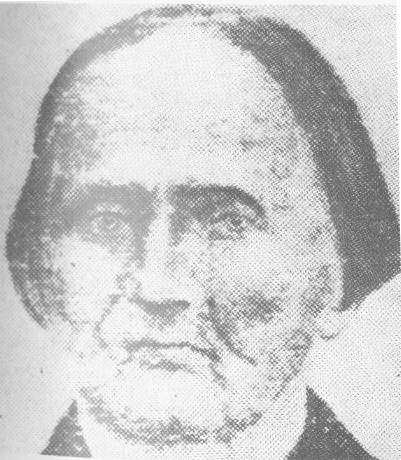 Referred to as Madame Trudeau in James Kerr's letters of 1826-27 to Stephen F. Austin concerning the DeWitt Colony conflicts with Martin DeLeon, Margaret Robertson is thought to have possibly first come to the area known as the DeWitt Colony from New Orleans, but eventually settled in the DeLeon Colony near Victoria. She was clearly in contact with and in sympathy with the early DeWitt Colonists in 1826-27 at Station on the La Baca, being the most outspoken witness of DeLeon's conscious intent to cause trouble for the colonists. This might be tempered with her personal dislike of DeLeon for some reason or another as well.
In a letter to Austin of 11 Nov 1826, James Kerr writes:
....as I am informed by the Alcalde here made Oath that Delion had lured the Indians to come and Kill all the Americans here, and Mrs. Trudeau has told me that she hirself will swear that she several times heard Delion aver that he would have Dewitts head and that he would take it tied to his saddle to the Guadaloupe---The many threats; the manner in which they came here; and the persons who made Those threats Gave alarme to the new settlers here and altho I myself are not easily alarmed yet I confess that I scarcely new what to be about.....
In a letter the next day, Kerr continues:
....Madam Trudeau, Mr. William Smith, and Mr. Wightman set off yesterday for St. Antonio and intended going by the way of Gonzales---Mrs. T--- will give evidence to the Chief relative to the Threats of Delion, and they all three will urge the Chief to order all the parties and papers before him: This is what we all wish for, and should Our friend Williams get there I fear no danger, but if he does not get on and the prisners are detained in Labahia etc. an Alcaldes Court opened there for there trial the worst of consequences are to be feared. I am Conscious you need not be informed the nature of the Courts they have at Delions Town and Labahia.....
---
From the New Handbook of Texas. WRIGHT, MARGARET THERESA ROBERTSON (1789-1878). Margaret (Marguerite) Theresa Robertson Wright, Texas pioneer and patriot, was born in New Orleans in 1789, reputedly of a French mother and an English father. Around 1805 she married James Williams Hays and settled with him in Opelousas, Louisiana. They had two daughters and a son. At some time after 1811 the family moved to Bayou Pierre in the Neutral Ground, disputed territory claimed by both the United States and Spain. Hays died sometime afterward; he may have been killed in the War of 1812. Margaret then entered into a common law alliance with Felix Trudeau (or Felix de Trudeau Pronounce), commander of the post of Natchitoches, by whom she had two more daughters. Some historians believe that she arrived in Texas in 1821, but it seems more likely that she arrived in 1825, three years after Trudeau's death. She was then using the name Mme. Trudeau. In Texas she may have initially joined DeWitt's colony.
In 1826 or 1827 she settled in De León's colony at Guadalupe Victoria and applied for a league of land on the west bank of the Guadalupe River, five miles from town. In 1828, before title to the land was granted, she married John David Wright of Tennessee, who settled with her on the league. The Wrights had two daughters, but the marriage was unhappy and marked by periods of separation. By the mid-1830s Wright had secretly obtained the title to Margaret's grant from De León. He took refuge in the Rio Grande valley the following year to escape prosecution for an old debt owed in Mississippi and lived there under the protection of the Mexican government for the next seven years, making occasional furtive visits to Victoria. Margaret remained on the headright at Mission Valley, where she raised cattle marked with her brand, CT, which was registered in 1838. She earned a reputation for courage during the Texas Revolution by secretly aiding fleeing soldiers who had survived the Goliad Massacre. She hid William L. Hunter, who made his way to her ranch, and took care of him until after the battle of San Jacinto. On the pretext of visiting the Guadalupe to draw water, she located other hidden refugees and arranged a secret system for supplying their needs: the men left notes for her in a hollow tree, and she hid food and medicine for them in her water pail. She also took advantage of the presence of Mexican soldiers encamped on her land to steal a gun for the Texans. She continued surreptitious aid until the wounded men were well enough to join the army. Sam Houston, in a gubernatorial campaign speech given more than twenty years later in Victoria, praised Margaret Wright's heroism and called her the "Mother of Texas."
In 1842 J. D. Wright returned permanently from the Rio Grande and found that in his absence Margaret had purchased an additional half league of land and had deeded 640 acres of it to her son, Peter Hays. Wright immediately filed suit to recover the land, arguing that control of their joint property was vested in him and could not be conveyed without his consent. He lost both the trial judgment and a preliminary appeal, the courts ruling that Margaret had at the time been a legally independent feme sole by virtue of being an abandoned wife. Before the second appeal came to trial in 1847, Peter Hays was killed in an ambush on the Rio Grande. Convinced that her husband was responsible, Margaret Wright filed for divorce on March 6, 1848, charging him with habitual cruelty, fradulent land title transfer, and the murder of her son. In a series of bitterly contested actions that ultimately included three appeals to the Texas Supreme Court, Margaret was granted a divorce. Half of the joint property-5,535 acres of land and 570 head of cattle-was awarded to her. This may have been the first divorce granted in Texas. Later Margaret sold the ranch and moved into Victoria. Margaret Wright died in Victoria on October 21, 1878, and was buried in Evergreen Cemetery.
BIBLIOGRAPHY: Mary Margaret Bierman, A History of Victoria, Texas, 1824-1900 (M.A. thesis, University of Texas, 1948). Bettye Welborn Cole, A Passing of the Seasons: The Life of Marguerite Wright (Ozark, Missouri: Yates, 1985). Roy Grimes, ed., 300 Years in Victoria County (Victoria, Texas: Victoria Advocate, 1968; rpt., Austin: Nortex, 1985). Victor Marion Rose, History of Victoria (Laredo, 1883; rpt., Victoria, Texas: Book Mart, 1961). Texas Mothers Committee, Worthy Mothers of Texas (Belton, Texas: Stillhouse Hollow, 1976). Judith N. McArthur
---
Margaret Wright, Pioneer
From 300 Years in Victoria County, 1968 (Roy Grimes, ed.)
Sam Houston once referred to her in a political speech as the "Mother of Texas," and it may very well have been that Mrs. Margaret Wright, a lone woman heading her own household, was the first settler who came to stay in the immediate vicinity of Victoria. What the hero of San Jacinto intended to commemorate in his speech was Mrs. Wright's own brand of heroism, which she demonstrated in the terrifying days of 1836 by hiding and succoring a number of Fannin's soldiers who had managed to escape the murderous fire of the Goliad massacre. She managed to keep these men in safety, almost in the midst of Gen. Jose Urrea's division of the Mexican army, while one Mexican patrol after another searched her home and the nearby Guadalupe River bottom almost daily. But this was only one episode in the life of this remarkable woman of the frontier which spanned almost 90 years. In the course of that long span Margaret Wright encountered more than her share of almost unbelievable vicissitudes, yet she was dedicated to the creed of helping others whenever she could.
The exact date of Mrs. Wright's arrival on the headright league of land which she claimed for so many years in the Mission Valley area on the Guadalupe is indeterminate. It might have been 1821, or it could have been 1822-but there is no question that when Don Martin de Leon arrived with his first colonists in 1824 she was already here. Who and what she brought with her also cannot be determined from the records. She was born in 1789, probably in Louisiana, was first married to a man named Hayes and then to a husband of French descent, M. de Truedeau Toudor Pronounce. Tradition has always had it that he was governor of the province of Louisiana, but Louisiana records fail to bear this out. She had two children by Hayes, one of them a son called Peter. After burying two husbands in Louisiana, Margaret Wright at the age of 32 or 33 yet had the vigor and the courage to dare an untried new frontier on her own. She was accepted as a colonist by Martin de Leon after he arrived, and her application for the league of land to be granted under Mexican law, 4,428 acres, and the additional labor, 177 acres, also was accepted. In 1828, this indomitable woman married another De Leon colonist by the name of John David Wright, who apparently came to Texas from Tennessee. In a divorce action she filed 20 years after the marriage, Margaret Wright claimed that John David Wright had been away from home all during the time of the Mexican troubles, from 1835 until 1842, and that he also was guilty of the murder of her son, Peter Hayes, in 1847. It seems that Wright spent all this time somewhere down along the Rio Grande.
This bill for divorcement was tried before a jury in 1848, Mrs. Wright contending that she had been abused, threatened and otherwise maltreated by her husband, asking for $250 a year in alimony pending final decision, and seeking payment from her husband for what she classified as her own property in addition to her share of community property. Margaret Wright also alleged that without her knowledge John David Wright had laid claim to the headright she had originally settled, and that in fact a Mexican grant to the land had been issued in his name on Oct. 16, 1831. She did not learn of this transaction until 1836, Mrs. Wright claimed. The Victoria County jury found in Mrs. Wright's favor on all counts, but this decision later in the year was upset by the Texas Supreme Court, which ordered another trial of the case on the contention that Mrs. Wright's allegations had not been sufficiently specific. The Supreme Court also held that the alleged murder of Mrs. Wright's son was not admissible as evidence in the divorce case. The court's opinion noted that
"the character of the appellant (John David Wright) has been deeply stained for years, and was blackened before his return from the Rio Grande; but this did not prevent the cohabitation of the parties, after a suspension of seven years, from being resumed and continued until shortly before the commencement of this suit."
Just the same, Mrs. Wright was given trial on her petition again on March 19, 1850, and the verdict of this jury was the same as before. They found that Mrs. Wright had good reason for believing that her son had been killed by John David Wright, and they ordered the divorce and a division of the property. Adam Stafford, Robert J. Carothers and John McGrew were appointed as commissioners to settle the property claims of Mrs. Wright, and it was indicated that this amounted to $7,000 or $8,000 in value. The Wrights had two daughters, Amy Ann, who married Gen. José María Ramiréz, from the area below Eagle Pass in Mexico, and Tennessee, who was first Mrs. Henry Noble and after his death the wife of James Bennett.
On Sept. 14, 1876, while Edward Linn was editor, the Victoria Advocate carried this item:
"We are informed that Mrs. Margaret Wright, an old and respected citizen of this city, is now suffering for the want of proper care at home in the middle part of town. Mrs. Wright is connected with the early history of our town, coming here among the first American settlers, some 50 years ago, and in other days has given with an open hand generous charity, and to many a sufferer. She is now old and feeble and her condition excites the pity of all. We suggest that the town authorities Pay some attention to this matter and give her aid required by this helpless person."
On Sept. 29, 1877, Margaret Wright was again in the news. This is also from The Advocate:
"Don Jose Maria Ramirez and his wife were murdered near Eagle Pass on the Rio Grande. They were murdered by a servant boy who had been in their employ for over two years. Mrs. Ramirez was the daughter of Mrs. Margaret Wright, who had been in a destitute and impoverished state, cared for only by friends and neighbors. Mrs. Wright is an old settler who has spent more than 50 years on the banks of the Guadalupe River, many years ago. The recent death of her daughter, who died without heirs, will leave an old and helpless lady something with which to comfort her declining years. Steps looking toward securing her inheritance have been taken and we trust they may succeed. The murdered Ramirez left an estate valued at $50,000. Many a Texas veteran will remember Mrs. Wright, for in the dark and trying days of '36 she, with zeal and courage commendable even in those times, aided in many ways the cause for which Houston and his compatriots fought."
If Mrs. Wright did in fact gain possession of this inheritance, she did not have long to enjoy it. Margaret Wright died in Victoria on Oct. 26, 1878.
---
SONS OF DEWITT COLONY TEXAS
© 1997-2009, Wallace L. McKeehan, All Rights Reserved
DeWitt Colony People-Index