SONS OF DEWITT COLONY TEXAS
© 1997-2001, Wallace L. McKeehan, All Rights Reserved
DeWitt Colony Captains-Index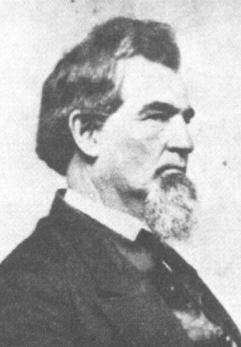 JOHN YORK
Siege & Battle of Bexar
Security DeWitt County (Killed in Action)
John York was born in Kentucky July 4, 1800. His father was James York and his mother was a Miss Allison before her marriage. James York and his family came to Texas in 1821 and first settled in Austin County. Their children in order of their birth were: John, James Allison, Sarah, Phoebe, Patsy and Mary York. John York married Lutitia Gain. She was born in Alabama, January 10, 1804. Children of John and Lutitia Cain York in order of their birth were: Miriam, Jonathan, James Allison, William Griffin, John Pettus, Thomas, Sarah Jane, Elvira, Adaline and Robert York. While still living in Austin County, Captain York commanded a Company of Volunteers who participated in the Storming and Capture of Bexar, December 5-10 1835, the fiercest battle of the Texas Revolution. Many of the men from Captain York's company fought at San Jacinto. Captain York engaged in farming and ranching in Austin County. Besides his agricultural interests, he was the owner of the Winedale Inn in Fayette County (Round Top) from 1840 to 1848. The John York family moved to DeWitt County in 1846, establishing their home near the Coleto creek, a short distance from where the present town of Yorktown is now located. John York engaged in farming and ranching in DeWitt County. He owned a large area of land in the area and he was interested in colonization and settlement. He and his friend, Charles Eckhardt, a former Indianola merchant, founded Yorktown in 1848. In October 1848, marauding Lipan Indians from Coahuila, Mexico entered Texas to plunder, steal and murder. To repel them, a company of volunteers was raised in DeWitt County. Captain York was placed in command. In a fight on the banks of the Escondido Creek, fifteen miles west of Yorktown, on October 10, Captain York and his son-in-law James Madison Bell, were killed and son James York was wounded. The bodies of Captain York and James Madison Bell were buried in a single hand-made oak coffin in the York Cemetery about eight miles east of Yorktown. Mrs. John York died July 12, 1851 in DeWitt County and is buried in the York Cemetery. Margaret Sturges (From DeWitt County History, reprinted by permission of the Curtis Publishing Co., Dallas, TX)
Author John Henry Brown in Indian Wars and Pioneers of Texas writes of Capt. York as follows:
"This gallant pioneer, whose name was long familiar in every cabin in the land, was an early settler and ever ready to meet a public enemy, whether Indian or Mexican. He was, physically, a man of portly and commanding presence, a pure, blue-eyed blonde, with a native suavity and dignity deemed by book worms and cloistered scholars unattainable attributes to men of cabin and forest life-a complacent assumption disproven by many of the early and buckskin-attired defenders of infant Texas, Capt. York was one of two brothers (Allison York being, the other), besides several sisters, who first settled on the Lavaca and afterwards west of the Brazos in Austin County. He participated in numerous expeditions against the Indians and always exhibited the ability to lead. In command of a company in the citizen army before Bexar in 1835 he and all his men volunteered to follow the intrepid Milam in storming that strongly fortified place, defended by Gen. Cos and about 1,500 Mexicans. The contest lasted from the 5th to the 10th of December, though Milam fell on the 8th, and terminated in the capitulation of Cos to his three hundred assailants. No royal insignia of merit or valor bestowed ever conferred greater honor on a body of men than was won by the citizen heroes who triumphed at Bexar, and none of that gallant hand exhibited more determined courage than Capt. John York. In 1846 he removed to the Colleto creek, in DeWitt, where the pretty village of Yorktown perpetuates his name. His death, in command of a company west of the San Antonio river, in 1848, in a contest with ambushed Indians, is elsewhere narrated."
Yorktown in DeWittCo was named after Captain York. His company of Texians at the Siege and Battle of Bexar 5 through 10 Dec 1835 included multiple DeWitt Colonists. He and his men responded to old Ben Milam's call for volunteers to break the siege by storming into San Antonio de Bexar where General Cos and about 1500 troops had occupied. His son-in-law, James Madison Bell, who was in the company, was beside Ben Milam when he was felled in the Battle December 7 or 8.
---
SONS OF DEWITT COLONY TEXAS
© 1997-2001, Wallace L. McKeehan, All Rights Reserved