SONS OF DEWITT COLONY TEXAS
©1997-2014, Wallace L. McKeehan, All Rights Reserved
Biographies here are DeWitt Colonists (surnames beginning O-Z) who were in the colony by census, land or other records through Dec 1828. Other biographies can be found at The Battle of Gonzales-Old 18, Gonzales Alamo Relief Force, Land Grantees & Residents, Gonzales Town Residents and Citizens-Free State of Lavaca.
For additional biographical information, Search Handbook of Texas Online
ROBINSON. Jesse Robinson, according to land records, arrrived a single man on 10 Sep 1827 and received title to a quarter sitio of land on 5 May 1831 on the west bank of the San Marcos River near the current Gonzales-Caldwell County line. Robinson was born 11 Feb 1800 in Kentucky, the son of Charles Michael Robinson who served in the Revolutionary War. According to some accounts, Robinson was in Texas as early as 1822. In the spring of 1823 he was among a company of volunteers whose mission was to protect Austin colonists from Indians. In March 1824, he was with a group of minutemen who rescued the Rabb and Newman families from 180 Waco and Tawakoni Indians who were terrorizing them. He received title to a sitio (league and labor) from the Colorado County Board on 13 Jan 1838 which stated that he came to Texas in 1827 and had since married. He also lived adjacent to the Kent homestead south of the Zumwalt Settlement on the Lavaca River. Robinson served in Capt. J. F. Heard's Company at the Battle of San Jacinto for which he received on 24 Jun 1839 Donation Certificate No. 915 for 640 acres of land. He also received Bounty Certificate No. 3086 for 320 acres on 13 April 1838 for service March to June 1, 1836. He was discharged at Camp Victoria and sold his certificate for $50 to Francis W. White on 5 May 1838 while he was living in Jackson County.
Robinson was a member of Capt. Adam Zumwalt's company of Lavaca River minuteman and was among the troop of 36 which responded to the Comanche attack on Foley and Ponton on the Gonzales-Columbus Road in Aug 1840. Jesse Robinson was among the Lavaca River settlers (David Ives, W.H.H. Baldridge, Rufus E. Brown, Richard Heath) that pursued Gen. Woll's retreating army toward the Rio Grande after their defeat at the Battle of Salado. Robinson was active in LavacaCo after statehood where he was appointed Commissioner of the Court, along with Adam Zumwalt and Richard Heath, to lay out a road from Petersburg to Port Lavaca which was amended to intersect the Victoria road at some point. On a Texas veterans list first class, he is listed as age 73, a veteran of San Jacinto with residence in Live OakCo, TX on Ramirena Creek. He died there on 27 Dec 1882 and was buried in the Latham Cemetery.
In 1833 Jesse Robinson married 16 year old Sarah Jane Newman, who later became known as the legendary Sally Skull of Nueces County and South Texas. The marriage ended in divorce. Children of the couple were (1) Nancy, (2) Alfred Robinson, and (3) a child who died in infancy. Nancy Robinson was born 10 Jan1834 and married Ben Barber. Their children were Mosley and Lauren Barber. Alfred Robinson was married to Sarah Ann Latham, was a Texas Ranger and active in the service in the War Between the States. Their children were Albert Sidney Robinson; Miss Lucretia Robinson; George Claiborne Robinson; Mrs. F. C. Kendall; Clement Robinson; and Lemuel Harvey Robinson, who married Annice C. Bock.
---
SALINAS. José María Salinas was conceded a four league special grant west of the Gonzales town tract between the San Marcos and Guadalupe Rivers on 4 Jul 1827 (titled 31 Aug 1831), the grant notes that he was a retired Lt. in the Spanish and Mexican army. In 1829 or 1830, the Hodges and related families moved to the DeWitt Colony and purchased the Salinas tract for silver.
Marjila Chirino (erroneously written Cherino in some records) of Bexar, was conceded on 30 May 1828 two leagues in current northern GuadalupeCo which were titled on 1 Jun 1832. Apparently this grant on Geronimo Creek in current northern GuadalupeCo was originally ceded to a José Salinas, but he died in 1830 before the transaction was final in 1832 (Survey No. 20 Class No. 5, Texas General Land Office Book, Lockhart page 152-154). M. Chirino sold this two league grant to José Antonio Navarro on 26 Sep 1834 for $200 cash (GuadalupeCo Deed Record Book E, pg. 134-137). Navarro lived on his ranch on this tract after his imprisonment in Mexico. [Information courtesy of Carolyn Bading]. José Salinas and Margila Chirino were part of the short-lived 1808 colony in the future DeWitt Colony under Felipe Roque de la Portilla which was called Villa de San Marcos de Neve, lands which spanned from the Bexar-Nacogdoches Road, the northern boundary of future DeWitt Colony, to the conjunction of the San Marcos and Guadalupe Rivers at current Gonzales. They lived in the aborted venture with their two daughters, María Josefa and María Francisca. They received a solar on which they built a house, and land for their 40 head of cattle, 13 horses, 3 mares, and 97 sheep.
Chabot in With the Makers of San Antonio refers to the Bexar archives referring to Joseph Francisco Salinas the Alferez, born abt 1722 who came to San Antonio in 1742. He married a Margila Chirino. They had a daughter Josefa Salinas who married in 1811 Manuel Monjaras the Cabo. Another Joseph Salinas married Margarita Menchaca. Joseph Salinas, probably the elder, owned a lot on Real St. which he purchased in 1761 and his will was certified by alcalde in 1787. The accuracy of Chabot's information and the relationship of these individuals named Salinas and spouses to those deeded grants in the DeWitt Colony is unclear.
Although relationship to the Salinas' above is unclear, the most well-known José María de Jesus Salinas (1797-1851) in the region was the Hispanic Tejano patriot born on 25 Nov 1797 who was the youngest son of Francisco Manuel Salinas and Ygnacia Delgado Flores de Abrego from the Rancho de San Bartolomí Francisco Salinas was a civil servant in Bexar prior to Mexican independence. Son José Salinas was alcalde of San Antonio in 1822, 1827 and 1836 during the War of Texas Independence. He and his brother Pablo, who served with Col. Juan N. Seguín, were fervent supporters of Texas independence. As an owner of multiple ranches, the Salinas family supplied and offered shelter to the volunteer army of Texas and along with other Tejano ranchers were instrumental in the win over centralist Mexican forces who were far from their support and supply lines. Salinas is believed to have had children before his death in 1851. His estate was administered by a sister, Antonia Salinas de Barrera, and her husband and was not settled until 1868.
---
SHADE, ANNIS, JACK. Shade, his wife Annis and son Jack were the first Black Texans west of the Colorado River who came to the DeWitt Colony with James Kerr and his family in 1825. They were with him at the original settlement on Kerr's Creek near Gonzales that was abandoned due to Indian attack, removed with him to Old Station on the Lavaca and moved with him to his eventual homestead on the Lavaca River in current JacksonCo. According to John Henry Brown in The Indian Wars and Pioneers of Texas, Jack was the son of Shade and Anise, who were the parents and grandparents of numerous offspring, who became widely known and greatly esteemed for their fidelity and patriotism in every conflict. According to family histories and archival letters and other sources, Kerr treated Shade and family like his own and feared for the breakup of the family if he was forced to leave them in Missouri because of anti-slavery laws in Texas. The family and other black servants are listed with Kerr family members in the Kerr family bible. Cynthia, Rosanah and Annette who are listed in the family bible, may have come with the Kerr family to Texas and may have been related to Shade, Annis and Jack. Annis also had children Nelson, Carolina and Edwina, born in Texas and listed in the Kerr family bible. The Kerr family is said to have provided land and support upon freeing the family in 1865 and the family and descendants are thought to have remained in current JacksonCo near the Kerr homeplace for multiple generations.
---
SHUPE. Samuel Shupe was born near Reading, Pennsylvania and emigrated to the DeWitt Colony in 1827 where he received title to a quarter league of land on Plum Creek in current CaldwellCo south of Lockhart. He is listed on the muster rolls of the Texas Republican Army 3 Oct-14 Dec 1835 and 16 Mar-23 Jul 1836. He was at San Jacinto in the 5th Infantry Company, 2nd Regiment under Capt. Thomas McIntire. According to Dixon and Kemp in Heroes of San Jacinto, Shupe married Patience Wells (d. Lockhart 1883) in 1837, who was living with cousin Major James Kerr at the time. Major James Kerr's mother's maiden name was also Patience Wells. The Shupes had two daughters, Zerilda (m. Wesley Dollohite; children Shupe Dollohite, both killed by Indians at Birdville in 1872) and Elizabeth (b. Texana, d. 1881, m. Abner M. Ross). Samuel Shupe appears on the 1840 Taxrolls of JacksonCo. Samuel Shupe died and was buried at sea on the way to New Orleans for medical treatment in 1847.
---
SMEATHERS/SMOTHERS. William (I), John (I), William (II), Archibald, John (II). The colorful Austin Colony pioneers who moved into the DeWitt Colony and contributed to the reputation of The Free State of Lavaca in the Republic and State of Texas. Includes "When the Dust Settled on the Patriarch's House" from The Free State of Lavaca by Paul C. Boethel.
---
STAPP. Darwin Massey Stapp, shown in the 1828 census, was the first of the Stapps to arrive in the DeWitt Colony. According to land records, he arrived as a single man on 4 Jun 1828 and received title to a quarter sitio of land on the west bank of the Guadalupe River west of Gonzales. His father, Elijah Stapp, arrived 20 Mar 1830 with family of 8 and was granted a sitio of land in current Victoria County. His son and brother of D.M. Stapp, William Preston Stapp, arrived single on 20 Feb 1830 and received a quarter sitio east of Gonzales near the Gonzales-Lavaca County line. A Col. John Emison related to Victor Marion Rose for the Rose History of Victoria County, 1883 "When I came to Mission Valley I found here Capt. Dick Powers, J. D. Gabler, Quincey Davidson, A. J. Hamilton, D. M. Stapp, Hugh Stapp, Oliver Stapp, Nat Stucks, Major Andrews, E. Parkinson, J. M. Edgar, Santiago de Leon and Patricio de Leon." Darwin Stapp, referred to with the title Colonel, served in numerous minuteman campaigns against Indian attacks and Mexico in 1835-36 and was member of the Texas legislature in 1850 to 1854, customs agent at Indianola from 1856 to 1864 and a member of the secession convention of 1861. Col. Stapp was an active merchant in Victoria, TX from 1866-1870. In partnership with the Hensley brothers of Lavaca, he had a large grocery business near the Victoria depot. Col. Stapp purchased the builiding known as the "female academy" which became the Victoria High School in 1883 (the time of Victor Rose's History of Victoria) and opened the Stapp Hotel in 1870 which he owned until his death in 1875.
Elijah Stapp was signer of the Texas Declaration of Independence representing Jackson County. He and Major James Kerr drew straws to see who would attend and who would stay to take care of security matters at home. Sam Houston Dixon in The Men Who Made Texas Free writes:
When the settlers of Navadad and Lavaca held their meeting July 17, 1835, to express their views regarding the pending questions agitating them and to arouse resistance to Mexican tyranny, Mr. Stapp attended the meeting and took a leading part in its proceedings......This meeting was held previous to the Consultation Convention and had its influence in shaping the destinies of that Convention.......A few days before the date for the convening of this convention be joined other delegates to the convention and made the trip on horseback, going via San Felipe where he remained over night, joining other delegates there. Among these delegates was Thomas Barnett, who afterwards gained fame as a Senator of the Republic. "On our trip to Old Washington, " said Mr. Barnett, "we rode leisurely, chatting though in a solemn vein. We all realized the seriousness of our mission. We were all agreed on one point, and that was that the time had come when we should declare in emphatic terms against longer tolerating Mexican tyranny. We had been advised that Santa Anna was massing his forces to invade the State and we were eager to organize to meet him. Words were cautiously spoken because none of us desired to impress upon our companions that we were blood thirsty. We had faith in the wisdom of the delegates we knew would assemble." On reaching Old Washington Mr. Stapp sought to meet the delegates from the different sections of the State that he might be able to learn the general character of the delegation, and to discuss with them the work before them. This is confirmed by Mr. Waller and Mr. Menefee. Regarding Mr. Stapp, Mr. Waller said: "Elijah Stapp mingled with the, delegates as they arrived and asked many questions regarding conditions in the different parts of the State. He had an idea that a programme had been mapped out and he expressed an earnest desire to know what it was." Mr. Menefee said "Mr. Stapp was an enthusiast and in mingling with the delegates he impressed all by his earnestness."
A Darwin M. Stapp is listed among the Texas veterans first class in A Texas Scrapbook by Baker as age 58, serving in the campaign of 1835 and with residence VictoriaCo. D.M and Oliver Stapp are listed on the 1840 Taxrolls of JacksonCo. Brother of Elijah Stapp, Brigadier-General D.M. Stapp from Madison, Indiana was commander of the 44th Brigade, Confederate States of America, into which the Lavaca County Militia became a part in 1860. William Preston Stapp was Private in the disastrous Mier Expedition and in 1845 wrote an extensive first hand account of his imprisonment, The Prisoners of Perote. His uncle Milton Stapp aided in his release.
From The Signers of the Texas Declaration of Independence by L.W. Kemp: Elijah Stapp was born in Virginia in about 1783 and came to Texas from Missouri. On March 9, 1826 Green DeWitt, in New London, Ralls County, Missouri, wrote to Stephen F. Austin:
Permit me to Introduce to your attention Col. Elijah Stapp and Mr. William Duncan; who came to Texas for the purpose of selecting lands for a number of families; who intend to migrate from this County to that Country, they are particularly bound for the Guadalupe on San Marco, as their intention is Mills Cotton Ginns etc.
It was not until 1830, however, that Stapp with his wife and six children came to Texas to make their home. On July 16, 1831, he received title to one league of land in De Witt's Colony, located in what is now Victoria County. The following officers were elected December 6, 1835 for the newly created Municipality of Jackson by the General Council of the Provisional Government: Patrick Usher, first judge; Elijah Stapp, second judge; John Alley, William Millican and George Sutherland, commissioners f or organizing the militia. When the municipality was created December 2 from Matagorda Municipality it was provided that "the Capitol shall be the Town of Texana, lately called Santa Anna." Approximately 85 votes were cast in the election held in Jackson Municipality to elect two delegates to the Constitutional Convention. At the box at the home of James Kerr, on the Lavaca, where Elijah Stapp and John Alley were the judges and Samuel A. White, the secretary, the vote was: Kerr, 29; Stapp, 27; George Sutherland, 2; and Francis Menefee White, John S. Menefee and Francis M. White were the judges at Texana. There Sutherland received 38 votes; Stapp, 26; White, 24; and Kerr, 20. Of the total number of votes cast, Stapp received 53; Kerr, 49; Sutherland, 40; and White, 40. Kerr and Stapp were declared elected. Stapp was seated at the Convention March 1. Kerr did not attend.
There is no evidence in the General Land Office that Stapp joined the army after the adjournment of the Convention. The fact that he was on the Trinity River in April is an indication, at least, that he was in the "runaway scrape." He wrote a letter April 9, 1836, at "Trinity" to President Burnet in behalf of J. J. Linn. He was probably with William Menefee who also on April 9 wrote to Burnet in defense of Linn. That he had not returned to his home before June 1, 1836 is stated in a letter he wrote to Gen. Thomas J. Rusk in June 1836:
June 1836 East of Colorado River Genl Rusk When I was at the Convention with you, my family was driven from their home on the Lavaca, by the Enemy and they, the enemy, have destroyed, & driven off all that I had to Support my family; I am over here destitute of money or provisions for my family which Compels me to ask your assistance by Granting Me an order to draw from any public Stores a Sufficienty to Support on; My family that I ask for is five children, Wife and Myself--two of My Sons has been in the army almost ever Since it first commenced last faul---there is now two; In a few days I send you another which is all that I have able to do Military duty---I am doing all I can to get men to Rally to the Standard and fight the Battles of Texas; any duty that my bodily Strength Would enable me to perform either in public or private that would advance the cause of Texas I feel anxious & ever Ready to perform; as Soon as I get Shelter & Something to Support my family, I intend to pay you a Visit If health permits---Your course of procedure is approved by the people So far as I can Learn they are of opinion when you Whip the enemy that you pursue them closely across Rio grande and not permitting them to take any arms of Munitions of war With them. Respectfully yours &c Elijah Stapp
Stapp was postmaster at La Baca, Jackson County in 1840. He died in March 1843. He was buried in what later became known as the old Russell Ward Cemetery five miles northeast of Edna, Jackson County. In 1936 the Commission of Control for Texas Centennial Celebrations had a monument erected in the cemetery in his honor. Stapp was married to Nancy Shannon. Their children were Preston; Darwin Massey; William Preston; Oliver; Hugh Shannon; Achilles; Walter; Le Grand; Rebecca; and Mary Stapp, who was married to William King. Darwin Massey Stapp, son of Elijah Stapp, was born in 1815. He was thrice married. On November 8, 1837, he was married to Mrs. Maria O. Heard [marriage record in the earliest marriages recorded in 1837 in JacksonCo archives], who was twice a widow. His second wife was Miss Cecelia Thompson [who died along with a daughter in the epidemic of 1867] and his third, Mrs. Lulu Cunningham Robinson, a widow. There were no children by the first marriage. Children of his second marriage were Elijah, Revel and Edward Stapp. Darwin and Lula Stapp were children of his third marriage. Darwin Massey Stapp died February 28, 1875 [and his surviving widow then married a Mr. Du Vinage in 1877 and they moved to San Antonio. Stapp's son, E.M. Stapp married Miss Neelie Robson of Victoria in 1870. Hugh Shannon Stapp, son of Elijah Stapp, was born in Frankford, Kentucky, in 1820. On November 9, 1850, he was married to Elizabeth M. Rice, daughter of Dr. Charles Wesley and Margaret Rice. Their children were Cecelia; Callista, who was married to Isaac Newton Mitchell; Charles; Darwin; Walter; Elsie and Dalton Stapp. William Preston Stapp, son of Elijah Stapp, was a member of the Mier Expedition in 1842. Some of the surviving, descendants of Mr. and Mrs. Elijah Stapp in 1939 were Mrs. Callista Mitchell, La Ward, Texas; Mrs. Eunice Stokes, 745 Porter Street, San Antonio; C. S. Mitchell, Lolita, Texas; Hugh 0. Mitchell, U. S. Coast & Geodetic Engineer, Washington, D. C.; Mrs. Ross R. Bailey, Houston; Mrs. Lena H. St ifford, Miami, Florida; J. J. Halfin, Beaumont; Preston E. Halfin, Victoria; and G. S. Halfin, Port Arthur.
---
TAYLOR. Felix Taylor (spelled Feliz in land record) is listed in DeWitt Colony land grant records as married with family of 5, but "certificate missing" showing date of arrival. Title for one sitio on the Guadalupe River southeast of Gonzales town was passed on 1 May 1831. In 1839 after a year of particularly severe Indian depredations in the DeWitt Colony and surrounding areas, Col. John H. Moore of Fayette raised a troop of 55 settler volunteers, 42 Lipan Apaches under Col. Castro and Chief Flacco and 12 Tonkawas to take the offensive against the Comanche raiders. After a surprise attack about 150 miles from Gonzales on the San Saba River, Moore realized he was outnumbered and was forced to retreat in a defensive action. Andrew Lockhart, whose captured daughter Matilda was in the Indian camp, was with Moore, but his daughter was prevented by her captors from responding to his calls. Felix Taylor was among the six (in addition to William Eastland, S.S.B. Fields, James Manor, Leffingwell, Martin) who were severely wounded after the encounter and were transported by litter back to the colony.
---
The Taylor and Connections Family Association hold an annual reunion. In September 2004 it was in Fredericksburg, Texas at the Fredericksburg RV Park (306 East Highway Street, Tel. 899-990-9582). Contacts were Marilyn and Jerome Lindig (Tel. 830-997-3324).
TAYLOR. Josiah, William Riley, Creed, Hardenia, Johanna
Josiah Taylor and Hephzibeth Luker. From information on the program of the dedication of grave markers….supplied by the late Luther Hill, Sr. Josiah Taylor was born in Virginia about 1781 in the James River area, probably below Richmond. There is no record of his early life in Virginia or his parentage. The first documented record is that of his marriage in Clarke County, Georgia on October 1, 1807 to a girl born in south Carolina about 1790 with the distinctive name Hephzibeth Luker. Their first two children were born in Georgia.William Riley Taylor was born in 1811 and Hardenia in 1812.
Josiah then left to go to Texas and was gone a period of about four years. During this period he explored eastern Texas and became involved in the Gutierrez-Magee Expedition, an abortive attempt by a combination of Anglo-Americans and Mexicans to free Mexico from Spanish rule. Josiah was one of the several captains commanding the Americans in the total force which included Indians as well as Mexican armies. Captain Josiah Taylor's men had been chosen with two important requirements in mind; they had to be well-mounted and proven marksmen with the rifle. In at least two of the four battles which were fought against the Spanish forces, Captain Taylor's company was in the center of the line and carried the brunt of the attack. The nucleus of the force assembled in Natchitoches, Louisiana, and moved on Nacogdoches which they took with only token resistance. Their next objective was La Bahia, on the coast. The Spanish governor at San Antonio moved to dislodge the invaders, but after several indecisive encounters, he retired to San Antonio followed several weeks later by Samuel Kemper who had commanded the forces at La Bahia. Kemper had succeeded to the command after the death of Lt. Augustus Magee. At the Battle of Rosalis, near the confluence of Salado Creek with the San Antonio River near San Antonio, the Spanish Royalists forces were defeated, and San Antonio was taken on April 1, 1813. In an effort to retake San Antonio, a Spanish force lay siege to San Antonio. At the Battle of Alazan on June 20, 1813, the Royalists were again defeated. In August a new force lay in ambush on the Medina River and sent out forces to lure the expeditionary force toward the ambush. On August 18, the filibusters were defeated with great losses, and the survivors were sent flying toward Louisiana. Captain Josiah Taylor was one of some three hundred who survived the battle out of the total force of about fourteen hundred men originally engaged. His escape was possible because of the superb horse which he rode. But he did not escape unscathed; he received seven wounds in the battle and rode back to Louisiana with two rifle slugs in his body which were removed after the long ride back. After he had recovered sufficiently to travel, Josiah returned to Georgia to his wife and two children. Their third child, Joanna, was born there in 1817.
Within two years he had moved his family to Tennessee. There Creed Taylor was born in 1820 son, Josiah Jr., two years later. The family then moved to Alabama. There two more sons were born, Pitkin in 1821/22 and Rufus about 1823. In 1824 the family moved to Texas where James was born about 1825 and last child, Mary Jane, about 1828. Josiah Taylor first took his family into the Atascosita area in the most southeasternly part of Texas, an area not open for settlement until December 1826. In 1826, Taylor was living in the area when the Atascosita Census was taken. The settlers of the Atascosita area were unable to get grants for the land on which they had settled, although petitions to the Mexican authorities were made and grants promised in due time. Some of the settlers lost hope of ever receiving grants, and when Green DeWitt received an empresario contract to settle four hundred families in his colony in April 1825, Josiah Taylor moved to DeWitt's Colony arriving January 16, 1829. His oldest son, William Riley Taylor, had preceded the family in moving to the colony. He arrived on June 28, 1828 [As a married man (to Elizabeth Tumlinson), he received a sitio of land on the headwaters of the Lavaca River in current Lavaca County. The La Bahia and Gonzales-Columbus Roads intersected through a corner of his tract--WLM].
Josiah settled on the land not far from the present-day Taylor-Bennett Cemetery where he and Hephzibeth are buried. On February 1, 1829, Josiah registered his marks and brands in the presence of John McCoy and witnessed by Green DeWitt. He also registered the brand and marks of Hephzibeth "by her husband and next friend," and the marks and brands of Joanna, Creed and Josiah Taylor Jr. "who are minors, by Josiah Taylor, their father and next friend." All are on record in Gonzales County and also witnessed by Green DeWitt. Josiah also applied for the grant due him as a colonist with a family. Certificate No. 58 was issued to him on May 28, 1830, a few months after his death, but this certificate was the basis for the grant of one league of land which was requested for his widow, Hephzibeth, by Green DeWitt, saying in part, "the interested party is a respectable lady and the widow of the colonist, Mr. Josiah Taylor, who, in addition to having died in this colony after he had been admitted, had the special merit of being one of the patriots who with their arms defended the cause of National Independence at Bexar in the year 1813." The application was signed by "Hephzibeth Taylor, widow of Josiah Taylor." Hephzibeth received her grant dated July 26, 1831. [The sitio of land granted to Hephzibeth Taylor was on the east bank of the Guadalupe River in current DeWitt County abutting on the Valdez tract on which the town of Cuero was later situated. The Taylor tract abutted the quarter sitio owned by Patrick Dowlearn--WLM]
A few months following the death of Josiah Taylor, widow Hepzibeth signed a marriage contact with Patrick Dowlearn who was a neighbor and a widower. This contract was recorded in Gonzales County dated July 20, 1830. The couple had one son, Joshua Dowlearn. Hephzibeth died in 1840 or 1841. Descendants of Josiah Taylor are numerous. William Riley Taylor married Elizabeth Tumlinson; Hardenia married Richard Chisholm; Joanna married Joseph Tumlinson; Creed Taylor married first Nancy Goodbread, second, Lavinia Spencer; Pitkin married Susan Cochran Day; Rufus married Elizabeth Loew; Josiah II married first Sarah Jane York, second, Emily Porter; Mary Jane married Achilles Stapp; and Joshua Dowlearn married Jane Lowe first, and Mrs. Rebecca Harkins second. Bena Taylor Kirkscey. (Reprinted by permission of DeWitt County Historical Commission and Curtis Media Corporation)
Creed Taylor's Narratives: Battle of Gonzales | Muster at Gonzales & Battle of Bexar | Muster and Retreat of Houston at Gonzales | The Runaway Scrape | Dr. Grant and the Matamoros Expedition | "Kentuck's" Escape from Goliad Massacre | The Battle of San Jacinto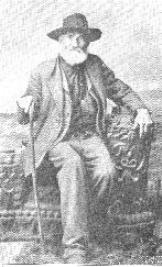 Creed Taylor and Nancy Goodbread. History has well documented that Creed Taylor was of hardy pioneer stock, quick to defend those he loved and in which he believed: family, community and Texas. He organized a command of old men and young boys---one of which was his sixteen year old son, Phillip (called Doboy) who appeared on Creed's muster roll as P.G. Taylor. He was Captain of the unit which was organized at Helena under Col. Rip Ford. Born April 10, 1820 in Tennessee, he was four years old when his parents, Josiah Taylor and Hepzibeth Luker Taylor brought the family to Texas. They ultimately became DeWitt colonists. Josiah died in 1830, but had already instilled many of his traits in Creed: a sense of adventure, skill with a muzzeloader and long bladed knife, and fine horsemanship. Creed also possessed expert tracking ability. By the age of twelve he had killed his first Indian. For a brief time, Hepzibeth sent Creed to board with the Almeron Dickinsons in Gonzales that he might attend school.Almeron would later die at the Alamo and his wife and child survive the massacre. Creed was at home on the Guadalupe when the rider raced up the road sounding the alarm that the Mexican Government was demanding the return of the small cannon which had been provided the Texans for protection from Indians. Only fifteen years of age, Creed enlisted at Bastrop under the command Ranger Chief, Robert Coleman and First Lieutenant John Tumlinson, thus becoming one of the youngest Texas Rangers. Creed reflected in his memoirs recorded by J. Marvin Hunter in 1891, that his father often prophesied that the Texans would not long "stand hitched" but would rise in arms and whip Mexico.
Creed certainly gave his all to this cause. Creed was with the small band of volunteers who defended the cannon at the Battle of Gonzales; Creed called it a "fracus!" So small the cannon, so great the ramifications of their retention of the weapon. Creed said they were proud of possessing the cannon because it was "the bone of contention." He fought in the Battle of Conception, the Grass Fight and the Siege of Bexar, where the Texans royally defeated the army of General Cos with daring, sharpshooting accuracy and the ingenius use of a crowbar. Creed said they used a crowbar to pry open the doors of the small adobe buildings and to drill holes in the walls through which they could fit the barrel of a rifle. Until the fall of the Alamo, Creed acted as a courier for Fannin who had received word that Santa Anna had crossed the Rio Grande en route to San Antonio. Creed said that he, and most of the Texans were "chagrined that they were not allowed to go to the defense of the brave men in the Alamo. He said, "We had come to fight, not run!" Following word of the tragic fall of the Alamo, Creed and his brothers lead their mother and younger brothers and sisters out of the treacherous path of Santa Anna; this difficult and sad flight would later be dubbed "The Runaway Scrape." Creed described the frantic trip for survival of the family as long and difficult, but said that his mother was brave and resolute and that if she ever shed a tear, he did not see it. He overheard her tell another mother that she wanted her boys not to let up on the Mexican enemy until they had been made to pay for all the trouble they were causing. Indeed, they did not let up. Creed joined Sam Houston and went through the Battle of San Jacinto. Creed said, "I was not afraid and thought only of fighting, I believe every man was ready for the fray." Creed described his return home as, "the happiest day of my life."
In early 1840 Creed said he "was struck by a love at first sight from which he never recovered." The young lady was Nancy Matilda Goodbread. Nancy, along with her father Phillip Goodbread and her sisters and brothers, came to Texas in 1834. Two of her brothers fought in Texas' struggle for Independence and her great grandfather's participation in the American Revolution has been verified. One of Nancy's brothers, Joseph, was killed by Charley Jackson in Shelbyville in 1837, setting off what historians have labeled one of the greatest feuds in Texas history---The War of the Moderators and Regulators. Creed and Nancy married April 25, 1840 in Grimes County; they built a log cabin on Ecleto Creek. A concrete storehouse owned by Creed was the first courthouse and was located in Sutherland Springs. Creed said that six weeks after their marriage he "rode away to war" and for all practical purposes did not return for three years. Now we know that he made a few trips home because late in 1840, Nancy gave birth to their first son, John Hays, named after the famous Texas Ranger, John C. Jack Hays, under whom Creed fought. In 1842, Phillip Goodbread Taylor, called Doboy, was born and in 1844, Caroline Hepzibeth Taylor, named after Creed's mother arrived as a new Texan and ultimately my great grandmother. My mother, Delvia Nell Spencer Tschirhart received much family tradition from her. August 12, 1840 found Creed in the Battle of Plum Creek and then on an Indian hunt with Robert Howard. He rejoined the Texas Rangers under Capt. Jack Hays and participated in the Battle of Bandera Pass and fought in the Battle of Salado. When the Mexican War broke out, Creed was off again and fought in nearly all battles from Palo Alto to Buena Vista. He also participated in the ill-fated Meir Expedition, obviously drawing a white bean; those who drew the black beans were killed.
And now to the regrettable Taylor-Sutton Feud. Creed said it had its beginnings when, following Texas becoming a Free Republic, an element of people rushed in having little or no regard for the law. They began harassing the old time community members, in some cases misappropriating their property, and land and threatening them with bodily harm. In an attempt to defuse the situation, Creed, a Master Mason, suggested that members of each party gather at the Masonic Lodge and let the Masons act as mediators. The trouble did subside until after the Civil War. Buck Taylor, Creed's nephew, was shot by William Sutton, his son's Hays and Doboy got into trouble with the Union Officers. Creed felt they did so in defending their honor against insult. Reconstruction was certainly not presented with much regard for the high spirited Texans and most historians agree that the tactics of the State Police and Regulators were in many cases questionable and in others, downright contrary to the law they had sworn to uphold. In addition to losing his two sons, (a loss from which he never recovered), Creed lost his brother Pitkin, his two sons-in-law, the Kelly Boys and his nephew, Buck Taylor. Many more relatives and friends were lost. Much loss of life and grief occurred with the Sutton faction as well and while it is hard for us to comprehend the feud in today's time frame, we should not now sit in judgement or question the motives of those who truly felt their actions to be well justified.
In 1866, Caroline married William Addison Spencer, then County Clerk of Old Karnes County; he worked out of the Helena Courthouse. When her mother, Nancy died in 1867, Creed deeded their home on the Ecleto to Caroline and W.A. Spencer. Creed relocated to Kimble County. Caroline and her husband would later follow Creed where W.A. Spencer figured prominently in Kimble County politics, serving as County Clerk, Sheriff and County Judge. In 1873, Creed married Lavina Spencer (W.A. Spencer and Lavina Spencer's fathers were brothers). Life for Creed was happier then. They lived in what was known to most as "The Taylor Mansion" at the head of the James River in Noxville. Creed probably named the James River after his father's father, also named James. The home was constructed over a two year period of hand chiseled stone over a foot thick and had two full front porches suspended by nine porticos. Said to be one of the finest houses in the southwest, my grandmother, Mineola Northcutt Spencer (who married Creed's son, James Josiah, "Kince") said it was always open to "the young folks who could dance til daylight" as Creed watched with delight.
Creed and Lavinia (called Aunt Vennie by our family) had five children. Mary, who married Gip Hardin and later Mr. Waddle, Linnelle, who married Mr. Blount, Minnie who married Mr. Jay and James Phillip Hays (named after both sons Creed lost in the feud and his grandfather) who married Effie Whetstone and Little Creed who died at about the age of eleven of lockjaw.
[According to Leta Waddle Horine, granddaughter of Leta Minnie Taylor, Leta Minnie married Joseph Lee Moses Waddle and her sister, Lennelle (Nell) married a Mr. Joy. It was Mary Taylor that married Jeff (Gip) Hardin, brother of John Wesley Hardin. After Jeff Hardin was killed, Mary married Mr. Blount and they later divorced. Mary had three Hardin sons, Buster, Joe, and Cleve and with Mr. Blount, two daughters, Jetty and Bertha. Taylor daughters, Nell, Mary, and Leta Minnie migrated from Texas to Arizona with their spouses and children in covered wagons. Nell Joy and family settled around Globe, AZ area. Mary Hardin Blount and sons settled west of Phoenix around Tolleson/Buckeye. Lettie Minnie Taylor Waddle and family settled in Casa Grande, AZ. Lettie Waddle told descendants that it was Mr. Joy that got the information out of her father, Creed Taylor, that was used for the book based on Creed Taylor's life, Tall Men with Long Rifles by James T. DeShields. She and sister Mary resented the fact that they never even got a copy of the book based on their father's narration. Readers should note that there is a sometimes intense skepticism about the credibility of the stories supposedly related by Creed Taylor and passed into the Texas History literature by DeShields and caution should be exercised in the credibility of the details. See In Search of Creed Taylor by Charlie Yates---WLM]
Mother described Grandpa Creed Taylor as "fiesty, but kind and loving." She recalled that he often took her on his knee and told her stories about Indian fights and other battles; she was, no doubt, hearing Texas History first hand. She remembered the days just before and after his death vividly. They were at a tree trimming party at the Spencer School, located on her parents ranch at Segovia when they received word of his worsening condition. They left by horse and buggy immediately on that Christmas Eve and stayed at the Taylor Mansion until he died the day after Christmas, December 26, 1906. Mother said the huge home was filled with friends and relatives; she attended his funeral at Noxville Cemetery. It was the first time she had seen him travel in a wagon ... he was always on horseback no matter how bad the weather. Creed was a guest of honor at the Battle of Flowers Fiesta---then called a Carnival in 1904. He is expected to be honored in some way at the Fiesta Centennial in 1991. When Creed died, our family lost a dear loved one---Texas lost one of the youngest and believed to be the last survivor of their struggle for independence. Dovie Bell Tschirhart Hall. (Reprinted by permission of DeWitt County Historical Commission and Curtis Media Corporation)
James T. DeShields in Tall Men with Long Rifles which was based on the narratives of Creed Taylor says he died 27 Dec 1906 at his home near Noxville, KimbleCo, TX. He notes that Creed did not know his own exact age and that records of his father's family, Josiah Taylor, were destroyed in the Runaway Scrape.
---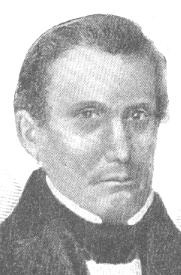 Elias R. Wightman. Summarized from Scraps of Early Texas History by Mary Sherwood Helm. According to Austin Colony records, Wightman arrived in Texas by Jul 1825 and received title to a league of land on 28 Oct 1830 as one of the "Old 300" original colonists. Wightman was involved in establishment of the town of Matagorda where he operated a salt factory and was a teacher. In Oct. 1829, he surveyed the town of Marion on the Brazos River. He married Mary Sherwood who married Meredith Helm after his death in 1841. Wightman was an official surveyor commissioned by Austin in 1830 and was probably in the DeWitt Colony during the 1828 census in that capacity or on a cattle trading mission (he held 30 head of cattle at the time of census.). Wightman, born 1792, was one of eleven children of Benjamin and Esther (Randall) Wightman in Herkimer County, New York. Benjamin Wightman was a Baptist minister. Elias was a school teacher in New York married a student, Mary Sherwood. In 1826, Wightman petitioned Austin for permission to build a town at the mouth of the Colorado River on Matagorda Bay. In 1828 Elias returned to New York to recruit settlers for Matagorda and with 39 persons, many of them relatives, came to the site of the proposed town of Matagorda. Beginning Nov 1828 at the head of the Alleghany River, the party journeyed down the Ohio and Mississippi rivers to New Orleans. Reaching New Orleans just before Christmas, they chartered the schooner Little Zoe to Matagorda Bay reaching the mouth of the Colorado River on 27 Jan 1829. Austin commissioned Wightman as a surveyor in Dec 1830 and on the 6th, he was appointed municipal surveyor for the District of Mina. Wightman's homeplace was on the Matagorda Peninsula to the east of Caney Creek. His field notes and map shows the town of Manhattan at the mouth of Caney Creek and what is known presently as "East Bay" was shown as "Manhattan Bay."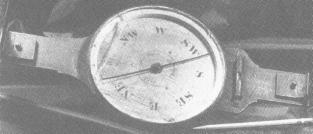 (Left: Elias Wightman's compass) The field notes written by Elias R. Wightman during the year 1838 consists of surveys and notes of practically all land in Matagorda County. Wightman lived in Matagorda County until 1841, serving as a surveyor of the county and and taking part in the life of the young Republic. He died in Covington, Kentucky, in 1841. The Colorado Gazette and Advertiser, Matagorda, December 18, 1841, reported his obituary: We regret to learn that our old friend, Elias R. Wightman, Esq. died a few weeks since, in Covington, Kentucky, whither he had gone to take possession of an extensive property, for which he had sold his residence in this county. Judge Wightman came to Texas as a surveyor to the first band of colonists brought out by Stephen F. Austin, and continued a resident of this county until within a month or two of his lamented death. He has left a large circle of relatives and friends among us, who feel this sad dispensation of Providence most sensibly. [inscription on Monument] ELIAS R. WIGHTMAN Died October 26,1841 Age 49 years 9 months Being born in 1792. He had a heart to contrive A heart to conceive A hand to execute Angels could do not more.
---
SONS OF DEWITT COLONY TEXAS
©1997-2014, Wallace L. McKeehan, All Rights Reserved