SONS OF DEWITT COLONY TEXAS
© 1997-2010, Wallace L. McKeehan, All Rights Reserved
Adam Zumwalt Jr.-Index
ADAM ZUMWALT JR.
1795-1872
DEWITT COLONY MINUTEMAN
Rancher and Farmer

JANE STRAIN KENT
1801-1865
The Z and ZA above are cattle brands Z-1 and Z-2 registered to Adam Zumwalt in Gonzales 5 Jan 1830 and 3 May 1834, respectively. One was probably assigned for "Black" Adam Zumwalt Jr. described here and the other for his hotelier and merchant cousin "Red" Adam Zumwalt Sr.
The Zumwalts-Alsace-Lorraine, Pennsylvania, Virginia, Kentucky, Missouri. "Black" Adam Zumwalt was born 18 May 1795 in FayetteCo, Kentucky, the fourth child of Andrew Charles Zumwalt Jr. (abt 1758-abt 1823) and Margaret Baldridge (birthdate unknown, d. abt 1844, married abt 1792). The tags "Black," "Jr." and "2nd" distinguish "Black" Adam Zumwalt Jr. (or 2nd) from the numerous Adam's in the Zumwalt family including his older prominent DeWitt Colony cousin who is likewise distinguished by "Red" Adam Zumwalt Sr. Neither are sons of an Adam thus it is believed the two were assigned the tags by either themselves or record keepers and historians to distinguish them. Adam Zumwalt's father, Andrew Zumwalt Jr., was the son of Alsatian immigrant Johann Wilhelm Andres Zumwalt who landed in Baltimore, MD in 1737, resided and helped develop YorkCo, PA. After the death of William Penn, the family moved to Georgetown on the Potomoc River and then to ShenandoahCo, VA. His sons migrated to BourbonCo, KY where "Black" Adam Zumwalt was born. Andrew Zumwalt Jr. and family moved with his brothers Adam, Andrew, Christopher, John and Jacob from BourbonCo, KY along with Daniel Boone between 1796-1798 where they became citizens of Spain and received grants of land from the Spanish government in the St. Charles District of the Louisiana District of the Indiana Territory. Adam met and married Jane Strain Kent (first name listed as Mary or Martha in various records), oldest daughter of Isaac and Lucy Hopkins Kent, in St. CharlesCo, MO in 1814. Jane Strain Kent was born 25 January 1801 in AdairCo, KY and was the half-sister of Alamo defender and member of the Gonzales Alamo Relief force, Andrew Kent, who married "Black" Adam Zumwalt's cousin Elizabeth Zumwalt (daughter of Jacob Zumwalt). An entry in the family bible of Gabriel and Celia Davis Zumwalt, found recently (year 2000) in an attic in Gonzales, confirms the marriage and birth dates of Adam and Jane S. Kent Zumwalt.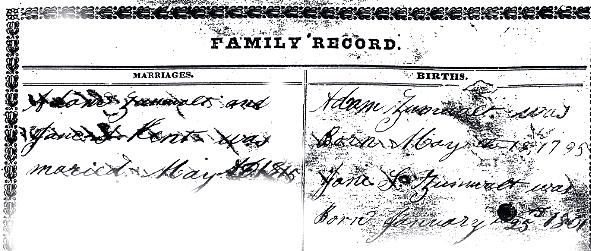 (Courtesy of Jeanie Walshak via Shirley Reynolds)
Arrival in the DeWitt Colony Texas from Missouri. Adam and Jane Strain Kent Zumwalt and family arrived in the DeWitt Colony in the same period as the five related extended families of Burket, Kent and Zumwalt between 1829-1830. It is unclear exactly how they arrived, whether by land or sea or in groups or individual families. Land grant documents state they arrived 22 May 1830 although these dates are not reliable as precise dates. If the birthdate of son Noah/Noel of 29 Dec 1829 is correct, than it is likely that the family came to Texas in the spring or summer of 1830. The family which arrived consisted of seven Missouri born children, five of whom were male.
Honorable Commissioner: I, Adam Zumwalt, a native of the United States of the North, before, you, the formalities of the law permissing, appear and say that having been admitted by the Empresario, Green de Witt, to settle the lands of his Colony according to the provisions of the Colonization Law of the State and as appears on the Certificate which I duly enclose, as I am married and have seven children, five male, and find myself to date without title of possession to the tract that is due me as a settle, I beseech you to please through the use of your authority put me in possession of one league (of land) which is entirely vacant in the watershed of Tejocotes Creek about 22 miles from this town, that I may receive justice therein. Gonzales, May 2, 1832. Signed Adam Zumwalt. [From Adam Zumwalt's petition for land title translated from the Spanish, Texas Spanish Land Grant Archives, vol. 13, pg. 641-644. For text of a complete land grant, see David Burket Land Grant. The original Adam Zumwalt landgrant in Spanish is here].
---
The children of Capt. Adam Zumwalt and Mary Jane Strain Kent
James | Andrew | Thomas | Isaac | Louisa | Lucinda | Noah | Mary | Gabriel | William | Claude | Jane | Nancy
Some records suggest a son Claude b. 5 Feb 1840, d. 1840, who may have been a twin of Jane who also died young. Various records also suggest a son Jesse and Noah/Noel who died young in MO and a son William b. 1843. There is little information on son James or John C., some records also suggest he died young in MO, however, the sons listed below, born in MO, fit with Adam Zumwalt's five sons declared on his application for land title.
---
James/John C. (10 Dec 1815 MO-1868)
---
Veteran of the Battle of San Jacinto
Andrew Alonzo (1 Sep 1817 MO-1 Nov 1886 TX)
(Photo from descendant Andy J. Zumwalt)

m. (1) Harriet Larimore/Lattimore/Lamore (1823-1874)
2 Dec 1837 ColoradoCo, TX
m. (2) Elizabeth Ellen Dempsey Hahn 4 Jul 1877 GonzalesCo, TX
(m. (1) Isaac Hahn)
---
Texas Ranger and Indian Fighter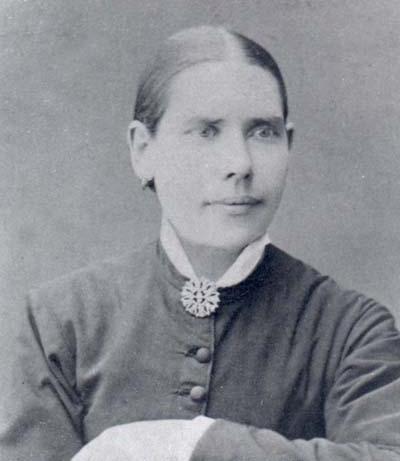 Thomas Bowen (9 Jan 1820 BooneCo, MO-Oct 1896 Capitan, NM)
m. Elsey Mae Billings (15 May 1822-12 Jan 1897) 1 Feb 1841 GonzalesCo, TX
[Photo: From a tintype, Courtesy of Jack Allen Zumwalt & Shirley Reynolds]
Thomas Bowen Zumwalt Sr. and family, along with brother Isaac Zumwalt, remained in the area around Gonzales and Lavaca counties for some time after their father Adam moved to FayetteCo. Thomas Bowen Sr. moved from the DeWitt Colony area of Texas to New Mexico around 1885. He was counted in the 1885 census of LincolnCo, New Mexico, living near Artesia.
In his book Sand in My Craw, stories of citizens of the "Free State of Lavaca," author Judge Paul Boethel relates:
Back in the days of the Reconstruction, a group of Rebel troopers, just home from the War of Rebellion, waylaid and robbed a government transport or wagon train near the county line south of Hope. The train was en route to Alleyton from Brownsville with a cargo of bacon, coffee and sugar---items the families of the troopers were in dire need of. The cargo was confiscated, divided among the men, and the wagon train destroyed by fire. The story, known as the Burnt Camp episode, was so well guarded throughout the lives of the men that many died without their children learning the details. And so it was with the prosecution of the offenders. The robbers were indicted, but no testimony could be secured to substantiate the charges, and the case was never tried. One member of the family of one of the participants, Thomas Zumwalt, learned of it quite by accident. He, as he described it, "got into my mother's hair" one day and she locked him in the cellar of their home. Left to his own resources in the dark confines of the cellar, Zumwalt began to explore and to take stock of its contents. In the corner most remote from the door, he found his father's share of the Burnt Camp loot---sugar in cubes. On his release, he was tempted by the sweets time and again until he became what the modern psychologists term a "problem child." But, as all good things usually do, his good fortune came to an abrupt end. His father, suspicious of his young son's antics, discovered the treachery, and substituted the peach limb for the cellar. Zumwalt's conduct improved remarkably thereafter, and upon his attaining manhood, his father disclosed the details of the story to him.
---
Survivor of the Mier Expedition
Isaac Kent (11 Feb 1822 Lexington, LafayetteCo, MO-29 Dec 1868 GonzalesCo, TX)
m. (1) Vernona/Verona Jane Love (abt 1830-abt 1856) 3 Dec 1848 GonzalesCo, TX. Vernona was the daughter of Alan Love and his first wife, Martha G. Merriwether. Alan later married widowed Lucinda Zumwalt. Isaac Zumwalt also married Rebecca Brown (1835-1868) 21 Feb 1856 Gonzales.
---
Louisa M. (7 Sep 1824 MO-1906)
m. 30 Mar 1843 GonzalesCo, TX George W. Walton (b. 9 May 1817 MO; d. 10 Oct 1904)
---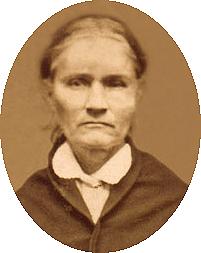 Lucinda L. Zumwalt
b. 5 Mar 1827 MO; d. 11 Dec 1888, Johnson City, BlancoCo, TX
(Photo abt 1885 courtesy of Floyd Waller)
m. (1) John Crawford (d. 1847) 25 Jan 1847 LavacaCo, TX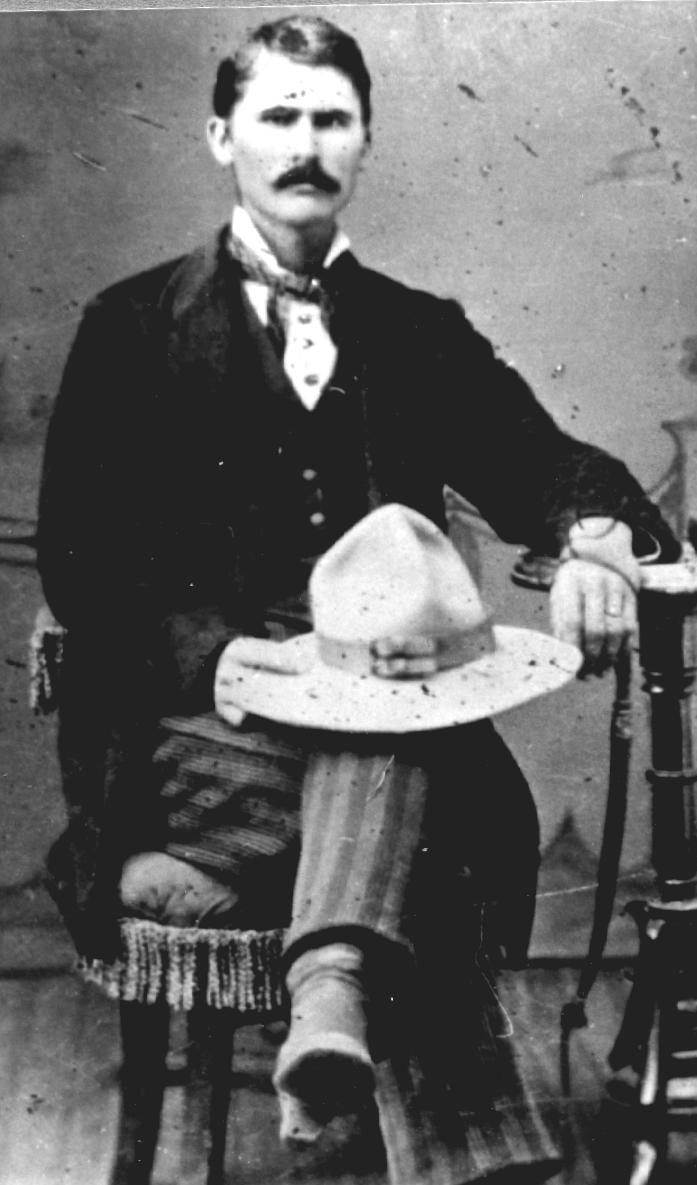 m. (2) Alan Love (photo left) (abt 1800 VA-1853) 11 Oct 1848 Petersburg, LavacaCo, TX.
m. (3) Travis Daniel Atkinson 11 Feb 1856 FayetteCo, TX
Travis D. Atkinson was a private in Co. E, Ragsdale's Battalion, Texas Cavalry, CSA. According to the Gonzales Inquirer 1854 he was originally a tailor, but was listed as a farmer in the 1860 census after marrying Lucinda. Military records for fall 1864 indicate he was AWOL and subsequently listed as a deserter. He apparently joined the unit again on 1 December 1864. From December 24, 1864 to March 1865 he was detailed by headquarters to a hat factory at Lagrange. [Contributed by descendant Floyd Waller].
m. (4) G.W. Kennedy (d. 21 Dec 1888, BlancoCo, TX) 4 Jun 1867
1850 Census GonzalesCo, Peach Creek District: Love, Allen, 50, m, $125, Va.; Love, Lucinda, 23, f, Mo; Love, James, 17, m, Ala; Love, Joseph, 14, m, Ala.
---
Noah/Noel (4 Dec 1829 MO-1845)
---
Mary Elizabeth
(25 Jan 1834 Old Mexican Municipality, Coahuila y Tejas-28 Aug 1917 GonzalesCo, MO)
m. Jonathan A. Doak (1815-1887)
---
Gabriel
(29 Jun 1836 GonzalesCo, TX-bef 1868 LavacaCo, TX)

m. Cecelia/Celia/Sealy Davis
(b. 1843) 28 Jun 1859 FayetteCo, TX
(later m. Joseph (Joe) Chalmers Meneley 28 Jun 1869)
---

---

Claude (b. 2 May 1840; d. bef 1850)

---
Elinor Jane (b. 2 May 1840 TX; died young)
---
Nancy Ann (b. 24 Jun 1842 GonzalesCo, TX)
m. Joseph Love 16 Sep 1859 FayetteCo, TX. Joseph Love was a son of Alan Love by a first marriage who married Nancy Ann's sister, Lucinda Zumwalt.
---
"Black" Adam Zumwalt received title to a league, 24/25 sitio, of land on 8 May 1832 which was described as "on the watershed of Tejocotes Creek about 22 miles from the town of Gonzales." [Tejocote is a small yellow fruit, Pomum saxeum, similar to the hawthorn berry. The word came from Aztec texocotl meaning wild acid and hard fruit. Diarists on the Alarcon Expedition mentioned tejocotes, medlar and plum trees among the thick brush in Texas. Medlar was similar to crab apples and common in European Spain]
Two branches of the northeast part of Peach Creek runs through the league in a north-south and north direction. Currently the league is split down the middle by the current Gonzales-Fayette County line running from the northwest to the southeast corner. The property is almost exactly halfway between the Lavaca County and the Caldwell-Bastrop County lines.
.....Adam Zumwalt, 2nd, having proved that his is married as well as there being found in his person the requisites prescribed by the Colonization Law of the State dated March 24, 1825; in conformity with the cited Law, the contract, the instructions which govern me dated September 4, 1827, and the commission which was conferred upon me by His Excellency the Honorable Governor of the State by order of the 29th of January of last year of 1831; in the name of the same State I concede to, confer upon, and put the said Adam Zumwalt 2nd, in real, actual, corporal and virtual possession of one league of land, which land, having been surveyed by the Scientific Surveyor, Byrd Lockhart, previously appointed in legal form, was found to be situated as follows and with the following boundaries: Situated on the watershed of Tejocotes Creek about 20 miles from Gonzales, beginning on the north side of No. 31, exactly 2000 varas wes of its northeast corner at a driven stake which serves as the southeast corner of this survey and from which an oak, 8 inches in diameter bears south 25 degrees west 5 varas distant and another, 10 inches in diameter, bears north 35 degrees east 7 varas distant. Thence in a straight line north 5000 varas and a stake was driven for the northeast corner of this survey, from which stake an oak, 12 inches in diameter bears south 15 degrees east 6 varas distant and another, 14 inches in diameter, bears north 63 degrees west 1 1/2 varas distant. Thence west 5000 varas to the northwest corner where a stake was driven from which an oak, 12 inches in diameter, bears south 73 degrees west 4 varas distant and another, 10 inches in diameter, bears north 41 degrees east 12 varas distant. Thence east 1000 varas to the north west corner of No. 31. Thence 4000 varas more in the same direction to the place of beginning, according to what is of record in the original field notes.....[From Adam Zumwalt's petition for land title translated from the Spanish, Texas Spanish Land Grant Archives, vol. 13, pg. 641-644. For text of a complete land grant, see David Burket Land Grant]
To complete the sitio of land for which he was eligible as a married colonist, Adam was later granted a labor of land on the Lavaca-Colorado County border which he received title for in 1838 and sold to Willard Wadham in 1841 for fifty dollars. The land was described in the survey for Wadham as "mostly in Lavaca County, partly in Colorado County on the Sandies River about 25 miles SW of Columbus and 18 miles SE of Halletsville."
[Late March photo of the Mossy Grove Church, Lavaca County. Behind the church is the cemetery. Click on picture for enlargement and more photos]. Records of "Black" Adam Zumwalt's movements suggest that the immediate family did not settle on his land grant upon arrival in the colony and lived on it only in later life, if at all. It is believed that the family lived in or just north of Gonzales town prior to fleeing the area in front of Santa Anna's army in the Runaway Scrape. After their return to the colony in 1837, the family settled and with other Zumwalts and friends actually began what became known as the Zumwalt Settlement south of what later became the county seat, Petersburg, between the conjunction of Mustang and Yellow Bank Creeks and the Lavaca River south of Hallettsville in current Lavaca County. According to Judge Carl Boethel, Lavaca County historian, "Black" Adam's homeplace is near where the Mossy Grove Church and Cemetery currently stand not far from the Lavaca River
Lavaca River Minutemen. Along with Burket, Kent and Zumwalt relatives and most other DeWitt Colonists, from the time of their arrival in 1829 to 1835, "Black" Adam Zumwalt and family lived in peace as loyal citizens of the Mexican State of Coahuila y Texas except for the sporadic vandalism and violence by small nomadic bands of Indians and outlaws from the USA and Mexico. However, the increasing threat to that way of life by the centralista Mexican government and threat of dictatorship increased the demand for organized military protection. Manpower and supplies for military protection was in short supply both on the part of DeWitt Colonists and the central Mexican government. Therefore, local defense consisted of volunteers (minutemen) who responded to raids at any moment from wherever they happened to be carrying on the business of making a living and developing the colony. Although a participant in some, he apparently played no formal leadership role in the most well known battles leading up to and during the Texas Revolution. "Black" Adam Zumwalt was distinguished as a leader of citizen-soldier/minutemen and clearly focused his attentions in that capacity as a citizen-soldier commander on the security of primarily the Lavaca River area of the DeWitt Colony in response to both incursions by Indians and the Mexican Army. In that role he became known as Captain Adam Zumwalt.
The following sworn affidavits by himself and sons before Gonzales Notary, E.W. Walker in 1870 (copied without editing from the E.W. Walker Papers in the Texas State Archives):
The State of Texas, County of Gonzales Before me, E.W. Walker, a Notary Public in and for Gonzales County, personally came and appeared Adam Zumwalt se- well known to me, and after being duly sworn deposes and says that he moved from the State of Missouri to Texas in the year AD 1830, and that he has been a citizen of Texas every since said date, And that he was present and took part in the first fight or ingagement that took place at Gonzales, under Capt. Gohene Col. John H. Moore regiment on the 2nd day of October AD 1835 and that he was Capt of a Minute Company for some eight years, and was with his company in the fight with the Indians at Lenville, and followed up said Indians until they were drove out of the settlements, And that he was present in command of his company at the Battle of Salado and was under Col. M. Caldwell or attached to his regiment and took and part with his men in that fight against Gen. Wall on the 17th day of Sept. AD 1842, and he states on oath that he is now a resident of Fayett County Texas and was seventy five years old on the 18th day of May last, and he further states that he was allways ready to serve his country when called upon, by having a few hours notice. Adam Zumwalt
A note at the bottom by E.W. Walker states "he was in charge of families on the retreat before the Battle of San Jacinto. Starting in charge of, and with said families from Lavaca County."

Above is the signature of Capt. "Black" Adam Zumwalt from his land grant title in the Texas Archives. Signatures of cousins "Red" Adam (below) and Capt. "Black" Adam Zumwalt are similar yet distinct.

Committee of Safety and Correspondence. "Black" Adam Zumwalt was in attendance on 17 May 1835 at the organizational meeting of the Committee of Safety and Correspondence between citizens of the DeWitt Colony along the Lavaca River and from the Gonzales area. It is thought that cousin "Red" Adam Zumwalt and cousin-by-marriage David Burket were at the meeting although brother-in-law Andrew Kent, who lived on his league on the Lavaca River south of where the Zumwalt Settlement was later established, was probably not at the meeting .
Battle of Gonzales. On 2 October 1835, "Black" Adam Zumwalt and son Andrew Zumwalt joined relatives Andrew Kent and son David Boyd Kent in the Battle of Gonzales, which began in earnest the final phase of the struggle for Texas independence that began under Spain as early as 1813 and culminated at San Jacinto in April 1836. The Walker affidavit above and an additional affidavit in support of application for pension for his survivors after his death in 1874 attests to the participation of Capt. Zumwalt and son Andrew:
The State of Texas County of Gonzales Andrew Zumwalt of said State and County a credible citizen to me well known who being sworn according to law declares that Adam Zumwalt, deceased, who applied for a pension under the law of August 13th 1870 participated and served in the battle fought in behalf of the people of Texas between the Mexican forces commanded by Ge. Ugartechay and the Texans commanded by Co. John H. Moore near Gonzales in the year AD 1835 and affiant further says that he was in the same battle with the said Adam Zumwalt, deceased.
Andrew (X his mark) Zumwalt Sworn and subscribed before me this 18th day of August AD 1874 to which as Clerk of the District Court of Gonzales County, State of Texas, I certify under my hand and official seal, this day & date above written. F. Chenault Clk
Precinct of Upper Lavaca. On 1 February 1836, Captain "Black" Adam Zumwalt, cousin Abraham Zumwalt and brother-in-law Andrew Kent were voters in the "Precinct of Upper Lavaca" in the election for two delegates to the Convention which was to convene March 1 at Washington-on-the-Brazos and declared independence from Mexico. Andrew Kent and Isaac Millsap were judges and Henry C.G. Summers was clerk for the election. Besides Kent, Millsaps and Summers, eight others went to the polls and voted: Adam Zumwalt, Michael Cody, Arthur Sherill, William E. Summers, George Henry Hall, John Ashby, Abraham Zumwalt and John Smothers. Candidates for delegates were Esquire Ball, J.D. Clement, Bird Lockhart, John Fisher and George W. Davis.
The Run Away Scrape. On 27 February 1836, Captain Adam Zumwalt's brother-in-law, Andrew Kent and over 30 other Gonzales men, departed Gonzales in relief of the Alamo where they died on 6 March 1836. News of the fall of the Alamo in San Antonio brought panic to residents of the DeWitt Colony around Gonzales and the Lavaca River even as Houston arrived from Washington-on-the-Brazos to assemble an army and begin his retreat to the Colorado and Brazos Rivers. According to the W.W. Walker Papers in the Texas State Archives, Captain Zumwalt was placed in charge of evacuation and accompanied Lavaca County families east toward the Sabine River in the flight known as the Runaway Scrape or Chute to the Sabine. In-law David Burket and cousin "Red" Adam Zumwalt participated in the same functions for Gonzales settlers.
The Battle of San Jacinto. On 21 April 1836, Captain Zumwalt's son Andrew Zumwalt served in The First Regiment of Texan Volunteers commanded by Colonel Edward Burleson in Infantry Company F commanded by Captain William J. E. Heard at the Battle of San Jacinto. A petition for pension by Andrew Zumwalt is in the Texas State Archives:
"Mr. A. Bledsoe, State Comptroller, Austin, Texas Your petitioner Andrew Zumwalt, would respectfully represent, that he is one of the veterans of the Revolution which separated Texas from Mexico. That he was enrolled in W.J.E. Heard's Company about the 1st March 1836, served for three months during which he participated in the Battle of San Jacinto, That he obtained an honorable discharge from Capt. Heard, countersigned by Lieut. Col. Somerville, upon which he acquired his Donation Land Warrant." Andrew (his X mark) Zumwalt.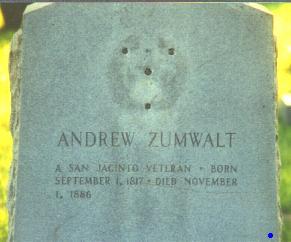 Andrew Zumwalt (1817-1886) married Harriet Lattimore in 1837 and they had children Margaret Ann, James, Sarah, Robert, Clarissa, William, Mary Ellen, Julia and Joseph. He married Elizabeth Hahn in 1877 and they had a son Thomas Zumwalt. Andrew Zumwalt is buried on his land grant which bordered on the east of the Gonzales town tract in the Denton Creek Cemetery, 7 miles NE of State Hwy. 97 outside Gonzales. His gravestone reads: "ANDREW ZUMWALT, A San Jacinto Veteran, born September 1, 1817, died November 1, 1886" The metal Texas historical marker wreath and star, placed by the State of TX in 1936, has been vandalized. Some references suggest that an Adam Zumwalt was at San Jacinto in addition to Andrew Zumwalt, although there is no evidence that either "Black" or "Red" Adam Zumwalt, both of whom were accompanying families on the Runaway Scrape, returned in time to participate in the battle. In the 1850 census of LavacaCo, TX, 32 year old Andrew was listed with wife Harriet 27, Margaret 11, James A. 7, Sarah 4, Robert 2 and Clarissa J. 11 mo. In 1860, the family was in the Gonzales town district of GonzalesCo. Listed were Harriet, James, Sarah, William, Mary, Julia and a W. Christian, farm hand from GA. In the 1870 census of GonzalesCo, Andrew and family (wife Harriet, Mary Ellen, Julia, Joseph T., Mary, Sarah and Sion) are listed in the Belmont District. Mary Jane Boykin, Sarah C. Boykin and Sion Andrew Boykin, listed as orphans, were children of Margaret Ann Zumwalt and David E. Boykin. The children lived with their grandparents after their mother died. David Edward Boykin moved to Montana where he died in 1908. Andrew Zumwalt's granddaughters Margaret (Maggie) Meneley and Sarah Cooper (Lou) visited their father in Montana, Maggie lived out her life in Billings. Sion A. married and had 8 children in San Antonio, TX.
Minuteman Activity on the Lavaca River 1837-1842. Captain Adam Zumwalt began to play a major leadership role in security of the area of the DeWitt Colony which is now Lavaca County when he returned to the Zumwalt Settlement from the Runaway Scrape in 1837. He was officially elected captain of a Minute Company for protection of the Lavaca River settlements after 1841. The first recorded action in which he was involved happened at daybreak on a fall day of 1837 when Comanches passing through their usual path south, the Big Hill area of current Lavaca County, attacked DeWitt Lyons and son Warren in their cow lot near current Shulenberg in current Fayette County. Lyons was an early settler in the Austin Colony. The Indian band killed and scalped the elder Lyons and carried off young Warren and horses. The 13-year-old Warren was not seen until 1847 when he appeared in San Antonio with a band on Indians on a trading visit. According to Wilberger in Indian Depredations in Texas he could not be persuaded to leave the band and doubts arose as to his real identity. Upon being taken to the Lavaca ranch where he was kidnapped, he exclaimed "Dar me fadder kill--dar me take off." Upon seeing his mother Mrs. Lyons he said "Dar me mudder! Ar me mudder!" erasing all doubt of his origin. In later years he served as an interpreter and Texas Ranger under Lt. Ed Burleson (son of General Ed Burleson) and gained a reputation for continuing his Comanche-style tactics in battle with them. He is said to have complained about the restrictive and uncomfortable outfits of the traditional Ranger and in the heat of combat would often cast off his Texan style boots, clothes and gear and meet the enemy in their own style and uniform. J.H. Livergood, who resided with the Zumwalts when he first arrived in Texas, survived the Mier Expedition and was a Lavaca County Judge in 1852, related the incident:
"In October, 1837, shortly after I reached the Lavaca River, the Comanche Indians made a raid on the settlement of the Navidad near where Shulenberg now stands, killing a Mr. Lyons and taking captive his son Warren, age 13, whom they kept for ten years. At this time there were but ten families in the bounds of this county, or rather this portion of Gonzales County, and hence there were but few to pursue. A company of thirteen was mustered, however, some of whom were from Fayette County, and started in pursuit. Among those in this little band, I recall the names of James and Anthony Brown, Tucker Foley, W.H. Baldridge, David Kent (son of Andy Kent who fell with Travis in the Alamo), Pat Dorathy (Dougherty), Andy Zumwalt, Wm. Berntham, Burbanks, and a Mr. Stifner, a recent arrival from the old states. They pursued the Indians northward into the mountains, where they struck another trail coming south, which they took and came upon the Indians on Big Brushy, near where Yoakum now stands. A battle ensued, in which our party lost one man, Mr. Stifner, and had several wounded, but killed four Indians and captured thirty-two horses. Judging from the number of horses, we supposed that there were thirty-two Indians. The horses were brought to Captain Adam Zumwalt's, on the Lavaca River, near where Mossy Grove church now stands. Next day a small party returned to the scene of the conflict, and buried their comrade, Mr. Stifner, which was, indeed, a sad duty, considering the fact that he had just arrived from the states."
John H. Livergood further related another incident in 1838:
"Again, in 1838, a small party of Indians stole down upon the Lavaca River, near where Mossy Grove Church now stands. At this time I was making my home with Adam Zumwalt. Late in the evening several of us concluded to go into the field for some melons. I bore close to the bushes, in which I saw some persons, and hailed them, without receiving any reply. They proved to be Indians. Next morning we gathered a company of fifty-six men and started on their trail. Near Halletsville, we found where they had killed Arch Smothers, uncle of our ex-sheriff, and a Mr. Nunnelley, whom we buried near the graveyard where Halletsville now stands, crossed the Lavaca near where Dr. Lay lives, passing right between the residences of Barney and James Brown, who lived about 300 yards apart. They drove all the horses with them, leaving none with which to pursue."
Archibald Smothers, son of John Smothers, and Nunnelley were surprised and killed at night in their camp on the Lavaca River where they were cutting trees and making boards.
Continuing Mexican Hostility toward the Republic of Texas. In the Treaty of Velasco after the Battle of San Jacinto in spring 1836, Santa Anna agreed to cease all hostilities against Texas, to keep Mexican forces below the Rio Grande River, to work for recognition of Texas Independence in Mexico and to develop treaties for commerce. This established the Rio Grande River as the political boundary between the two nations. However, this did not end hostilities between the two nations and moves by factions south of the border as well as some within Texas to destabilize the New Republic and to return control to the centralist Mexican government. As soon as Gen. Vicente Filisola returned to Matamoros from the Battle of San Jacinto in spring 1836 as commander of northern Mexico, he continued efforts to unite Indians, disaffected native Tejanos and any others that disliked the independent Texas government in a war against Texas. In 1838, his replacement General Valentino Canalizo continued the effort.
The first significant outbreak which impacted DeWitt Colony residents was "Córdova's Rebellion" which began in east Texas around Nacogdoches in fall 1838 and early 1839. Vicente Cordova and his allies crossed into the DeWitt Colony area above Seguin near current New Braunfels where he was confronted by rangers under Col. Edward Burleson and then pursued by troops under Capt. Mathew Caldwell to the Nueces River. Agitation also continued on the Rio Grande border when Mexican Federalists under Jose M.J. Cardenas as President and Licentiate A. Canales as military commander moved to establish an independent Republic of the Rio Grande which failed in late fall of 1840. Over 300 Texan volunteers under Colonel William S. Fisher of Gonzales and Captains S.W. Jordon and Juan Seguin unofficially allied with forces under General Canales in the movement. Mexican officials encouraged the Comanche raids to the coast and by some accounts actually accompanied them from time to time. The Great Comanche Raid on Linnville resulting in the Battle of Plum Creek is thought by some scholars to have been largely promoted by the Mexican authorities. In Feb 1842 the attempt to aid the citizens of Santa Fe in current New Mexico in their move for independence ended in failure, capture and imprisonment of Texan forces in Mexico. In March 1842, General Rafael Vasquez with a force of over 1400 captured San Antonio with little resistance, plundered the town and retreated quickly below the Rio Grande, presumably in response to the Santa Fe movement. Similar hit and run actions accompanied by looting and brutality by Mexican forces happened concurrently at Goliad and Refugio. In September 1842, San Antonio was again occupied by Mexican forces under Gen. Adrian Woll which resulted in the Battle of Salado and pursuit of the retreating Mexican forces to the border in which Capt. Adam Zumwalt's company of Lavaca River volunteers participated under Capt. Mathew Caldwell. Response to these invasions led to the disastrous Somervell and Mier Expeditions.
Isaac Kent Zumwalt and the Mier Expedition. Capt. "Black" Adam's son, Isaac Kent Zumwalt, took part in both the Somervell Expeditions (Capt. Isaac Mitchell's Company) and the Mier Expedition (Capt. Reese's Company) where he was taken prisoner. After an escape attempt on the way to Perote Prison in Mexico City, Santa Anna ordered that all 176 prisoners be executed. In response to appeal by Mexican officers who detested the order and possibly diplomatic pressure, Santa Anna consented to execution of only every tenth man by draw from a mixture of 17 black and 159 white beans. Officers drew first by possibly rank or age, then enlisted men in alphabetical order. Black beans were said to have been at first placed on top for the draw of the officers, then mixed for the enlisted men. Bigfoot Wallace drew a white bean preceding Henry Whaling and Martin Carroll Wing 16th and 17th to draw black. Family legends say Isaac Zumwalt would have been the next to draw if Wing had drawn white. The episode has been a source of comment in Zumwalt family stories to date whenever there is a complaint by family members bearing the surname of always being last on the alphabetical lists. Isaac Zumwalt was among the Texan prisoners released by the Mexican government on 16 Sep 1844, who arrived in New Orleans on the schooner Creole. He returned to the Gonzales area where he married Verona Jane Love in 1848 and had children Adam Zachary, James L., Martha Jane and Allen L. He died in Gonzales County in Dec 1868. The following is in the Public Debt Papers, State Archives, Austin, TX:
Perote, Mexico Know all men by these presents that Isaac K. Zumwalt was duly enrolled in the company of Capt. Isaac Mitchell on the twentieth day of October AD one thousand eight hundred and forty two and was transferred to Capt. C.K. Reeses Company on the nineteenth day of December in the year aforesaid and has faithfully performed the duties of a soldier and is hereby honorably discharged from the service of the Republic of Texas. Given under our hands this Sixteenth day of September AD one thousand eight hundred and forty four. F.W. Douglass 2nd Lieut. William L. Fisher Col. COM. To Isaac Zumwalt Dr. For services as a member of the Mejar expedition from the 17th October 1844 at $22.50 per month, $540. For horse lost in said Expd. $65; Total $605.
From the Lavaca to Peach Creek to Fayette County. In the years after statehood in 1846, Capt. Adam Zumwalt moved from his home on the Lavaca River in the Zumwalt Settlement and Petersburg to the area about 15 miles east of Gonzales on Peach Creek in Gonzales County. He probably lived on his 640 acre piece of land which was awarded by the Republic of Texas for service as described in the Texas State Land Archives:
General Land Office Austin, Texas I, J.J. Groos, Commissioner of the General Land Office, hereby certify, that the records of this office show, that Adam Zumwalt served faithfully and honorably in the Army of the Republic of Texas for a Term of three months from the Sixth day of June 1836 until the Sixth day of September 1836, that he was honorably discharged from said service and received for the same a Bounty Warrant for 320 acres of land which is on file in this Office with the field notes of a Survey patented by virtue of the Same. In testimony thereof I hereunto set my hand and affix the impress of the Seal of my Office this Fourteenth day of August AD 1874. J.J. Groos, Com.
In the 1850 census of Gonzales County, 55 year old Adam Zumwalt was living in the Peach Creek District with wife Jane S. and children Mary, Gabriel, Jane and Nancy. Next door was 30 year old Thomas Zumwalt and family (Else, 37, Ella, 19, Isaac, 17 teamster, Andrew 12 teamster, Lucinda 13, Lucretia 11, Tom 9, Sarah 9, Noah 6, Fanny 8 mo., John McChin 30 blacksmith, John Warren 27, blacksmith). Also nearby was 28 year old Isaac K. Zumwalt, wife Verona age 20 and son Allen age 9 mo. Thomas and Isaac remained in GonzalesCo while sometime after Adam Zumwalt moved to Fayette County, where he was referred to as a pioneer associated with the development of Cistern and the surrounding area which included the areas called Plum or Elm Grove and Slack's Well. Cistern was named because of the fact that surrounding ground water was heavy mineralized and settlers often collected rainwater for drinking from cisterns. Slacks Well's water was known for its medicinal value and popular with local settlers for that purpose. Capt. Zumwalt and family members may have lived on his league on the Gonzales-Fayette County border, although current Elm Grove and Cistern are not within the original league boundaries. Daughter Mary Elizabeth was married in Gonzales County in 1851 while son Gabriel and daughter Nancy Ann were married in Fayette County in 1859. This suggests that the family moved to Fayette County between 1851 and 1859. Capt. Adam, age 65, farmer and wife Jane S., age 60, were recorded in the 1860 census of FayetteCo, TX with post office address Plum Grove. Nearby in the same census was Capt. Adam Zumwalt's 24 year old son Gabriel (Gaberil) Zumwalt, wife Cecelia age 17 and 5 mo. old Anna J. Capt. "Black" Adam Zumwalt died in Fayette County, TX on 11 Jul 1872. Wife Martha Jane Strain Kent Zumwalt, sister of Alamo defender Andrew Kent, died earlier in 1865 and the Captain subsequently married Clara (Clarissa) Boswell Hurt (1811-1884) in Fayette County on 20 Jun 1866, a marriage witnessed by his good friend Jonathan Burleson. Clara Boswell first married William Perin Hurt in 1830. They had one son, Alexander Hamilton Hurt who later married Sarah Elizabeth Zumwalt, granddaughter of Capt. Adam Zumwalt and daughter of his son Thomas Bowen Zumwalt.
Sons Andrew and Thomas swore out an affidavit confirming Adam Zumwalt's death in a document in the Freytag Papers in the Fayette County, TX Archives, La Grange:
State of Texas County of Gonzales Personally appeared before me the undersigned authority, Thos. B. Zumwalt and Andrew Zumwalt both well known to me who upon oath say they know of their own knowledge that Adam Zumwalt, who applied for a pension under the Law of August 13th 1870, died on the 11 day of July AD 1872, leaving Clarissa Zumwalt his surviving wife, who was living on the 1st day of July AD 1874 & who is still living. Andrew (his X mark) Zumwalt T.B. Zumwalt Subscribed and sworn to before me to which as Clerk of the District Court of Gonzales County I certify under my hand and official seal this 17th of August 1874. F. Chenault Clk CDGC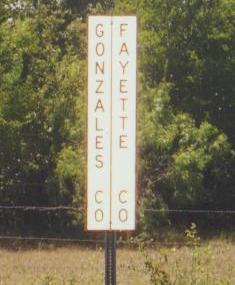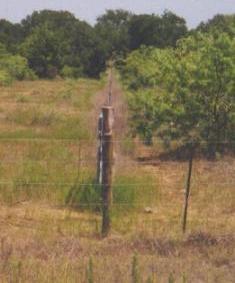 [Photos: Left and right side of State Road 1115 north of Waelder where it turns east toward Elm Grove. On the left the sign marks the county line, on the right a fence runs down the line.]
Notes in the Freytag Papers of 1956 in FayetteCo archives state:
One Ballard at Elm Grove told me (10/17/56) that Zumwalt had a store in Elm Grove and I assume he meant Adam Junior and he described to me the location of the Slack's Wells which is on his son's property, a short distance prior to reaching a point where the present farm-market road makes a left turn, or curve. The wells are on the left, and were medicinal wells, or water which was used by the old settlers for all sorts of ailments. Ballard further states that the Double Live Oaks (only one tree now in 1956) was a landmark for all going in many directions--to Austin, Houston, San Antonio, etc. In the old days there was very little brush and trees and the Double Live Oak could be seen for miles as a sign post. All the old settlers knew about them. If I am not mistaken, three counties come together at this point (right at the trees)---Fayette, Gonzales, Caldwell, and only a short distance north (I don't believe it is more than 1/2 or 1 mile) is where Bastrop County adjoins Fayette.
[It is likely that Ballard referred to Gabriel Zumwalt, son of Adam Jr., who had a history of being a merchant in GonzalesCo, that ran the store at Elm Grove. The Fayette, Gonzales and Caldwell county conjunction is considerably northwest of the locaton of the double liveoaks, one of which is believed to be still standing in 2003--WLM]
Notes with the heading Zumwalt presumably gathered by Freytag from unknown sources, or possibly individuals mentioned in the notes, state:
Adam Zumwalt Jr. is buried along the Fayette-Gonzales County line--his feet are in Fayette and his body in Gonzales County. His children are named in a deed from Adam to his son, Gabe, abt 1856, and recorded in Fayette and supposedly in Gonzales Counties. He was living in 1886. He lies alongside two daughters, Gabe is buried in the Elm Grove cemetery. Si Jacobs informed Joe Cole abt the graves and Mr. Cole found the spot. Andrew is buried in the Demons (sp) cemetery [Denton Cemetery]--6 miles NE of Gonzales; his grave is marked (Cole). Adam Jr. had wife and children. She died and he married a Miss Davis (see Cole). She m one Meneley (check Fayette County marriage records). A deed listing the Adam Jr. children is in possession of Robert Mullins of Elm Grove, Fayette County, Texas. Supposed to be on record in Fayette and Gonzales Counties.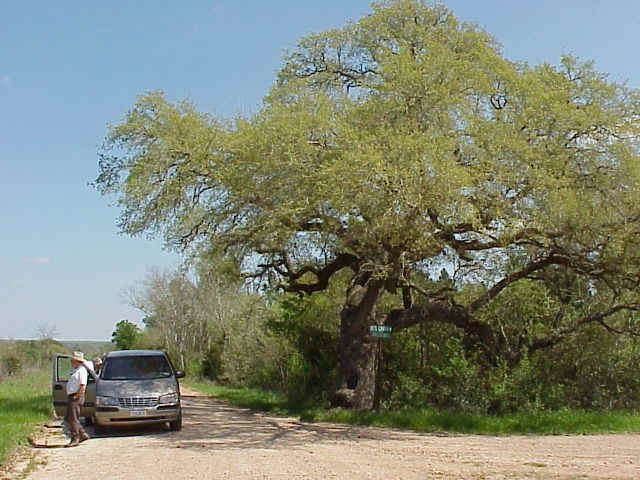 The community of Elm Grove is currently marked by the presence of the Elm Grove Baptist Church and cemetery on State Road 1115. As 1115 crosses into FayetteCo from GonzalesCo, it veers sharply east at the county line (photos above) to Elm Grove Community. A county road Double Live Oaks Lane, obviously named after the historic twin oak landmark, continues northwest off 1115 at the county line. At the intersection of Double Live Oaks Lane and Bar Ranch Road that runs north is believed to stand one of the historic twin live oaks (photo left, courtesy of Gary McKee).
Gonzales, Fayette, Caldwell and Bastrop counties all come together at a point less than one mile northwest. Gary McKee of the Fayette County Historical Commission made a field trip to the area in March 2003 guided by local resident of many years, Mr. Billie Sellers, who worked in the fields on the "Slack Place" in earlier years. The Slack Place or Slack's Well is at the northwest corner of State Road 1115 and county road Father Anders Loop on a branch of Peach Creek. Two branches of the creek flow under 1115 just east of the intersection toward Elm Grove. Mr. Sellers recalls at one time there was a hotel there with connections by coach from the Waelder train station. According to Mr. Sellers the branch of Peach Creek at Slack's Well was thought to be the county line at one time. Since this area is the location of Slack's Well, it is likely the place erroneously referred to as the Fayette-Gonzales line as where Capt. Black Adam Zumwalt and his two daughters were buried in family history notes.

Next page--Comanche raid on Linnville and the Battle of Plum Creek
---
Adam Zumwalt Jr.-Index
SONS OF DEWITT COLONY TEXAS
© 1997-2010 Wallace L. McKeehan, All Rights Reserved