SONS OF DEWITT COLONY TEXAS
© 1997-2003, Wallace L. McKeehan, All Rights Reserved
DeWitt Colony Biographies
The Valentine Bennet, Miles S. Bennet and Kibbe Families
Experiences on the Western Frontier 1838-1842 | Letter Home from Prison | Ramsay to M.S. Bennet-Battle of Salado | Battle of Salado-M.S.Bennet | Mier Expedition | Santa Fé Expedition | Valentine Bennet Scrapbook |
Major Valentine Bennet, one of the original Old 18 DeWitt Colonists who confronted the Mexican centralist demand for the Gonzales cannon in fall 1835, was an active figure in service to Texas before and after independence. He received a fourth league of land on the west bank of the Guadalupe in current DeWitt County above Cuero, is listed on the Gonzales tax rolls of 1838-39 and owned two blocks in the west outer town tract. In a letter of 12 Oct 1835 from newly elected Commander in Chief of the Texas Republican Army, Stephen F. Austin to the Committee of Safety and Correspondence in San Felipe, Bennett was appointed Assistant Quartermaster General (second to Patrick C. Jack). A letter from Army headquarters in Bexar, 17 Dec 1835 from Commander F.W. Johnson of the Volunteer Army of Texas listed Bennett to be commissioned by the provisional government of Texas as Quartermaster General. On 24 Jan 1836 the Financial Advisory Committee of the Provisional Government at San Felipe recommended $10 to defray Major Bennett's public business expenses in coming to San Felipe. In the following communication, Bennett was charged by Acting Commissary General Atwell with misappropriation of military stores. The disposition of the charge is unknown.
Head Quarters Gaudaloupe 10 June 1836 To T. J. Rusk, Brig. Genl. Sir, Charges have been made against Mr. V. Bennet (now acting Qr Master) for disposing of a portion of the Public Stores to a private individual, without authority for so doing, and at a time when the army was in a starving condition, which charges I prefer against him. I have the honor to be with great respect &c &c. Win. Atwell Act. Com. Geni. Mr. V. Bennett on the 30th of May disposed of to John Linn Esqr the following articles of rations belonging to the Publick one sack Coffee one Bbl Flour one Bbl Sugar one Bbl Bread Win. Atwell Act. Comr. Gen.
---
From Baker's, A Texas Scrapbook 1875. Major Valentine Bennet migrated to Texas about 1830. He was with the Brazoria and Columbia boys in the battle of Velasco, where he was shot down, receiving severe wounds in the hip and face. He joined De Witt's Colony and located his head-right on the Guadalupe River, having his citizenship at Gonzales, introducing his family there in 1838. He was one of the notable " Eighteen" who at that place stood for he defense of the cannon when the Mexicans came on to remove them in 1835. He thus was one of the first to enroll in the army of Texas, and became of considerable service to General Stephen F. Austin in drilling the citizen soldiers who gathered to the defense of Texas, and were organized into an army by that statesman, at that Lexington of Texas. He soon received from General Austin a commission in the army, and continued with energetic constancy in public service, participating in the siege of San Antonio de Bexar; and, ranking as major in the quartermaster and commissary department, remaining in the army until after the battle of San Jacinto. He was also major in the same department in the Santa Fé expedition, and chainmate to George W. Kendall in one of the dungeons of Mexico. Returning from that imprisonment late in 1842 to his home at Gonzales, he again took a prominent part in the defense of that frontier, by co-operating with his old companion-in-arms, Captain Caldwell in hurrying forward volunteers to meet the Mexican forces under General Woll, who was advancing upon San Antonio. He was, by his well-known devotion to Texas, able to raise immediate supplies of subsistence from voluntary contributions of the citizens; and thus furnished many squads of poorly provisioned volunteers with jerked beef, and such small stores of corn as could upon the instant be collected. Finding from the dispatches of Colonel Caldwell that the Mexican advance was likely to be formidable, he in person hurried to the assistance of that officer at the well-known battle-field of the Salado, and joined in the pursuit of the defeated enemy, continuing until the Texans returned to their homes. He then assisted in organizing the Somerville expedition and remained in the service of the Republic until his death, which occurred at Gonzales in July, 1843. The following notice of him was at the time published in the New Orleans Picayune:
ANOTHER SANTA FÉ PRISONER DEAD. Major Valentine Bennet, one of the members of the unfortunate Santa Fé expedition, died at Gonzales, Texas, on the 24th of July, of the cramp colic. Major Bennet was one of the companions of Mr. Kendall in his dreary march to the city of Mexico, and was imprisoned in the same quarters. He was a man far advanced in life, and was one of the earliest and bravest defenders of Texas, and bore an honorable part in the most sanguinary conflicts of the young Republic. He was a man of sterling integrity and honest deportment.
The following incident showing Major Bennet's ready humor, as told by some of those who were present at its occurrence, will perhaps bear mention: General Sam Houston and some of the members of the cabinet were one day discussing the adoption of a Texas uniform for the army; Major Bennet passing hurriedly by was thus good-humoredly accosted by the General,
"Well, major, what uniform do you recommend for our boys?" "Oh rags, rags! they are the only uniform which we can procure at present," said the major, as be passed on amid loud bursts of laughter from the General and all who were near.
---
Major Bennet wrote the following letter (see original handwritten letter) to his children in Gonzales after his capture on the Santa Fé Expedition:
Dear children, I am here a prisoner near Mexico. I expect to leave in a few days, about 180 miles on the road to Vera Cruz the bearer of this will give you every information respecting our capture, it is uncertain how long I may be detained. Do not feel any anxiety about me, as I am in good health and doing as well as I could expect. Go on in the path of virtue and you will be sure to be prosperous and happy. Your affect. Father V. Bennet. San Cristoval Feby 3d 1842.
After independence, Major Bennet traveled to Ohio and returned with his son Miles Squier Bennet to the Republic in 1838 where he resumed his quartermaster activities to supply the largely volunteer army of the Republic. Son Miles served as his clerk and close associate in those activities and the latter recorded their times together in a diary which was the basis for subsequent newspaper articles about the times. Major Bennet was often frustrated by the unwillingness of local residents to assist in outfitting the largely still volunteer army of The Republic of Texas as illustrated in the two letters below that are in the Texas Archives:
Pine Point, Decr. 20th, 1838. To Wm. G. Cooke, Qr. Mast. Genl.
Sir--We arrived at this place this evening under as good circumstances as could be expected. I have obtained provision for the troops and we shall leave in the morning.---I shall use every exertion to provide for them but. Sir, I can assure you it will be a hard matter unless 1 can have money to do it with. I find that people be quite unwilling to part with their provisions without money. I wish, Sir, if possible you will send me some money for that purpose by my son, who is the bearer of this letter. I will be responsible for any amt. you may please to send by him. We can not find the two yoke of oxen that were lost and I take this opportunity of sending you a description of them, which if you will please give to Dr. Mulrine, I have no doubt he will recover them. Of one yoke, the lead or near ox is white & red with a bald face, six years old, a part of the left horn is broken off. The off ox is of deep red or brown color. Of the other yoke, the near ox is white except his shoulders and head, which are of deep red or dun color, with a very small white spot high up in his forehead. The off ox is of a coal black color, has a lump on the right jaw, Both oxen has a swallow fork cut out of the left ear. I believe none of these oxen have any brands upon them. I have the honor to be Yours, etc. V. Bennet, Qr. Master.

Col. Wm. G. Cook, Qr. Mast. Genl. Sir---I have much trouble in getting the artillery from this place. Everything worked against me. The inhabitants would rather render me no assistance at all. I am much indebted to Col. Eastland's Company for their assistance in getting the cannon over the river. I could not get any hands at all. I have written to the Secretary of War to send us harness but 1 have had no return. There has been no arrival of any public property of any kind from the East. Since receiving your communication, I have writtin on to the Secretary of War urging him to forward everything as fast as possible. I shall do everything in my power to facilitate the business. I shall furnish the troops as soon as they arrive and push them on as fast as possible. I have the honor to be with much respect, Yours, V. Bennet.
---
KIBBE. Mary Kibbe [Bennet] was the third child of Gaius and Polly Kibbe. She was born June 1, 1794, in Colebrook, NH. On October 7, 1817, she became the wife of Valentine Bennet (1795-1843) at Buffalo, NY. Valentine and Mary Kibbe Bennet are the ancestors of the DeWitt County Bennets. Their children were Miles Squier Bennett (b. December 14, 1818, at Buffalo) and twin daughters, Mary Jane (b. July 27, 1820, d. 1822 at Attakapas, Louisiana) and Sarah Jane (b. July 27,1820, d. 1883 at Gonzales, Texas). Sarah Jane was married to Thomas J. Pilgrim.
---
The first appearance of the Kibbe family in America was in the person of Edward Kibbe II, arrived in Boston in 1640 with his wife, Partridge Kibbe. Edward was born in Exeter, England, on May 11, 1611, the son of Edward Kibbe I and Debora Kibbe, both of were born and died in Exeter. Records indicate that Edward II was an participant in the affairs of the Boston area in 1662 he was appointed Clerk of Market a position apparently created to give the Muddy River area representation in the Boston Markets. From 1666 to 1683 and his wife were listed as contributors to a fund to erect the second meeting house in Roxbury, Mass. Mary Partridge Kibbe affiliated with the church in Boston in September, 1645. The records of her registrations of the ten births, baptisms, and deaths of children born to the couple are held in Roxbury and Boston. Edward II was interred in the Old Burying Ground located at the Congregational Church in Wakefield, Mass. on Nov 1, 1694. Elisha Kibbe, the third child of Edward II and Mary Partridge Kibbe, was born in Boston, Massachusetts, circa November 20, 1644, and was baptized on September 30, 1645, in Boston. At the age of nineteen he moved to Salem, Massachusetts, where he was married to Rachel Cooke (1645-1740), daughter of Henry and Judith Birdsall Cooke of that city on October 12, 1667. In 1680/1682 he moved his family to Enfield, where they were among the early settlers. He was active in civic affairs, holding the offices of Selectman and Constable among others. He died in Enfield on April 3, 1735, and was followed in death by his wife, Rachel, on September 10, 1740. Isaac I, the seventh of Elisha's and Rachel's eight children, was born in Enfield on March 21, 1683, the first male child to be born in that city. He married Dorothy Smith, daughter of Ebenezer Smith of Suffield, Connecticut, on July 7, 1720, a union which produced seven children. Isaac died in Enfield on June 6,1766, at the age of 83, and was followed in death by his widow, Dorothy, on June 29, 1781, at the age of 85. Isaac Kibbe II was born in Enfield on February 14, 1731. He was married there on February 20, 1755, to Margaret Terry (b. 1735), daughter of Isaac and Margaret Downing Terry of Enfield. Thirteen children were born of that marriage. Isaac II compiled an illustrious career of community service, including aid of money and supplies to the cause of the American Revolution and serving as an ensign in its Navy, and was held in high esteem by his fellow citizens. He died on February 11, 1779.
---
Gaius Kibbe, sixth child of Isaac II and Margaret, was born in Enfield on either August 10 or August 17, 1765. He was first married in 1785 to Mary (Polly) Pease (1767-1802) at Enfield, who bore nine children. The census of 1790 lists the Gaius Kibbe family as residents of Enfield, Connecticut, and The History of Coos County, New Hampshire, indicates that the family moved to Columbia in that county in 1797. At some later time they moved to Bloomfield, Vermont where Polly Pease Kibbe died on May 11, 1802. On March 17, 1803, at Chesterfield, Massachusetts, Gaius took a second wife, Nancy Kidd (b. December 15, 1777), daughter of Charles and Frances (Hamilton) Kidd, and in 1814 the family moved to Buffalo, New York. Having secured a grant of land in Attakapas, Louisiana, Gaius induced his large family of sons and daughters to accompany him there. Rafts of lumber were prepared, and materials for the erection of houses were secured. Loading their household effects and a cow or two on the rafts, they embarked from Oleans Point and traveled down the Ohio River, stopping to spend the first winter of their voyage at Cincinnati. In the spring they resumed their journey down the Ohio and Mississippi Rivers, finally arriving at the Bayou Teche region of Saint Mary Parish in Louisiana. Unfortunately, several members of the family succumbed to the acclimating fever of the region, including Valentine Bennets wife, Mary Kibbe Bennet, and Mary Jane, one of the twin daughters. Gaius Kibbe died in Louisiana on July 21, 1821, and his second wife, Nancy Kidd Kibbe, followed him in death in 1840. Three children were born of Gaius' and Nancy's union, the oldest being Charles (b. August 30, 1804, at Minehead, Vermont). Charles accompanied his parents on the 1814 move to Buffalo and from there to the Louisiana homestead. On February 4,1830, Charles married Joanna H. Booth in Lafayette Parish, Louisiana. Joanna (b. August 20, 1809, in Georgia) was the daughter of Ruben and Mary Moss Booth. Charles Kibbe was a planter and merchant. In 1850 Charles decided to move west into Texas. The journey, directed to Tyler County, involved swimming his horses and wagons across the Sabine River, and as a result of his exposure to the winter cold, Charles was stricken with pneumonia. His grandson, Walter Kibbe Breeden, relates that Charles, realizing he was dying, sent a faithful slave named Isaac to his brother-in-law, Valentine Bennet, in DeWitt County, asking that he come to the aid of Charles' family. In response, Valentine dispatched his young son, Miles Squier Bennet, to rescue the family, and the widow and children were relocated in Victoria, Texas. Charles Kibbe died in Tyler County on November 20, 1850, at the home of a Mrs. Green. Joanna Booth Kibbe died on February 10, 1864, and was interred at Evergreen Cemetery in Victoria. The eldest of their five children was Mary Elvina (b. March 16, 1833 in Lafayette Parish, Louisiana). In Victoria, Texas, on October 22, 1857, Mary Elvina Kibbe was married to Paul Hamilton Breeden (b. 1830 in Hinds County, Mississippi), son of Hezekiah and Mary Breeden. A captain in the Army of the Confederacy, Paul H. Breeden died in Victoria on November 10, 1874, as the result of a lung disease contracted in a Union prison camp.
Mary Elvina Kibbe and Paul Hamilton Breeden had six children: (1) Walter Kibbe Breeden, born August 5, 1858, in Victoria, married Margaret Pleasants in 1882, died in San Antonio February 15, 1931, and interred in Hillside Cemetery in Cuero. (2) Charles Goodwin Breeden, born January 27,1860. Married Mabel Claire Hall on December 15, 1915, in San Antonio. Died in Cuero December 30, 1925, and interred in Hillside Cemetery. (3) Mary E. Breeden, born January 27, 1861, in Beeville, Texas. (4) Paul Fielding Breeden, born January 28, 1862, in Victoria. Married Willie Stayton on December 28, 1881. Died in Cuero January 29, 1892, and interred in Hillside Cemetery. (5) Mary Blanch Breeden, born September 17, 1865, in Victoria. Married Robert Henry Wofford on October 20, 1886, in Cuero. Died in Cuero October 20, 1899, and interred in Hillside Cemetery. (6) Robert Perry Breeden, born September 9, 1869, in Victoria. Married Allah Blanche Wofford on August 6, 1893, in Cuero. Died March 8, 1926, in Cuero, and interred in Hillside Cemetery. Rosemary Breeden Kokernot (From The History of DeWitt County, Texas. Reprinted by permission of Curtis Media Company)
From Dixon and Kemp, Heroes of San Jacinto. KIBBE, WILLIAM. Born in Louisiana in 1805; emigrated to Texas in 1833. In Service Record No. 7836 it is stated that Mr. Kibbe enlisted in Captain Logan's company march 6 and served until June 6, 1836; was second sergeant. Mr. Kibbe had a grey horse killed from under him in the skirmish with the Mexicans April 20. (Service Record No. 1868.) After residing in Texas for a number of years, he returned to Louisiana and died in Iberville Parish in 1874.
According to descendant Bill Kibbe, William Kibbe was the second son of Gauis Kibbe and second wife Nancy Kidd. He was born in Minehead Vt. in 1805.
---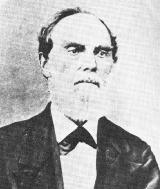 Miles Squier Bennet, son of Valentine Bennet, was born 14 Dec 1818 in Buffalo, New York. It is said that when 20 year old Miles arrived in Texas with his father in 1838 in Galveston, Captain Moseley Baker remarked, "Well, Major, I see that you have brought another rifle for Texas." Miles Bennet was an Indian fighter and participant along with his father in the Battles of Cibolo, the Battle of Salado and in the Somerville Expedition in 1842 when Mexican forces attempted to take back the Republic of Texas. He served in the Civil War in the Confederate forces. He spent most of his childhood with relatives in Cincinnati, Ohio where father Valentine Bennet had taken them after death of their mother. Miles joined his father soon after the Texas Revolution and they returned to OH for Sarah Jane in 1842. Sarah Jane married early Gonzales preacher Thomas J. Pilgrim.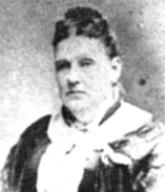 Miles married Bathsheba Gipson (left) on 20 Feb 1845 in Montgomery County in the home of her parents, James and Sarah Gipson who came to Texas from Kentucky in 1839. Miles and Bathsheba moved to a log cabin at Valentinook on the Guadalupe River on the Valentine Bennet land grant where they lived their entire lives. They had children: Sarah Kibbe, Mary Gipson, Samuel Davis, Anna, Valentine, Arabella, Robert Mills, and Miles Dudley. Near Valentinook was the the Peebles plantation on the west bank of the Guadalupe River where the Live Oak Church was organized in 1849 when Miles and Bathsheba became charter members. James Norman Smith and Miles Squier Bennet were the first elected elders of the church which became the Cuero Presbyterian Church. Samuel Davis Bennet was the first child baptized in the Live Oak Church. Miles kept a "journal" and was a significant contributor to local newspapers about the history of the area. Bathsheba died at the home of her daughter, Mary, in Houston, June 3, 1901. Miles died at Valentinook 3 May 1903. Both are buried at Hillside Cemetery in Cuero where a tombstone says:
Wolls Campaign, Battle at Salado, Battle of Galveston, 50 years Ruling Church Elder, DeWitt County Soldier, Patriot, Christian. He served his country and his God faithfully. [Adapted from an article by Beulah Bennet McDougal]
---
SONS OF DEWITT COLONY TEXAS
© 1997-2003, Wallace L. McKeehan, All Rights Reserved.