SONS OF DEWITT COLONY TEXAS
© 1997-2007, Wallace L. McKeehan, All Rights Reserved
David Burket-Children | David Burket-Index
Grandchildren and Descendants of David Burket and Mary Ann Zumwalt
---
Children of Edna Burket & Simon Wesley Cockrell
Mary Ann (b. 1838)

William W.l
aka John William (Bill) Wesley
(1840-1923)
m. Laura Amanda Gilbert

Francis (Frank) M. (b. 1844)

Ophelia C. (b. 1847)
m. Thomas

Polly
The 1850 Federal Census for CaldwellCo lists family 91: Cockeral, Simon 36 KY; Edney 31 MO; Mary Ann 12 TX; William W. 10 TX; Francis M. 6 TX; Ophelia C. 3 TX. Simon and Edna had children Mary Ann (b. 1838), William (Bill) W. (1840-1923), Francis (Frank) M. (b. 1844), Ophelia C. (b. 1847) and Polly.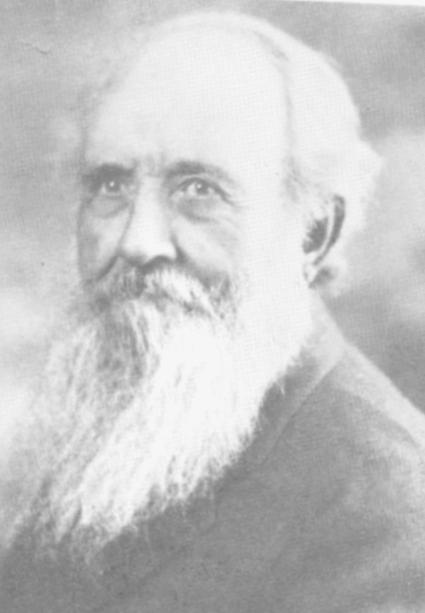 From The History of Coleman County and Its People. JOHN WILLIAM WESLEY FAMILY by Minnie Burkett. John William Wesley was the son of Edna (Burkett) and Simon Wesley Cockrell, (born March 1840) in Gonzales County. He dropped the name Cockrell when he came with his wife Laura Amanda (Gilbert) Wesley (April 1854 June 19, 1919) and children to Coleman County in 1879 and was hence forth known as John William Wesley. They married November 25, 1868 in Fayette County. His family was on the census June 15, 1880. John William was 39, wife 26, Albert 9, John Bartholomew 8, Berry 6, Mary (Mamie) 3, and Arthur 1. Arthur, born November 28, 1878; so this establishes their arrival. Other children born to them after they came to Coleman County were Ophelia Clementine, Edna Burkett, Myrtle Myra, and Edgar Eugene.
On July 18, 1879 John bought 138 acres of land which lay between the Henderson place and the Knox Ranch, now known as the Gould Place. About 1890, the family moved to Burkett; John William Wesley and W.L. Gould put in the first cotton gin at Burkett the same year. About 1914 he bought a lot and house in Cross Plains, and lived there until Laura died in 1919. He never again lived on his farm in Burkett, but the land remained in his possession until his death, October 26, 1923. He willed all of his property to one daughter, Ophelia Clementine Wesley and she sold the farm in Coleman County to O. L. McKinney in 1946. Both John and Laura are buried at Burkett.
A letter written in 1927 from Mary Ann Roseanna Green Rae (granddaughter of David and Mary Ann Zumwalt Burket) to sister Margaret Mahala Green Braud/Woodrome tells the following story concerning Ophelia Cockrell:
"Dear Sister:...........Aunt Edna had three girls and two boys by this half-breed [Cockrell]. The boys names were Frank and Bill. The girls names were Mary Ann, Ophelia and Polly. Polly was the baby and was buried when Edna was. Grandmother talked to me so much about them and never did she talk without shedding tears. This was her greatest sorrow. Ophelia was a sweet girl, the exact image of her mother. After Aunt Edna's death, grandmother kept the children two years, then Cockrell came and got them and took them to the Indian camp. They had many hardships to go through, he took little Ophelia off and told them at camp he was going to kill her but he put her down in he road some miles from Lockhart. Dr. Herff of San Antonio, was driving home from a patient and found her crying in the road. She was five then. Dr. Herff asked her about her mother. She told him she had no mother, that her mother was dead. Then he asked about her father and she said, 'My pa don't want me, he said he would kill me if he found me again.' Dr. Herff put her in the buggy and took her home with him in San Antonio. They asked her many questions. She did not know her father's name, but she knew Grandmother Burkett. The doctor and his wife had no children so they adopted Ophelia and was sending her to school. Our uncle John Steen took a load of turkeys to San Antonio on Christmas to sell them. When he drove up to Dr. Herff's to inquire if he wanted to buy one, this little girl came out and Uncle John recognized her. She climbed up on the wagon wheel. Uncle says, 'Doctor, where on earth did you get this child?' The doctor told him he had picked her up on the road eight miles out from San Antonio. Uncle finished the sale of his turks, came home and got grandma and Aunt Mahala and took them out there and they both knew the child. But as the old people had learned to love her, they thought it best to let her stay. The Herffs gave her a fine education and at the age of 20 married young Dr. Thomas. At birth of her first child, she died. A little boy was left to the old people to raise. I can remember her. She came to stay with us a while before she married. Grandmother, mother and aunt Mahala gave her a fine quilt apiece to take back with her. Mother gave her her mother's hair, it was so like her own. This took place before your birth, dear sister, just before we left Moulton the last time. ------"
---
Children of Nathaniel Boone Burkett & Catherine Bunting
Martha Ann (1848-1920)
m. Thomas Jefferson Woodley

Joseph Benjamin (1849-1933)
m. Martha J. Young

John Elisha (1851-1927)
m. Martha Jane Coop

Mary Jane (Mollie) (1852-1925)
m. Loving Harvey Baugh

James Moses (1854-1868)

Sarah Elizabeth (Lizzie) (1856-1898)
m. Will Hancock

Thomas Judson (1858-1929)
m. Matilda Louise Wotipka

Jacob Coonce (1860-1933)
m. Laura Shaw

Jackson Hays (1862-1878)

Rachel Gazzie (1864-1921)
m. (1) James Thomas Arnold
(2) George Washington Bright

Samuel Scott (1866-1953)
m. Josephine Dora Muecke

Lydia Caroline (1868-1880)

Robert Edward Lee (1870-1918)
m. Emma Lowman

Ophelia Clementine (Tina) (1874-1950)
m. John Thomas Hogwood
See Photo: Nathaniel Boone Burkett and sons ca. 1890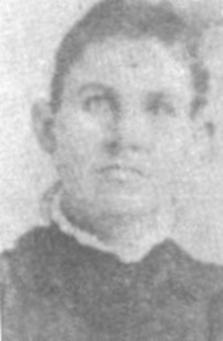 Loving Harvey Baugh, husband of Mary Jane Burkett, was a Civil War veteran and in the construction business, they were members of the Nazarene Church, both died in Dallas, TX.
Rachel Gazzie Burkett Arnold Bright (photo left) was credited with looking after her mother, Catherine Bunting Burkett in the last years of her life.
Thomas Judson Burkett was a rancher and trail driver in his early years on the trail to Dodge City, Kansas. He was a long time resident of Waelder, GonzalesCo, and a devout Christian according to descendants. He and wife are buried in City Cemetery, Waelder. He wrote the following during his last days in Holmes Hospital in Gonzales:
Gone to rest beyond the stormy seas
To mingle with the blest on flowery beds of ease.
This world is but a bubble, there is nothing here to woe.
Hardships, toils and troubles wherever we may go.
Do what we may, go where we will, we are never free from care.
For at best this world is but a castle in the air.
Weep not for me my dears, I am not dead, but only sleeping
I was not yours alone, but God's who loved me best.
Jacob Coonce Burkett was an active and widely respected Baptist minister with many established churches to his credit over a period of 50 years. He ministered in Colorado City, Alvin, Calvert, Midland-Odessa, Abilene and Del Rio. At his death at 73 he was pastoring the Immanuel Baptist Church of Abilene. Eulogies in 1933 stated "He was perhaps the best of the Old Guard of pioneer preachers in the section of Texas. He was a preacher of the Old-Time Gospel." Local cowboys said about him "He would preach to us at night and help us roundup cattle the next day; and some of these days he will round us up in Glory bye and bye."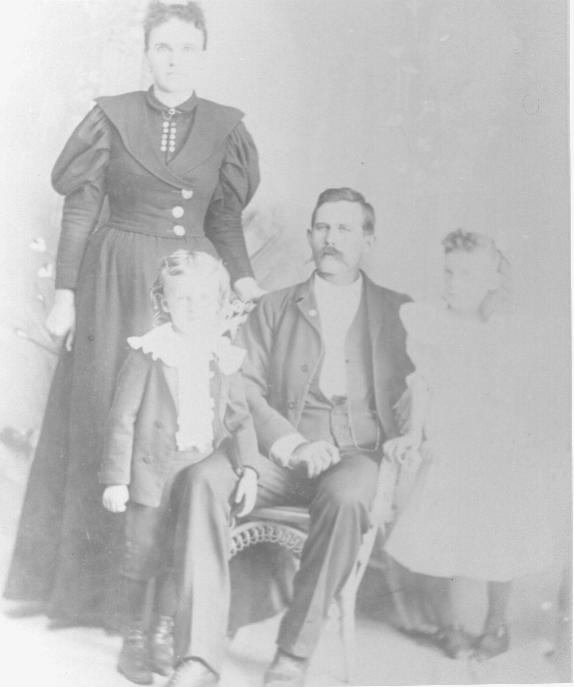 Samuel Scott Burkett owned and operated a barber shop with brother Robert Burkett in Yoakum from 1894 to 1911. In 1911, he was elected Yoakum City Marshal and was a police officer in Yoakum from 1911-1915. He subsequently moved to Charlotte where he farmed and then Pleasanton where he died. According to descendant Wendy Riggs (his 2nd greatgranddaughter through daughter Lillie Pearl Burkett Riggs), the photo is of Samuel Scott, his wife Josephine Dora Muecke, son Otto Lee and daughter Lillie Pearl. Josephine Dora was the daughter of German immigrants. The photo was taken at Montgomery studio in Yoakum, Texas estimated to be about 1897-98 based on the ages of the children. The photo, labeled "David Burkett" on the back was provided to the author by Mr. Glenn Cherry, descendant of Albert Cherry, who found it among the Albert Cherry family papers related to a sale of Burkett property in LavacaCo.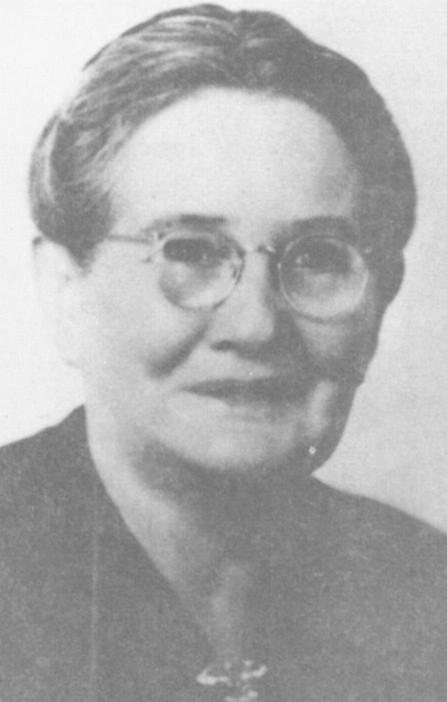 Ophelia Clementine Burkett Hogwood resided for over 40 years in Dallas where she was active in church work at Cavalry Baptist Church while also a member of Women's Christian Temperance Union and Women's Missionary Council of Bethel Temple. She was a member of Dallas Rebekah Lodge 133 and active in local mission and jail work for over 35 years. She is buried in Dallas Oak Cliff Cemetery. Husband John Hogwood was a railroad man.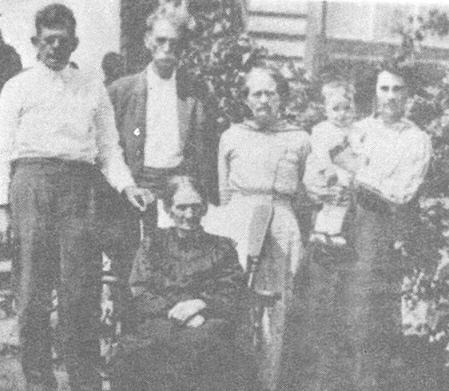 Left to right: Oscar Earl Woodley, Thomas Jefferson Woodley, Martha Ann Burkett Woodley, Ruth Balm Woodley Strickland, George Elmo Strickland, Catherine Bunting Burkett, seated.
---
Children of Isaiah Burkett & Mary Caroline Humphreys
Martha Elizabeth (b. abt 1855)
m. William C. Garrett

Addie (Molly)
(b. abt 1857; d. young)

Nancy Eudora (b. 1859)
m. Elijah A. Thornton

Thomas Jefferson (1861-1951)
m. Delilah Crawford
Isaiah Burkett, who died in captivity in Camp Butler Prison in Springfield in 1862 never saw his youngest son, Thomas Jefferson. According to family lore, the children lived with their Uncle Bart Burkett, sometimes with uncle Nathaniel Burkett, and aunt Sarah and Little Berry Green until they married or attained majority. In 1874, Mary Ann Zumwalt Burkett willed the plot of land in Gonzales described below to her grandchildren, children of Isaiah and Caroline Humphreys Burkett:
THE STATE OF TEXAS, GONZALES COUNTY, KNOW ALL MEN BY THESE PRESENTS---that I Mary Ann Burkett of the County of DeWitt and State aforesaid for and in consideration of the love and affection I bear to my beloved Grand children, Mattie E Dora and Thos J. Burkett, and Five Dollars have granted, bargained sold and released and by these presents do grant, bargain, sell and release unto the said Mattie E. Burkett, Dora Burkett and Thos. J. Burkett all that certain tract or parcel of land situated lying and being in the city of Gonzales County of Gonzales and State aforesaid. Beginning at the S. E. corner of Lot No. 2.of the Subdivision where is a rock for corner, Thence running N. 200 W. with the line of No. 2, 120 vra. 8-feet to corner where is set a rock for corner; Thence N 70 E. 28.5 vrs. to rock for corner; Thence S. 200 E. 120 vrs and 8 feet, to corner in the S. East line of original Lot No.1. In Tier No. 2. Thence with said line S. 70 W. 28.5 vrs. to the beginning containing vrs. together with all and singular the rights members hereditaments and appurtenances to the same belonging or in anywise incident or appertaining to have and to hold all and singular the premises,above mentioned unto the said Mattis E. Dora and Thos. J. Burkett and their heirs and assigns forever and I do hereby bind myself, my heirs, executors and administrators, to warrant and forever defend all and singular the said premises and the said Mattie Dora and Thos. J. Burkett and their heirs and assigns against every person whomsoever lawfully claiming or to claim the name or any part thereof by through or under me and none others. Witness my hand this the llth day of February, A. D. 1874, Interlined before signing, Mary Ann (X her mark) Burkett. Attest August Hoch, L.B. Green.
Thomas Jefferson Burkett was a trail driver in his younger days, operated a general store in Shiner, TX for a time and also a bottling works. He lived to the age of 90 as a widower after wife Delilah died in 1907. Tom attended the Old Moulton Institute or Allis Academy which flourished until the death of Professor Allis in 1892.
---
Children of Mahala Burkett & John Rumley Steen
James Polk (1851-1863)

Mary Virginia (1852-1881)
m. 1. Dr Charles W. Champion
2. Williams

Martha Adeline (1853-1897)
m. Frank L. Haynes

Margaret Ann (b. 1855)
m. Hiram G. Brown

Sarah Boardman (1857-1886)
m. L.B. Brown

William David (1859-1901)
(m. Susan E. Cunningham)

Josephine Antoinette (1861-1880)
m. J. B. North

John Henry (1862-1940)
m. Otelia Hoch

Mahala Ophelia (1864-1888)
m. L.A. Johnston

Robert Enoch (1867-1900)
m. Lillie Schwab

Narcissa Champion
(1870-1870)

Benjamin Bartholomew (b. 1871)
m. Margaret Elder

Walter Eugene (b. 1874)
---
John Rumley Steen (October 30, 1825 June 11, 1910) went to Gonzales County circa 1850 and married Mabelle Burkett (September 1, 1830-December 25, 1881). They settled in the southern edge of the county in an area still known as Steen Flat. John's brother Enoch settled in another part of the county. John Rumley's parents were William (1783-1846) and Mary Rumley Steen (1792-1846) who lived in Mississippi. His grandparents were William and Nancy Lusk Steen who emigrated from Ireland to South Carolina. John Rurnley Steen and Mahalia had nine children: William, Roily Robert, Walter Eugene "Buster", Bartholomew "Bart", Sarah, Maggie, Josephine, James and John Henry. Their son William D. "Will" (November 8, 1859 -December 31, 1901) married circa 1882 Susie Cunningham (October 7, 1862-March 26, 1927). Susie was from the Hochheim area. Will and Susie Steen farmed a portion of the land originally settled by John and Mahalia. Around 1900 they began building a new home. The two-story house with five bedrooms and large amounts of gingerbread trim on the front and back porches contained about 3,000 square feet and cost $8,000 to build, Shortly before the house was finished Will died, a victim of a typhoid epidemic. He never lived in the house. Susie was left with five young children. To celebrate the coming move into the new home, Will had ordered a barrel of gingersnaps and a barrel of sorghum syrup. When he died, Susie cancelled the order which greatly disappointed the children. She was not sure of her financial position or what the future would bring and did not want to spend money on unnecessary items. As it turned out, Susie could have splurged on the cookies and syrup because she was very successful. She finished the house, ran the farming and sharecropping operation and reared her children. Her business talents allowed her to buy 317 adjacent acres to add to the Steen land. Her two daughters, Mae Steen Turner (1884-1963) and Gladys Steen Wester (1891-1975), lived their adult lives in Yoakum. Two sons, Douglas (1894-1916) and Sidney (1888-1925), died relatively young at twenty-two and thirty-seven years, respectively. Susie's surviving son Clyde Clement Steen (December 19, 1891-June 15, 1969) married Nora Freeman (August 28, 1892-February 2, 1982) December 16, 1920. Susie moved to Yoakum and Clyde and Nora lived in the Steen home and continued the farming business. In the late 1930's they switched from farming to ranching. When Clyde wanted to hire a full-time ranch hand, Nora said to get her a horse and a saddle. She would rather help with the cattle than cook for another person. She got her horse and saddle. In the 1940's they remodeled the Steen house. Nora had grown up in Hamon and was descended from long-time Gonzales County residents. Her parents, married June 25, 1879, were William Freeman and Drucilla Amanda Dubose (January 16,1856-January 20, 1939). Clyde and Nora, Will and Susie, John and Mahalia and many of their children were buried in the Steen Cemetery in the Steen Flat near Hochheim. Clyde and Nora's only child Clyde C. Steen Jr. and his wife Ruth Mahler lived in Gonzales. Clyde Jr. grew up in the Steen house and remembered heat only from the fireplace and light by kerosene lamps. He attended the one-room school in Steen Flat. The Flat also had a cotton gin and a small store which were still standing in 1984 with the name Steen barely visible. The land handed down to Will and Susie and then to Clyde and Nora was being used for ranching in 1984 by Clyde Steen Jr. Linda Steen Norris (Reprinted by permission of the Gonzales County Historical Commission).

JOHN STEEN. Pioneer and representative Texas planters, like the old landmarks, are yearly becoming scarcer, and it is a pleasure to run across one whose career runs back to 1846, the year when Mr. John Steen came to the Lone Star State. He was born in Rankin County, Miss., October 30, 1825, son of William and Mary (Enoch) Steen, and the ninth in order of birth of fourteen children. The father was a product of Mulberry District, S. C., and died near Nacogdoches in 1846, whilst on his way to southwest Texas. He was a member of the Baptist Church, as was also his wife, who died in Mississippi in 1846. In politics the father espoused the principles of the Democratic Party. Grandfather Steen was in the Revolutionary War and in the battle of King's Mountain, where he was wounded. His wife, hearing of his trouble, drove an ox cart eighty miles entirely alone and carried him home for nursing. He narrowly escaped hanging by Gen. Ferguson, but a charge of the patriots at the right moment saved him and badly routed the British. After the war be removed to Tennessee, and there the close of his life was passed. His heroic wife, after his death, removed to Mississippi with her family and died there at the advanced age of eighty-eight years.

John Steen, our subject, was educated in Rankin County, Miss., and when twenty-one years of age came with his father to the Lone Star State. For one year he resided in De Witt County, and another year near Gonzales, and in 1849 bought a part of his present beautiful plantation. On that he has since resided. Mr. Steen's plantation is probably the most beautiful one in Texas. His residence, a handsome and commodious one, is located on a range of bills overlooking the valley of the Guadalupe River, where lie owns 3,000 acres of arable land, ranking in fertility with the alluvial soil of the Mississippi delta. At the commencement of the war Mr. Steen was drafted, but the commander gave him an unlimited furlough. When the conscript act was passed he put in a substitute, but when this act was revoked (last year of the war), he entered the service, but did not leave the State. Eleven years previous to the war, April, 14, 1850, Mr. Steen was married to Mrs. Mahala Manning, widow of Hilliard Manning, and daughter of David and Mary Burkett, of Gonzales. Mr. and Mrs. Burkett were colonists from Missouri, and settled in Gonzales, Texas, in 1830. Both died in that county. Mrs. Steen died November 25, 1881. She was the mother of these children: James Polk, Mary Virginia, married Dr. C. Campion, of Georgia; Martha Adaline, wife of Home Haynes; Margaret Ann, wife of Hiram Brown; Sarah B., married Berry Brown; William D., John, Mahala Ophelia, wife of Sidney Johnson; Robert E., Narcissa Campion, Josephine Antoinette, wife of James North; Bartholomew and Walter E. . Goodspeed Brothers (Publishers). Memorial and Genealogical Record of Southwest Texas. Goodspeed Brothers Publishers, Chicago, IL, 1894.
---
Children of John Henry Burkett & Elizabeth Caroline Leazer
Mary Ann (b. 1853)
m. William Arthur Harwell

Arthur David (1855-1925)
m. Melissa J. Griffin

Dovina Clementine (1857-1883)

William (Will) (1859-1954)
m. Laura Ellen Yates

Josephine Burton (1861-1934)
m. James Garrett Newton

Jefferson Davis (1866-1949)

John Henry Jr. (1868-1912)
m. Laura Lou Clarke

Catherine Emaline (1870-1953)
m. Charlie Henry Howard

Nathaniel Bartholomew (1873-1943)
m. Mattie Ruth Fairchild

Nancy Eudora (1876-1967)
m. Frank Deshan Harding

Alexander Rafael (1878-1930)
m. Lillie Thames
Mary Ann Burkett husband, William Harwell, was a school teacher and justice of the peace in LavacaCo in 1860. They lived between Old Moulton and Flatonia. They moved later to ColemanCo and received land from J.H. Burkett's estate in 1900.
Arthur David Burkett moved from LavacaCo to ColemanCo in 1882 prior to his father and other family members so that their first child would be born there. He is thought to have been in ColemanCo as early as 1878, but returned to LavacaCo after the 1880 census to marry. The family had a 440 acre farm west of Burkett that was inherited from father J.H. Burkett, then moved to Burkett where he ran a general store. David bought another tract of 355 acres on Sunset Road about 2 miles west of the inherited tract. David and family bought and sold land in the area, but moved from a 355 acre tract in 1919 back to Burkett village and the general store which he operated until his death in 1925. He was considered a pioneer of the county.
The town of Burkett in ColemanCo was derived from William Burkett, known as Uncle Will by family, who was a store and gin owner there. Will Burkett and two others had sent in suggestions for names of a local postoffice, but all were rejected because they were already in use. Will replied "Let us send in my name, surely a town hasn't been named Burkett." The name was approved in 1889. Will was the first postmaster. In the 1970's Mrs. Merle Burkett was postmaster since 1934. His brother-in-law, John Bailey Laws, was editor of the Burkett Search Light, a weekly newspaper.
Jefferson Davis Burkett is described in family histories as a loner, he never married and was known as Uncle Jeff. He liked to be left alone and worked herding sheep and cattle.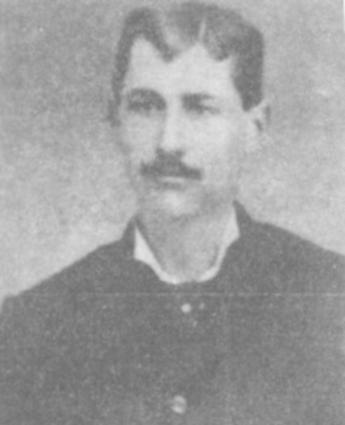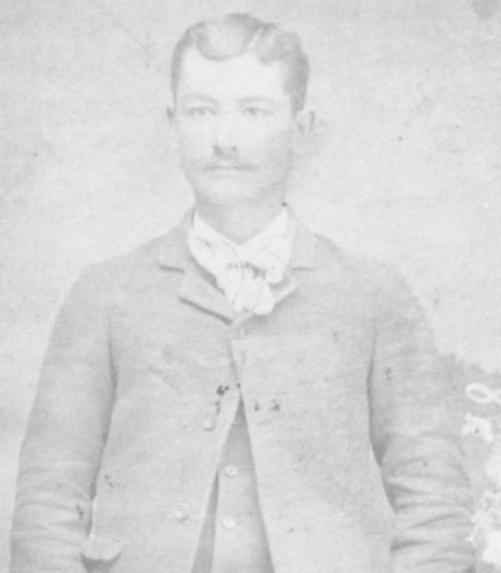 ---
Bartholomew Howard Burkett & Mary Jane Leazer
Josiah (Joseph) (1861-1883)

John David (1864-1927)
m. Mary Dorothy Brown

Mary Mahala (1866-1903)
m. Benjamin Albert Crawford

Nicey Ellen (1869-1869)

Emma Elizabeth (1870-1923)
m. Alfred T. Richardson

Sarah Ann (1873-1961)
m. Joseph E. Pittman, then Echols

Berry Harris (1876-1956)
m. Rosa Belle Eggleston

Patrick Burton (1879-1963)
m. Clara Louise Jahne

Homer Isaiah (d. 1966)
m. Ida Mae Hauschildt

Oliver Clarence (1883-1964)
m. Louisa Marburger

Catherine Eudora (b. 1887)
m. Basley Neighbors
Josiah Burkett died in Camp Colorado, ColemanCo, TX of typhoid fever after helping his uncle John Henry and family make the move from LavacaCo. He was quickly buried there and never returned to his home in Moulton.
After paying respects to the burial site in ColemanCo, brother John David Burkett is said to have visited cousin William Burkett at Burkett, ColemanCo, and then rode out to the Texas Panhandle where he settled. He and wife are buried in Hereford Cemetery, 7 miles west of Hereford in Deaf SmithCo, TX.
Sarah Ann Burkett, called Annie Belle by family, divorced Joseph Pittman, and married widower Echols who owned a funeral home in Kenedy, TX. After his death she continued to operate the business for many years until retiring to her riding horse ranch near Corpus Christi.
Granddaughter Ruby Fisher in her genealogy on the Burkett family related that Berry Harris Burkett left extensive memoirs containing history of early settlers. She quotes the following excerpts:
My mother's father, John William Leazer was well liked and known by all as Jack. He was born in North Carolina in 1806 and he came from good stock of people; his father was a tall and well proportioned man who had lived in the vicinity in North Carolina near the Buntings; aunt Catherine's people, my uncle Nathan Burkett's wife, The Leazers were also neighbors of my great grandfather, John William Burkett's cousin, Thomas Burkett who had a daughter that married one of theBains. I am not a descendant of the Buntings but would like to comment they were fine religious people which stemmed back from their early ancestors who resided in England. Many descendants from this family have chosen the field of religion; Rev. Jacob Kountz (Coonts) Burkett, the son of my uncle Nathan, was named for my ancestor, Jacob Burkett and the wife of my ancestor, John Burkett who was Polly Kountz.............My great grandpa, John William Burkett married Catherine McClure. She was the daughter of Samuel and Jane (Clark) McClure. Great grandpa and great grandma, Catherine anal John William Burkett were born in Philadelphia County, Pennsylvania. The original McClure's came from Donegal, Ireland and they first settled in Beaver County on a farm in Pennsylvania. Some of the descendants were engaged in the iron industry, the construction and repair of the Erie Canal, and some were stonecutters.........My great great grandpa, Jacob Burkett who fought in the American Revolution War married a girl whose parents were from Lancashire, England and her name was (Babs) and some said Barbara. Her people were importers and hatters, and it was said that they all lived in the same area in Philadelphia at one time and later Jacob's son Patrick became a shoemaker.........My ancestor Johannes (John) Burkett was born in Germany and he married a petite dark-eyed girl who was a descendant of the French Huguenots, dating back to the year of 1572 when bigotry slaughtered an estimated 50,000 men, women and children, the victims of religious persecution which began in Paris on St. Bartholomew's Day. It is from Katrina's ancestors that my granddaughter, Joanna Martha Fisher and other Burkett descendants inherited their artistic abilities. The chestnut hair comes from grandpa, David............The Zumwalt, Burkett and Kountz men were skilled marksmen, having a great zest for adventure and all were excellent equestrians in the early history of America. My father taught me to ride well and when I was barely six years of age he gave me a fine sorrell riding horse. Many hours were spent in the saddle and that practice was continued throughout my life until I reached the age of sixty-five; then I gave up one of my many fine saddle horses and hanging my pearl-handled pistol and the fancy spurs on the wall succumbed to city living in the small town of San Perlita in the Rio Grande Valley. In doing this I could not put the matter from my mind that it was an admission of advancing old age. Aside from the time I spent in the small drug store that I had acquired; tending my small fruit orchard and puttering among my flowers that flourished so abundantly in the moist and warm climate; I found the time to walk and read a great deal. My mind was keenly aware of so much to yet learn and so fully conscious of the past and present history of our beloved country. The citizens of the community sort of looked to me as a poor man's doctor which flattered me very much, but I did not exceed my abilities as a drug store keeper even though many pleasant hours were spent with visits over the drug counter.

My life has been a rich rewarding one and certainly not a lonely one, until Rose Belle, my devoted wife passed away. We weathered many storms together, shared the good with the bad, the joys of abundant crops harvested, and the perfection of our new born; the sorrows ofour first born, Beulah's death, as an infant, and the passing of our two fine sons, Claude and Louis, who died so young; all of them buried nearby my grandma, Polly (Mary Ann (Zumwalt) Burkett), and my father, Bartlet. Rosa Belle shared the anxiety and the loneliness apart many days prior to our little lad's death, Louis, as his confinement in the Santa Rosa Hospital at San Antonio went from days to weeks, then months. My trips back home, a distance of some thirty miles, were hurried and haressing with the financial cares and the neglect of the other children and beloved, Rosa Belle, who was heavy with unborn child. She was verybrave and gallant through it all, and I marveled at her ability to carry on with the help of one hired man and the oldest children, Jamie, Esther and Bart still so small. However, they assisted as much as they could the tending of the cattle, the dairy and the other livestock through the long wintry month of February. Our girl child was born on February 6, 1910 prior to our lad's death, and I was away at his bedside in a state of helplessness trying to breathe life into his gasping lungs that pneumonia was fast taking its toil. It was months before we got around to naming our newborn daughter; she was a quiet and lovable baby with soft and wavy chestnut hair and brown eyes and when she was picked up she seemed to purr; so the nickname Puss seemed to be quite fitting at the time, but regrettably it adhered to her for years thereafter............The Burkett, Kountz, Zumwalt, Walker, Leazer, Shattuck, Harris, Miller, McClure, Berry, Bunting, Harwood, Tanner, Ponton, Eggleston, Compton and Pendleton families came to America early enough to put down their roots before the Revolution. They were part of the advancing frontier---first in Pennsylvania, then Virginia, North Carolina, Kentucky, Missouri and last, but not least, in Texas. They left their descendants a heritage to uphold and defend.
Patrick Burton Burkett was a poultry farmer and bee keeper in WilsonCo, TX where he had a farm on the river near Floresville. He owned a pecan grove on the banks of the river. Clara Jahne Burkett was the daughter of Anna Jahne who married Anton Deharde of Shiner, LavacaCo, TX after the early death of Clara's father whose first name is unknown. Anna Jahne's parents were German immigrants.
Homer Isaiah Burkett was a farmer near Floresville, then worked for 40 years with the R.L. Eschenburg Store. He and his wife are buried in Floresville.
Oliver Clarence Burkett was GonzalesCo Road Commissioner for many years and known by friends and family as Doc.
Catherine Eudora Burkett, who was born two days after the death of her matriarch grandmother Mary Ann Zumwalt Burkett, was a talented seamstress and quiltmaker, she cared for her ailing mother in her last years.
---
Children of Sarah Ann Burkett & Little Berry Green
Mary Ann Roseanna (1858-1929)
m. George Rae

John David (1860-1932)
m. 1. Elizabeth Anna Ownby
2. Mary Ida Uzell Smith

Sara Ann (1863-1893)
m. J.D. Cook Jr.

Lillie Ella (1866-1935)
m. I.J. Patterson

Margaret Mahala (1867-1951)
m. 1. James Alexander Braud
2. George Houston Woodrome

Augusta Alice (1869-1950)
m. William Thomas Burns

L.B.B. (1873-1895)

Cora Barbara (1873-1908)
m. John Henry McElyea

Joseph Isaac (1875-1943)
m. 1. Carrie E. Foster
2. Emma

William Edmund Green (1878-1954)
m. Amma Bell Garrison

Thomas Roland (1881-1881)
Lillie Ella Green is the great grandmother of WLM, the author of Sons of DeWitt Colony Texas and family histories of the Green, Burkett, Zumwalt and Kent families..
Margaret Mahala Green from Burkett--Green--Woodrome by Mina Mae Giesler. Margaret Mahala Green was named for her maternal aunts, Margaret and Mahala Burkett. She was affectionately called "Maggie". She was about 5'5" tall. She had medium brown hair, blue eyes, a peaches-and-Cream complexion and beautiful hands. She loved her home. Many of the things she learned in her growing-up years, she continued all her life. She never sat with her hands idle. She did all kinds of needlework--just name it and she could do it. Her quilts took prizes at fairs. A niece said of her that she was a good housekeeper and "that she would get on her hands and knees and scrub floors until they shined". She was a good diagnostician and rarely needed a doctor. She was never in a hospital. She was happiest when she could help a friend or go to church. She was at her best when preparing for company. We always said our home was like "Grand Central Station", with so many relatives and friends coming to visit.
Mahala first married James (Jim) Alexander Braud in 1885. He was born in the City of New Orleans on Triton Walk on January 13, 1848. His father was Victorin Braud, a native of the Parish of St. John, Louisiana. His mother was Sarah Autoridge (Antoridge), a native of New Orleans. See Note, page 53. Also page 112. At the New Orleans Historical Collection Library, I learned that the name of Triton Walk had been changed to Fulton Walk, later to Delord Street, and it is now Howard Avenue. Triton Walk was located in District I and was in the American Sector. At a branch of the Louisiana Historical Library, New Orleans, I found old City Directories. In the 1851 Directory, V. Braud lived at 18 Triton. He was not listed in the 1852 Directory. In the 1853 Directory: V. Braud, grocer, 18 Triton Walk; dwells 115 St. Joseph. I did not find the family listed in later Directories. Elbie remembers that when she was quite small mama took her to New Orleans to visit the family. At that time V. Braud had a cigarmaking business. At both libraries I tried to find names of Jim Braud's brothers and sisters but did not find any. In the list of Louisiana Soldiers in the War of 1812, a number of Braud's were listed; one was Vy. Braud.
There is no information on how or why Jim Braud came to Texas and to the Hochheim community. One Sunday when he went to church, he was impressed with the beauty and voice of a pretty girl singing in the choir. He stared at her until she was embarrassed. He arranged to meet her----Margaret Mahala Green. He courted her and they married July 13, 1885. Elder L. A. Hays performed the ceremony. Witnesses: J. L. Crawford and H. Alsup. Marriage Record No. 2373, DeWitt County, Tex. She was 17, he was 34. They lived on the Green farm. Braud was a music teacher. He taught "singing" (voice) and piano. He had a melodeon made of solid walnut with hand-carved legs. The crosspiece was removable. The legs could be folded, the Instrument wrapped, placed on the back of his buggy and went through the country giving lessons. Many times he took his pretty wife with him. The melodeon was in the upstairs hall of our home in Yoakum for many years. The works were gone but some of the keys were still there. In 1929 I had it made into a spinet desk. Most remarkable thing was that with all the years of use and disuse there was only one small scar on it when it was refinished. It was last in the possession of John Paul Ebner, a grandson. James Braud died in 1888 and is buried in the Hochheim Cemetery.
Maggie sometimes went with her first husband, James A. Braud, when he taught music. He had a large class in the Terryville community. George Houston Woodrome was in the class. The Woodromes and the Brauds became good friends. When George and Maggie had been widower and widow about five years, they married in 1893, License No. 174, DeWitt County, Texas. T. W. Staton, Minister of the Gospel, performed the ceremony; H. M. Roland, witness. Papa was considered to have the best bass voice in the county. Because of mama's nickname, his favorite was "When You and I Were Young, Maggie". I've heard him sing it many times. Mama had a sweet voice and sometimes sang with him. Some songs they sang were: 'The Lilly of the Valley", "Silver Threads Among the Gold", and "Two Little Girls in Blue". When we were small, papa would hold us on his lap and sing: "Possum Up a Gum Tree", "Old Dan Wicker" and "Pop Goes the Weasel".
Mama was a good cook - good enough to be reported in the local newspaper. Members of the Hinds family were long-time friends of the George Woodromes. Willis Hinds wrote a column regularly for the Yoakum Herald Times. His column was entitled "Just Reminiscing". On February 2, 1955, he wrote about neighbors when they lived on Supple Jack Creek, east of Yoakum. He said, ". . .Then there was the old George Woodrome home, just upstream from Bridge no. 1. Mrs. Woodrome was such a wonderful cook. I never missed a chance to partake of her savory meals. Along about hog-killing time, she'd make the best hot Tamales I ever ate . . .. In the early spring, our families would hitch our buggies and wagons and head for Hochheim and the Guadalupe River. As Mrs.Woodrome was reared in that area, we'd stop by her old home and pick up a couple of her sisters, to the river bottom we'd go and what a spread we'd have . . ." George Woodrome was born 4 Dec 1867 and died 25 Jan 1943. Mahala died 6 Jan 1951, both are buried in Oak Grove Cemetery in Yoakum.
Augusta "Gussie" Green Burns is said to have seen after mother Sarah Ann Burkett Green in Burkett, ColemanCo, TX in her last years during which she was nearly blind.
L.B.B. and Cora Barbara Green McElyea were twins. John Henry McElyea was a Baptist minister who worked in Hochheim, Waelder and Yoakum most of his life.
Joseph Isaac Green's obituary was published in the San Antonio Evening News stating he was survived by three daughters. He was buried in San Jose Burial Park, San Antonio.
---
David Burket-Index | DeWitt Colony Expansion | Burket Land Grant
SONS OF DEWITT COLONY TEXAS
© 1997-2007, Wallace L. McKeehan, All Rights Reserved