SONS OF DEWITT COLONY TEXAS
© 1997-2013, Wallace L. McKeehan, All Rights Reserved
De León Colony- Index | Coahuila y Tejas-Index
---
Don Martín De León's Petition to Colonize
From the Original Records in Mexico, translated A.B.J. Hammett, The Empresario
April 8, 1824. To the Most Excellent The Provincial Delegation. Citizen Martín De León, A resident of the town of Cruillas in the Province of New St. Audiro, in due and lawful form, most respectfully represent to your Honorable Body, and saith, that inasmuch as the principal object of the Nation, is to establish peaceful relations, and to settle the uncultivated lands and uninhabited wilds of Texas, from which will result the progress of every branch of industry, resourses of wealth and a development of its topographical advantages, and above all, afford the means of enlightenment and a knowledge of the Divinity of the Lord our God, that he may be known and worshipped and praised in the most remote and dreary deserts of this North America. I therefore pray your Excellencies to have the goodness to grant me permission to found a town, with a public square and streets, on the river Guadalupe at a distance of about ten leagues beyond La Bahia de Espiritu Santos, under the glorious appellation of Town of our Lady of Guadalupe de Jesus, (Nuestra Senora de Guadalupe de Jesus). For the purpose of establishing the said town, I have solicited and have now at my disposal, Forty One inhabitants all with families, as appears by the annexed list of those settlers, who with myself have resolved to settle those lands at our own expense, which arrangements I have used great exertions to effect in this manner, in order to contribute as much as possible to the benefit of the State.
The advantages which must occur to the Nation by the settlement of this town are evident; it will facilitate trade and commerce, afford protection to travelers, serve as a point of defense against our enemies and offer facilities and the means of chastising them, and commanding their respect. Aware of your Excellencies desire to promote the general good of the nation and of the State, I feel confident in the assurance, that your Hon. Body will not only accede to my proposition, and afford my every aid to accomplish and undertaking at once necessary and the higher authorities to obtain such favors and exclusive privileges and rights, as will of a private as of a general nature, as regarding the settlement and the settlers, as the provisions of the laws of this Empire will permit. I therefore pray your Hon. Body may be pleased to entreat the Supreme Congress to grant to me the land, waters, salt licks, and lake; wild horses, and permit the planting of all kinds of useful seeds, free from all duties, for the term of ten years, for the benefit of the settlers in consideration of the imminent dangers to which they will be exposed, and the difficulties which they will have to encounter. Therefore I pray your Excellencies be pleased to grant the prayer of this my petition which is not only just, but advantageous to the country. I make oath that this is free from all malice. Martín De León
---
Resolutions of the Provincial Delegation. To the Hon. the Provincial Delegation. San Hernando de Bexar April 8, 1824. San Hernando de Bexar April 13th, 1824
The Honorable the Provincial Delegation, having before them, the foregoing petition, with the list accompanying, and having received and admitted to their consideration; in persuance thereof and in view of the advantages to be derived by augmenting the population of this province by raising stock, and by the promotion of arts and manufactures, they have directed that the prayer of the petitioner be granted, subject to the rules and regulations prescribed by our resolution of this date in relation to this matter. In testimony whereof the individuals composing this Delegation have signed their names to this provisional degree. Thus was it resolved the date above written. José Antonio Saucedo Ramon Múzquiz Member Sotz
---
List of the Settlers Proposed
A Copy-El Baron de Bastrop
List of the individuals who join me to settle the town of our Lady of Guadalupe, Province of Texas.
Citizens
Marital Status
Children
Fernando De León
M(arried)
one male child
Silvestre De León
M
Felix De León
S(ingle)
Agapito De León
S
José María de las Casas
M
A son of the same
S
Victoriano Olivares
M
Three sons of same
S
Gabriel De Olivares
M
4 sons, 1 woman
José María Cantie
M
2 sons, 4 daughters
Antonio Ortiz
M
Antonio Olivares
M
1 son, 1 daughter
Antonio Cisneros
M
Nepomucen Cisneros
M
1 grown son
Antonio Trevino
widower
2 sons
Juan Trevino
S
Trinidad Gonzales
M
Rafael Quintanilla
M
2 daughters
Bernardo Saldiva
M
4 grown sons
José Manuel Garcilazo
S
Antonio Meayorga
M
4 daughters
Ramon Molina
S
Julian Garcia
S
Pedro Gonzales
S
Victoriano del Castillo
M
3 sons, 2 daughters
Juan Garcia
S
2 daughters
Dionisio Sorido
M
2 sons, 2 daughters
Grown son
S
Luis Arzola
?
José Miguel Trevino
M
3 sons
Luis Nunez
S
Dgnacio Quintanilla
M
Cecilio Olivares
S
Gregorio Ortiz
S
Juan De Dios Gonzales
S
Polinario Gonzales
S
Juan Pablo Garza
S
Símon Gonzales
M
2 sons, 1 daughter
Two grown sons
S
Juan Franco Vela
M
3 sons, 1 daughter
Sefrino Leal
M
1 son, 1 daughter
---
Calle De Los Diez Amigos
Street of Ten Friends
(From A.B.J. Hammett's The Empresario)
The main street of Don Martín De León's capital city was called Calle de los Diez Amigos, "The Street of Ten Friends." Old history relates that the origin of the name, The Street of Ten Friends, implied a union of the ten (10) most trusted and principal citizens, who conducted the bulk of the business and had direct charge of matters of policy, defense against the Indians, and the general welfare of the community. The names of the ten (10) people designated by Don Martín De León were:
Don Martín De León, Leónardo Manso, J.M.J. Carvajal, Julian de la Garza, Placido Benavides and Silvestre De León, Fernando De León, Valentino Garcia, Pedro Gellardro, and Rafael Mancholo. Placido Benavides and Silvestre De León were named as Captain of the Militia in case of military need against imposters, or the Indians.
Don Martín De León as stated elsewhere, was a very religious man, and just before he completed his plans to name the main street of his capital city, for his most honored and trusted friends and associates, and sons, he had prayed the night before retiring as was his general custom and in his sleep he dreamed of the twelve (12) Apostles from his favorite scripture. In the dream he was only able to actually identify or place but ten (10) of the Apostles and the ten (10) Apostles were so vivid in his recollection of the dream, that he, the very next day decided to appoint and honor ten (10) of his trusted friends for the naming of his main street. Main Street was therefore named Calle de los Diaz Amigos and the number of ten (10) was so decided, as a result of Don Martín's religious dream.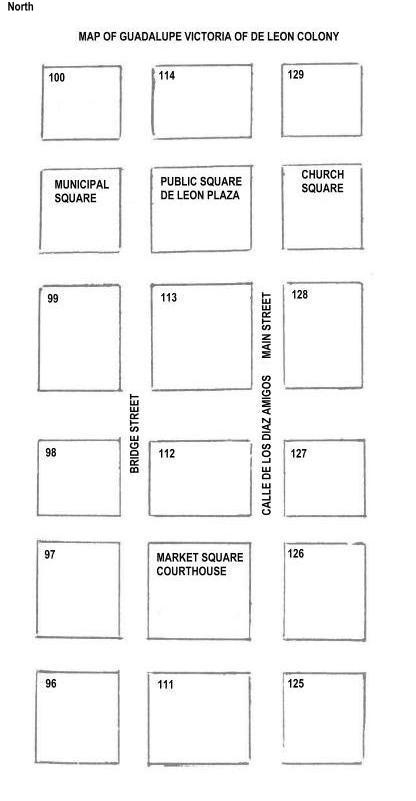 De León Colony Titles
From the Ledger of Empresario Martín De León
Titles Guadalupe Victoria
Guadalupe Victoria
(4 leagues)
Martín De León
Fernando De León
Mariano Sanchez
Floretino Garcia
Diego Garcia
Eugenio Benavides
Luciano Navarro
Juan Fernandez II
José María Rios
Ygnacio Mayun
Camilo Manzo
Felix De León
Manuel Lopez
Narciso Cavazos
Leónardo Manzo
Silvestre De León
Tomás Amador
Nasario Amador
María A. Garza
Maximo Campos
Eduardo Lin
Eusebio Ydalgo
José Francisco De León
Estevan Sisneros
Refugio Amador
Balentin Gutierrez
Narciso Rodriguez
Guadalupe De León
Francisco Cardenas
Manuel Marquez
Julian de la Garza
Patricia de la Garza
Pedro Gonzalez
Gregorio Cardenas
Enfracio Jaramio
María De Jesus De León
David Iver
Maximo Bernal
Santiago Guin
María Benitez
María G. Sanchez
Felix De León
María del Refujio De León
Rosalia Garza
Estevan F. Galvan
Ysidro Benavidez
Guadalupe Guerrero
Andres Galindo
Símon Gonzalez
Bonifacio Rodriguez
Lavina Dunbar
María A. De La Garza
Florentino Garcia
Placido Benavidez
José Mia Escalera
Bacilio Guajardo
José Bartolet
José María Escalera II
Titles from J.M. Carvajal, at Patricio Royan & Matagorda
José María Carvajal

Manuel Tejuda
Luis Carbajal
Flugencio Bueno
Silvestre De León
Miguel Lermit
F. Dimmitt
Luciano Navarro
Refugio Amador
Miguel Ortiz
José Bartolo
Juan Daniel
Juan Chivert
Eduardo Lin
Felix De León
José María Escalera II
Juan N. Escalera
José María Escalera I
Juan David Raite
Felipe Dimmitt
Doña Patricia de la Garza
Manuel Carvajal
Dipgo Garcia
Desedrio Garcia
Polito Castillo
Alejo Peres
Francisco Peres
Estevan Galvan
Agaton N. Sisneros
José María Rios

Patricio Royan (Lavaca)

Francisco Smitt
Guiyermo Simmer
Archibaldo Sudamter
Enrique Brown
Lavina Dunbar
Andres Sambtre
Carlos Lazo
Juan Cappine
Juan Fernandez
Fernando Rodriguez
José Wilzon
Juan Conrey
Enrique Sumber
Juan Duglez
Santiago Brown
Pedro Gellardo
Nacasio Rodriguez
Leónardo Manzo
Santiago Maya
José Semit
José Guare
Juan May I
Santiago Rayan
Juan J. May
Bernardo Brown
Ramon Marques
Balentin Garcia
Juan María Herrera

Matagorda

Santiago Gonzalez
Manuela Venitez
Faustino Alvarado
José Miguel Cortes
Cleto Garcia
Enrique Rendon
Benito Morales
Pedro Miranda
Narciso Cavazos
Maximo Campos
Miguel Castillo
Juan Cano
Pedro Gonzalez
Francisco De León
Felix De Fuentes
Eustaquio Cantu
Bacilio Maldonado
Pedro Garcia
Manuel Lopez
Maximo Sanchez
Eusebio Ydalgo
Pascual Guajardo
Sorillo, Coleto, Garcitas, Arenoso Chico
The Sorillo

Balentin Garcia
Alejandro Esparza
Eugenio Venavides
Ysidro Venavides
Florentino Garcia
Felix Sanchez
Banifacio Rodriguez

Coleto

María de Jesus De León
José María Hernandez
Rosa Ana Teel
Richard Teel
Manuel Sepeda

Garcitas

Martín De León
Balentin Garcia
Agapito De León
Caciana Sambrano
Nicolas Benavides

Arenoso Chico

Rafael Solis
Estevan Sisneros
Manuel Marquez
---
SONS OF DEWITT COLONY TEXAS
© 1997-2013, Wallace L. McKeehan, All Rights Reserved