SONS OF DEWITT COLONY TEXAS
© 1997-2001, Wallace L. McKeehan, All Rights Reserved

Burkett Memorials Hochheim | Green Opera House at Yoakum ca. 1897 | Green & Welhausen Building, Yoakum 1998 | Green Home Site on Guadalupe River 1976 | Green Memorials Hochheim | Guadalupe River at Hochheim | Hochheim School | Opera Program Opening Night
Guadalupe River at Hochheim. The scene is from the current bridge crossing the river on State Highway 183. The site is believed to be at or near a common crossing of the river used by Spanish explorers Alonso De León 1689, Domingo Terán de los Ríos & Salinas Verona 1691-1693, Martín de Alarcón 1718-1719, Marqués de Rubí 1767 and Fray Jose de Solis in 1767. The earliest European that experienced the river between 1528-1534 which he called "The River of Nuts" because of the abundant pecan trees that grow along the river bottom was Álvar Núñez Cabeza de Vaca.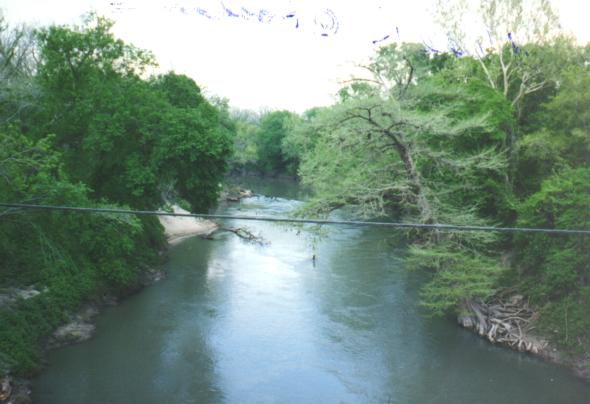 The Hochheim School and Masonic Lodge. The building shown below is thought to have been built in the 1870's or 1880's of cypress from the Guadalupe River bottom. The building on a 4.5 acre site donated by the Crawford family for a cemetery, school and church in 1876. The school housed grades through the ninth until 1923 and was a school through 1938. Concrete Masonic Lodge 182 (established 1856) became Hochheim Lodge in 1884 and bought the top floor for meetings. The building in the late 19th century was used for both a school, a church and community social center.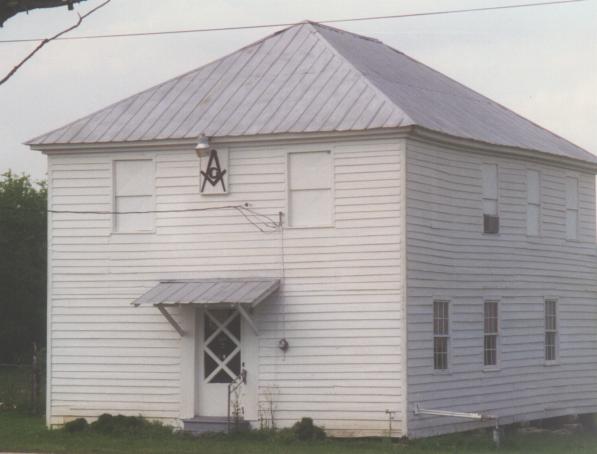 ---
SONS OF DEWITT COLONY TEXAS
© 1997-2001, Wallace L. McKeehan, All Rights Reserved.