SONS OF DEWITT COLONY TEXAS
� 1997-1999, Wallace L. McKeehan, All Rights Reserved
New Spain-Index
For Biographies, Search Handbook of Texas Online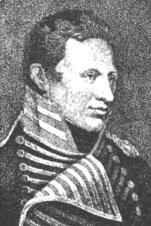 Lt. Zebulon Pike's Diary: New Mexico, Chihuahua & Texas
In Feb 1807, explorer Lt. Zebulon Pike was arrested on the upper Rio Grande River by Spanish forces on his government-sanctioned exploration of the Arkansas and Red Rivers. He was escorted as a "guest-prisoner" through Santa Fe and parts of current New Mexico, Chihuahua where they met Commander of the Provincias Internas Salcedo, the current Mexican states of Durango and then Coahuila to Montelovez (now Monclova). He crossed into the current state of Texas on the Old Spanish Trail between current Eagle Pass and Laredo at Presidio Rio Grande (now Presidio Salto) near the falls of the Rio Grande, Las Isletas. He was escorted on to San Antonio and east out of Spanish territory to Louisiana on the El Camino Real. Notes and drawings except his diary which he was able to hide were confiscated and he was forbidden to take notes while under escort, but obviously managed to continue his diary. The following is from his diary. Parenthetical notes are modified from those of Elliot Coues, editor of The Expeditions of Zebulon Montgomery Pike, and those of current author, WLM. The extracts below consist of accounts of the trip while in Chihuahua April 1 to 28 and while on the way from the Presidio de Rio Grande to and at San Antonio de Bexar June 1 to 16 the same year. The diary gives much insight into the personality and culture of the last cavaliers, representatives of the royal crown of Spain in New Spanish Texas.
Elements and motives surrounding Pike's penetration into Spanish territory continues to be intriguing and a source of speculation. His official mission was to "approximate" to the Spanish possessions, take the lay of the land politically and geographically and make contact with the Indians. According to his diary, he simply lost his way and thought he was on the Red River within the Louisiana Purchase rather than further south on the Rio Grande. At the moment of encounter with Spanish forces, he writes
"the commanding officer addressed me as follows: 'Sir, the governor of New Mexico, being informed you had missed your route, ordered me to offer you, in his name, mules, horses, money, or whatever you might stand in need of to conduct you to the head of Red river; as from Santa Fe to where it is sometimes navigable is eight days' journey, and we have guides and the routes of the treaders to conduct us.' 'What,' said I, interrupting him 'is not this the Red river?' 'No, Sir! the Rio del Norte.' I immediately ordered my flag to be taken down and rolled up, feeling how sensibly I had committed myself in entering their territory, and conscious that they must have positive orders to take me in."
Other theories suspect his penetration and test of Spanish security was intentional which was in large part the official Spanish view at the time. Because he was well-treated by the Spanish authorities as a "guest" and entirely cooperative to provide them new information about his experiences, others suspect him of alliance with various conspiracies of the time including those of Gen. James Wilkinson and Aaron Burr, who had plans for an independent Republic comprised of Mexico and the western states east of the Mississippi River with New Orleans its capital. After expedition Pike returned to the US, his mission an overwhelming success in that it yielded extensive detail on the newly purchased area of the US and valuable observations on the status of Spanish rule. He was killed in the War of 1812 in York, Canada.
---
In Chihuahua with Commandante Provincias Internas Salcedo
1 Apr to 28 1807
Apr. 1st. In the morning Malgares dispatched a courier with a letter to the Commandant-general Salcedo, to inform him of our approach, and also one to his father-in-law.
[Lt. Don Facundo Malgares was a well-educated European and from a family of means, generous and honorable according to Pike. He had distinguished himself against the Indian nations with whom the Spanish were at war. He was the leader of an expedition from Santa Fe in late 1806 along the Red River then northeast to the Arkansas to make contacts with the Indian tribes. One element of Pike's official mission up the river was a symbolic counter to this excursion into newly acquired US territory]
Apr. 2d. When we arrived at Chihuahua, we pursued our course through the town to the house of the general. I was much astonished to see with what anxiety Malgares anticipated the meeting with his military chief. Having been on the most arduous and enterprising expedition ever undertaken by any of his Majesty's officers from these provinces, and having executed it with equal spirit and judgment, yet was he fearful of his [Salcedo's] meeting him with an eye of displeasure. He appeared to be much more agitated than ourselves, although we may be supposed to have also had our sensations, as on the will of this man depended our future destiny, at least until our country could interfere in our behalf. On our arrival at the general's, we were halted in the hall of the guard until word was sent to the general of our arrival, when Malgares was first introduced. He remained some time, during which a Frenchman came up and endeavored to enter into conversation with us, but was soon frowned into silence, as we conceived he was only some authorized spy. Malgares at last came out and asked me to walk in. I found the general sitting at his desk; he was a middle-sized man, apparently about 55 years of age, with a stem countenance; but he received me graciously and beckoned to a seat.
He then observed, "You have given us and yourself a great deal of trouble."
Captain Pike. On my part entirely unsought, and on that of the Spanish government voluntary.
General Salcedo. Where are your papers?
Captain Pike. Under charge of Lieutenant Malgares.
Malgares was then ordered to have my small trunk brought in, which being done, a Lieutenant Walker came in, who is a native of New Orleans, his father an Englishman, his mother a French woman, and who spoke both those languages equally well, also the Spanish. He was a lieutenant of dragoons in the Spanish service, and master of the military school at Chihuahua. This same young gentleman was employed by Mr. Andrew Ellicotts a deputy surveyor on the Florida line between the United States and Spain, in the years 1797 and '98. General Salcedo then desired him to assist me in taking out my papers, and requested me to explain the nature of each; such as he conceived were relevant to the expedition he caused to be laid on one side, and those which were not of a public nature on the other; the whole either passing through the hands of the general or of Walker, except a few letters from my lady. On my taking these up, and saying they were letters from a lady, the general gave a proof that, if the ancient Spanish bravery had degenerated in the nation generally, their gallantry still existed, by bowing; and I put them in my pocket. He then informed me that he would examine the papers, but that in the meanwhile he wished me to make out and present to him a short sketch of my voyage, which might probably be satisfactory. This I would have positively refused, had I had an idea that it was his determination to keep the papers, which I could at that time conceive, from the urbanity and satisfaction which he appeared to exhibit on the event of our interview. He then told me that I would take up my quarters with Walker, in order, as he said, to be better accommodated by having a person with me who spoke the English language; but the object, as I suspected, was for him to be a spy on our actions and on those who visited us.
Robinson all this time had been standing in the guardroom, boiling with indignation at being so long detained there, subject to the observations of the soldiery and gaping curiosity of the vulgar. He was now introduced, by some mistake of one of the aides-de-camp. He appeared and made a slight bow to the general, who demanded of Malgares who he [Robinson] was. He replied, "A doctor who accompanied the expedition." "Let him retire," said the governor; and he went out.
The general then invited me to return and dine with him, and we went to the quarters of Walker, where we received several different invitations to take quarters at houses where we might be better accommodated; but, understanding that the general had designated our quarters, we were silent. We returned to dine at the palace, where we met Malgares, who, besides ourselves, was the only guest. He had at the table the treasurer, Truxillio, and a priest called Father Rocus.
Apr. 3d. Employed in giving a sketch of our voyage for the general and commandant of those provinces. Introduced to Don Bernardo Villamil; Don Alberto Mayner, lieutenant-colonel, and father-in-law to Malgares; and Don Manuel Zuloaga, a member of the secretary's office, to whom I am under obligations of gratitude, and shall remember with esteem. Visited his house in the evening.
Apr. 4th. Visited the hospital, where were two officers, who were fine-looking men, and I was informed had been the gayest young men of the province. They were moldering away by disease, and there was not a physician in his Majesty's hospitals who was able to cure them; but after repeated attempts, all had given them up to perish. This shows the deplorable state of medical science in the provinces. I endeavored to get Robinson to undertake the cure of these poor fellows, but the jealousy and envy of the Spanish doctors made it impracticable.
Sunday, Apr. 5th. Visited by Lieutenant Malgares, with a very polite message from his Excellency, delivered in the most impressive terms, with offers of assistance, money, etc., for which I returned my respectful thanks to the general. Accompanied Malgares to the public walk, where we found the secretary, Captain Villamil, Zuloaga, and other officers of distinction. We here likewise met the wife of my friend Malgares, to whom he introduced us. She was, like all the other ladies of New Spain, a little en bon point, but possessed the national beauty of eye in a superior degree. There was a large collection of ladies, amongst whom were two of the most celebrated in the capital---Senora Maria Con. Caberairi, and Senora Margeurite Vallois, the only two ladies who had spirit sufficient, and their husbands generosity enough, to allow them to think themselves rational beings, to be treated on an equality, to receive the visits of their friends, and give way to the hospitality of their dispositions without restraint. They were consequently the envy of other ladies, and the subject of scandal to prudes; their houses were the rendezvous of all the fashionable male society; and every man who was conspicuous for science, arts, or arms, was sure to meet a welcome. We, as unfortunate strangers, were consequently not forgotten. I returned with Malgares to the house of his father-in-law, Lieutenant Colonel Mayner, who was originally from Cadiz, a man of good information.
Apr. 6th. Dined with the general. Writing, etc. In the evening visited Malgares and the secretary. After dinner wine was set on the table, and we were entertained with songs in the French, Italian, Spanish, and English languages. Accustomed as I was to sitting some time after dinner I forgot their siesta, or repose after dinner, until Walker suggested the thing to me, when we retired.
Apr. 7th. Dined at Don Antonio Caberairi's, in company with Villamil, Zuloaga, Walker, etc. Sent in the sketch of my voyage to the general. Spent the evening at Colonel Mayner's with Malgares.
Apr. 8th. Visited the treasurer, who showed me the double-barreled gun given by Governor Claiborne, and another formerly the property of Nolan.
Apr. 9th. In the evening I was informed that David Ferro was in town and wished to speak to me. This man had formerly been my father's ensign, and was taken with Nolan's party at the time the latter was killed. He possessed a brave soul, and had withstood every oppression, since being made prisoner, with astonishing fortitude. Although his leaving the place of his confinement, the village of St. Jeronimie, without the knowledge of the general, was in some measure clandestine, yet a countryman, an acquaintance, and formerly a brother soldier, in a strange land, in distress, had ventured much to see me could I deny him the interview from any motives of delicacy? No; forbid it, humanity! forbid it, every sentiment of my soul! Our meeting was affecting, tears standing in his eyes. He informed me of the particulars of their being taken, and many other circumstances since they had been in the country. I promised to do all I could for him consistently with my character and honor, and their having entered the country without the authority of the United States. As he was obliged to leave town before day, he called on me at my quarters, when I bid him adieu, and gave him what my purse afforded, not what my heart dictated.
Apr. 10th. In the evening at Colonel Maynor's. Captain Rodiriques [Rodriguez] arrived from the province of Texas, where he had been under arrest one year, for going to Natchitoches with the Marquis Cassa Calvo.
Apr. 11th. Rode out in the coach with Malgares; was hospitably entertained at the house of one of the Vallois, where we drank London porter. Visited Secretary Villamil.
Sunday, Apr.12th. Dined with the doctor, at Don Antonio Caberarie's, with our usual guests. In the evening at the public walks.
Apr. 13th. Nothing extraordinary.
Apr. 14th. Spent the forenoon in writing; the afternoon at Don Antonio Caberarie's.
Apr. 15th. Spent the evening at Colonel Maynor's with our friend Malgares. Wrote a letter to Governor Salcedo on the subject of my papers.
Apr. 16th. Spent the evening at the secretary's, Don Villamil's.
Apr. 17th. Sent my letter to his Excellency. Spent the evening with my friend Malgares.
Apr. 18th. Spent the evening at Caberarie's, etc. Wrote to Governor Allencaster.
Sunday, Apr. 19th. In the evening at a fandango.
Apr. 20th. We this day learned that an American officer had gone on to the city of Mexico. This was an enigma to us inexplicable, as we conceived that the jealousy of the Spanish government would have prevented any foreign officer from penetrating the country; and why the United States could send an authorized agent to the viceroyalty, when the Spanish government had at the seat of our government a charge d'affaires, served but to darken the conjectures. The person alluded to was Mr. Burling, a citizen of Mississippi Territory, whose mission is now well known to the government. We likewise received an account of a commercial treaty having been entered into between Great Britain and the United States, which by the Dons was only considered as the preliminary step to an alliance offensive and defensive between the two nations.
Apr. 21st. Presented the commanding general with a letter for General Wilkinson, which he promised to have forwarded to the governor of Texas.
Apr. 22d. Spent the day in reading and studying Spanish; the evening at Captain Villarnil's.
Apr. 23d. Dined at Don Pedro Vallois'; spent the evening with Colonel Maynor; bade him adieu, as he was to march the next day. In the evening received a letter from the commandant-general, informing me my papers were to be detained, giving a certificate of their numbers, contents, etc.
Apr. 24th. Spent the evening at Zuloaga's with his relations. About sundown an officer of the government called upon me, and told me that the government had been informed that, in conversations in all societies, Robinson and myself had held forth political maxims and principles which, if just, I must be conscious if generally disseminated would in a very few years be the occasion of a revolt of those kingdoms; that those impressions had taken such effect that it was no uncommon thing, in the circles in which he associated, to hear the comparative principles of a republican and a monarchical government discussed, and even the allegiance due, in case of certain events, to the court called in question ; that various characters of consideration had indulged themselves in those conversations, all of whom were noted and would be taken care of; but that, as respected myself and companion, it was the desire of his Excellency that while in the dominions of Spain we would not hold forth any conversations whatsoever, either on the subject of religion or politics.
I replied that it was true I had held various and free conversations on the subjects complained of, but only with men high in office, who might be supposed to be firmly attached to the king, and partial to the government of their country; that I had never gone among the poor and illiterate, preaching up republicanism or a free government; that as to the catholic religion, I had only combated some of what I conceived to be its illiberal dogmas; that I had spoken of it in all instances as a respectable branch of the Christian religion which, as well as all others, was tolerated in the United States; and that, had I come to that kingdom in a diplomatic character, delicacy toward the government would have sealed my lips; or had I been a prisoner of war, personal safety might have had the same effect; but, being there in the capacity which I was, not voluntarily, but by coercion of the Spanish government, which at the same time had officially notified me that they did not consider me under any restraint whatever; therefore, when called on, I should always give my opinions freely, either as to politics or religion; but at the same time with urbanity, and a proper respect to the legitimate authorities of the country where I was.
He replied, "Well, you may then rest assured your conduct will be represented in no very favorable point of view to your government." I replied, "To my government I am certainly responsible, and to no other."
He then left me. I immediately waited on some of my friends and notified them of the threat, at which they appeared much alarmed. We went immediately to consult [Malgares], who, to great attachment to his friends, joined the most incorruptible loyalty and the confidence of the government. Our consultation ended in a determination only to be silent and watch events. We suspected [Walker] to be the informant, but whether just in our suspicion or not, I will not pretend to determine; for Robinson and myself frequently used to hold conversations in his presence, purposely to have them communicated; but he at last discovered our intentions, and told us that if we calculated on making him a carrier of news, we were mistaken; that he despised it.
Apr. 25th. At eleven o'clock I called on his Excellency, but was informed that he was engaged. About three o'clock I received a message from him by Lieutenant Walker, informing me that he was surprised I had not returned, and to call without ceremony in the evening; which I did, and presented him with a letter. He then also candidly informed me my party would not join me in the territory of the king of Spain, but that they should be attended to punctually, and forwarded on immediately after me; and requested that I should give orders to my sergeant to deliver up all his ammunition, and dispose in some manner of the horses of which he had charge. I stated in reply that, with respect to the ammunition, I would give orders to my sergeant to deliver, if demanded, all they possessed, more than was necessary to fill their horns; but that as to the horses, I considered their loss was a charge which must be adjusted between the two governments, and therefore should not give any directions respecting them, except as to bringing them on as far and as long as they were able to travel. He then gave me an invitation to dine with him on the morrow.
Sunday, Apr. 26th. Dined at the general's. In the evening went to Malgares', Zuloaga's, and others'. Wrote to my sergeant and Fero; to the latter of whom I sent $10, and to the other $161.84, to purchase clothes for the party. We had been for some time suspicious that the doctor was to be detained; but this evening he likewise obtained permission to pursue his journey with me, which diffused general joy through all the party.
Apr. 27th. Spent the day in making arrangements for our departure, writing to the sergeant, etc. I will here mention some few anecdotes relative to [Walker], with whom we boarded during our stay in Chihuahua, When we came to the city we went to his quarters, by order of the general, and considered ourselves as guests, having not the least idea that we should be charged with board, knowing with what pleasure any American officer would receive and entertain a foreign brother soldier situated as we were, and that we should conceive it a great insult to be offered pay under similar circumstances. But one day, after we had been there about a week, he presented to me an account for Robinson's and my board, receipted, and begged, if the general inquired of me, that I would say I had paid it. This naturally led me to demand how the thing originated. He with considerable embarrassment observed that he had taken the liberty to remark to the general that he thought he should be allowed an extra allowance in order to be enabled to treat us with some little distinction. The general flew into a violent passion, and demanded if I had not paid him for our board? To which the other replied, No, he did not expect pay of us. He ordered him immediately to demand pay, to receive it, sign a receipt, and lodge it in his hands; and added that he would consult me if [to ascertain whether] the thing was done. This he never did; yet I took care, every Sunday after that, to deposit in the hands of Walker a sum which was considered the proportion for Robinson and myself. Malgares and several others of the Spanish officers having heard of the thing, waited on us much mortified, saying with what pleasure they would have entertained us had not the designation of the general pointed out his will on the subject.
[Walker] had living with him an old negro, the only one I saw on that side of St. Antonio, who was the property of some person who resided near Natchez, and who had been taken with Nolan. Having been acquainted with him in the Mississippi country, he solicited and obtained permission for old Cesar to live with him. I found him very communicative and extremely useful. The day I arrived, when we were left alone, he came in, looked around at the walls of the room, and exclaimed, "What! all gone?" I demanded an explanation, and he informed me that the maps of the different provinces, as taken by [Walker] and other surveyors, had been hung up against the walls; but that the day we arrived they had all been taken down and deposited in a closet which he designated.
W[alker] gave various reasons for having left the United States and joined the Spanish service; one of which was, his father having been ill-treated, as he conceived, by G. at Natchez. At Chihuahua he had charge of the military school, which consisted of about 15 young men of the first families of the provinces; also of the public water-works of the city, on a plan devised by the royal engineer of Mexico; of the building of a new church; of the casting of small artillery, fabrication of arms, etc. Thus, though he had tendered his resignation, they knew his value too well to part with him, and would not accept of it, but still kept him in a subordinate station, in order that he might be the more dependent and the more useful. Although he candidly confessed his disgust at their service, manners, morals, and political establishments, yet he never made a communication to us which he was bound in honor to conceal; but on the contrary fulfilled the station of informer, which in that country is considered no disgrace, with great punctuality and fidelity. In this city the proverb was literally true, that "the walls have ears"; for scarcely anything could pass that his Excellency did not know in a few hours. In the evening I was notified to be ready to march the next day at three o'clock.
Apr. 28th. In the morning Malgares waited on us, and informed us he was to accompany us some distance on the route. After bidding adieu to all our friends, we marched at a quarter past three o'clock, and encamped at nine o'clock at a stony spring; passed near Chihuahua a small ridge of mountains, and then encamped in a hollow. As we were riding along, Malgares rode up to me and informed me that the general had given orders that I should not be permitted to make any astronomical observations. To this I replied that he well knew I never had attempted making any since I had been conducted into the Spanish dominions.
---
From Presidio Rio Grande to San Antonio de Bexar 1 to 16 Jun 1807
Monday, June 1st. Arrived at the Presidio Rio Grande at eight o'clock. This place was the position to which our friend Barelo had been ordered, and which had been very highly spoken of to him; but he found himself miserably mistaken, for it was with the greatest difficulty we obtained anything to eat, which mortified him extremely.
When at Chihuahua, General Salcedo had asked me if I had not lost a man by desertion, to which I replied in the negative. He then informed me that an American had arrived at the Presidio Rio Grande in the last year; that he had at first confined him, but that he was now released and practicing physic; and that he wished me to examine him on my arrival. I therefore had him sent for; the moment he entered the room I discovered he never had received a liberal education, or been accustomed to polished society. I told him the reason I had requested to see him, and that I had it in my power to serve him if I found him a character worthy of interference. He then related the following story:
That his name was Martin Henderson; that he was born in Rock Bridge County, State of Virginia; that he had been brought up a farmer; but that, coming early to the State of Kentucky and to Tennessee, he had acquired a taste for frontier life, and that, in the spring of 1806, himself and four companions had left the Saline in the District of Saint Genevieve, Upper Louisiana, in order to penetrate through the woods to the province of Texas; that his companions had left him on the White [Arkansaw] river, and that he had continued on; that in swimming some western branch his horse sunk under him, and it was with difficulty he made the shore with his gun. Here he waited two or three days until his horse rose, and he then got his saddle-bags; but all his notes on the country, courses, etc., were destroyed. He then proceeded on foot for a few days, when he was met by 30 or 40 Osage warriors, who, on his telling them he was going to the Spaniards, were about to kill him; but on his saying he would go to the Americans, they held a consultation over him, and finally seized on his clothes and divided them between them; then his pistols, compass, dirk, and watch, which they took to pieces and hung in their noses and ears; then they stripped him naked, and round his body found a belt with gold pieces sewed in it; this they also took, and finally seized on his gun and ammunition, and were marching off to leave him in that situation; but he followed them, thinking it better to be killed than left in that state to die by hunger and cold. The savages after some time halted, and one pulled off an old pair of leggings and gave him, another mockinsons, a third a buffalo robe, and the one who had carried his heavy rifle had by this time become tired of his prize, they never using rifles; they counted him out 25 charges of powder and ball, then sent two Indians with him, who put him on a war-trace, which they said led to American establishments; and as soon as the Indians left him he directed his course as he supposed for Saint Antonio. He then killed deer and made himself some clothes. He proceeded on and expended all his ammunition three days before he struck the Grand Road, nearly at the Rio Grande. He further added that he had discovered two mines, one of silver and the other of gold, the situation of which he particularly described; but that the general had taken the samples from him. That he would not attempt to pass himself on us for a physician, and hoped, as he only used simples and was careful to do no harm, we would not betray him. He further added that since his being in the country he had made, from information, maps of all the adjacent country; but that they had been taken from him.
I had early concluded that he was an agent of Burr's, and was revolving in my mind whether I should denounce him as such to the commandant, but feeling reluctant from an apprehension that he might be innocent, when one of my men came in and informed me that it was Trainer, who had killed Major Bashier in the wilderness between Natchez and Tennessee, when he was his hireling. He shot him, when taking a nap at noon, through the head with his own pistols. The governor of the State and the major's friends offered a very considerable reward for his apprehension, which obliged him to quit the State; and with an Amazonian woman, who handled arms and hunted like a savage, he retreated to the source of the White river; but, being routed from that retreat by Captain Maney [James B. Many], of the United States army and a party of Cherokees, he and his female companion bore west; she, proving to be pregnant, was left by him in the desert, and I was informed arrived at the settlements on Red river, but by what means is to me unknown. The articles and money taken from him by the Osages were the property of the deceased major. I then reported these circumstances to Captain Barelo, who had him immediately confined, until the will of Governor Cordero should be known, who informed me, when at Saint Antonio, that he would have him sent to some place of perpetual confinement in the interior. Thus vengeance has overtaken the ingrate and murderer when he least expected it.
In the evening we went to see some performers on the slack-rope, who were no wise extraordinary in their performances, except in language which would bring a blush on the cheek of the most abandoned of the female sex in the United States.
June 2d. In the daytime were endeavoring to regulate our watches by my compass, and in an instant that my back was turned some person stole it. I could by no means recover it, and I had strong suspicions that the theft was approved, as the instrument had occasioned great dissatisfaction. This day the captain went out to dine with some monks, who would have thought it profanation to have had us as their guests, notwithstanding the priest of the place had escorted us round the town and to all the missions; we found him a very communicative, liberal, and intelligent man. We saw no resource for a dinner but in the inventive genius of a little Frenchman who had accompanied us from Chihuahua, where he had been officiating one year as cook to the general, of whom he gave us many interesting anecdotes, and in fact was of infinite service to us; we supported him and he served as cook, interpreter, etc. It was astonishing with what zeal he strove to acquire news and information for us; and as he had been four times through the provinces, he had acquired considerable knowledge of the country, people, etc. He went off and in a very short time returned with table-cloth, plates, a dinner of three or four courses, a bottle of wine, and a pretty girl to attend on the table. We inquired by what magic he had brought this about, and found that he had been to one of the officers and notified him that it was the wish of the commandant that he should supply the two Americans with a decent dinner, which was done; but we took care to compensate them for their trouble. This we explained to Barelo in the evening, and he laughed heartily.
We parted from the captain with regrets and assurances of remembrance. Departed at five o'clock, escorted by Ensign ---and --- men; came on to the Rio Grande, which we passed, and encamped at a Rancho on the other side. Distance seven miles.
June 3d. The mosquitoes, which had commenced the first night on this side of Montelovez, now became very troublesome. This day saw the first horse-flies; saw some wild horses; came on in the open plain, and in a dry time, when there was no water. Distance 30 miles.
June 4th. Came 16 miles to a pond and dined; great sign of wild horses; in the afternoon to the river Noissour [Nueces], swimming where [i. e., too deep to ford when] we arrived, although it was not more than ten steps wide. Distance 36 miles.
June 5th. After losing two horses in passing the river, the water having fallen so that we forded, we crossed and continued our route. Passed two herds of wild horses, which left the road for us. Halted at a pond on the left of the road, 15 miles, where we saw the first oak since we left New Mexico, and this was scrub oak. Passed many deer yesterday and to-day. Came on to a small creek at night, where we met a party of the company of Saint Fernandez returning from the line. Distance 31 miles.
June 6th. Marched early and met several parties of troops returning from Texas, where they had been sent to re-enforce, when our troops were near the line. Immense numbers of cross-roads made by the wild horses. Killed a wild hog [peccary, Dicotyles torquatus], which on examination I found to be very different from the tame breed, smaller, brown, with long hair and short legs; they are to be found in all parts between Red river and the Spanish settlements. Passed an encampment made by the Lee Panes [Lipans] met one of said nation with his wife. In the afternoon struck the woodland, which was the first we had been in from the time we left the Osage nation. Distance 39 miles.
Sunday, June7th. Came on 15 miles to the [Medina] river Mariano---the line between Texas and Cogquilla---a pretty little stream, [on which was a] Rancho. Thence in the afternoon to Saint Antonio. We halted at the mission of Saint Joseph [San Jose]; received in a friendly manner by the priest of the mission and others. We were met out of Saint Antonio about three miles by Governors Cordero and Herrara in a coach. We repaired to their quarters, where we were received like their children. Cordero informed me that he had discretionary orders as to the mode of my going out of the country; that he therefore wished me to choose my time, mode, etc; that any sum of money I might want was at my service; that in the meantime Robinson and myself would make his quarters our home; and that he had caused to be vacated and prepared a house immediately opposite for the reception of my men. In the evening his levee was attended by a crowd of officers and priests, among whom were Father M'Guire and Dr. Zerbin. After supper we went to the public square, where might be seen the two governors joined in a dance with people who in the daytime would approach them with reverence and awe. We were here introduced to the sister of Lieutenant Malgares' wife, who was one of the finest women we saw. She was married to a Captain Ugarte, to whom we had letters of introduction.
June 8th. Remained at San Antonio.
June 9th. A large party dined at Governor Cordero's, who gave as his toast, "The President of the United States---Vive la." I returned the compliment by toasting "His Catholic Majesty." These toasts were followed by "General Wilkinson." One of the company then gave "Those gentlemen; their safe and happy arrival in their own country; their honorable reception, and the continuation of the good understanding which exists between the two countries."
June 10th. A large party at the governors to dinner. He gave as a toast "My companion, Herrara."
June 11th. Preparing to march to-morrow. We this evening had a conversation with the two governors, wherein they exhibited an astonishing knowledge of the political character of our Executive, and the local interests of the different parts of the Union.
June 12th. One of the captains from the kingdom of [Nuevo] Leon having died, we were invited to attend the burial, and accompanied the two governors in their coach where we had an opportunity of viewing the solemnity of the interment, agreeably to the ritual of the Spanish church, attended by the military honors which were conferred on the deceased by his late brethren in arms.
[As I ascertained to-day] Governor Cordero gave the information of my intended expedition to the commandant general as early as July [1806], the same month that I took my departure. His information was received via Natchez.
June 13th. This morning there were marched 200 dragoons for the sea-coast, to look out for the English, and this evening Colonel Cordero was to have marched to join them. We marched at seven o'clock, Governor Cordero taking us in his coach about two leagues, accompanied by Father M'Guire, Dr. Zerbin, etc. We took a friendly adieu of Governor Herrara and our other friends at Saint Antonio. It may not be improper to mention here something of Father M'Guire and Dr. Zerbin, who certainly treated us with all imaginable attention while at Saint Antonio. The former was an Irish priest, who formerly resided on the coast above [New] Orleans [in present Louisiana], and was noted for his hospitable and social qualities. On the cession of Louisiana, he followed the standard of "the king, his master, who never suffers an old servant to be neglected." He received at Cuba an establishment as chaplain to the mint of Mexico, whence the instability of human affairs carried him to Saint Antonio. He was a man of chaste classical taste, observation, and research. Dr. Zerbin formerly resided at Natchez [in present Mississippi], but in consequence of pecuniary embarrassments emigrated to the Spanish territories. Being a young man of a handsome person and an insinuating address, he had obtained the good-will of Governor Cordero, who had conferred on him an appointment in the king's hospital, and many other advantages by which he might have made a fortune; but he had recently committed some very great indiscretions, by which he had nearly lost the favor of Colonel Cordero, though whilst we were there he was treated with attention.
I will here attempt to portray a faint resemblance of the characters of the two governors whom we found at Saint Antonio; but to whose superexcellent qualities it would require the pen of a master to do justice. Don Antonio Cordero is about 5 feet 10 inches in height, 50 years of age, with fair complexion and blue eyes; he wore his hair turned back, and in every part of his deportment was legibly written "the soldier." He yet possessed an excellent constitution, and a body which appeared to be neither impaired by the fatigues of the various campaigns he had made, nor disfigured by the numerous wounds received from the enemies of his king. He was one of the select officers who had been chosen by the court of Madrid to be sent to America about 35 years since, to discipline and organize the Spanish provincials, and had been employed in all the various kingdoms and provinces of New Spain. Through the parts which we explored he was universally beloved and respected; and when I pronounce him by far the most popular man in the internal provinces, I risk nothing by the assertion. He spoke the Latin and French languages well, was generous, gallant, brave, and sincerely attached to his king and country. Those numerous qualifications advanced him to the rank of colonel of cavalry, and governor of the provinces of Cogquilla and Texas. His usual residence was Montelovez, which he had embellished a great deal, but since our taking possession of Louisiana he had removed to San Antonio, in order to be nearer the frontier, to be able to apply the remedy to any evil which might arise from the collision of our lines.
Don Simon de Herrara is about 5 feet 11 inches high, has a sparkling black eye, dark complexion and hair. He was born in the Canary islands, served in the infantry in France, Spain, and Flanders, and speaks the French language well, with a little of the English. He is engaging in his conversation with his equals; polite and obliging to his inferiors, and in all his actions one of the most gallant and accomplished men I ever knew. He possesses a great knowledge of mankind from his experience in various countries and societies, and knows how to employ the genius of each of his subordinates to advantage. He had been in the United States during the presidency of General Washington, and had been introduced to that hero, of whom he spoke in terms of exalted veneration. He is now lieutenant colonel of infantry, and governor of the kingdom of New Leon. His seat of government is Mont Elrey [Monterey]; and probably, if ever a chief is adored by his people, it is Herrara. When his time expired last, he immediately repaired to Mexico, attended by 300 of the most respectable people of his government, who carried with them the sighs, tears, and prayers of thousands that he might be continued in that government. The viceroy thought proper to accord to their wishes pro tempore, and the king has since confirmed his nomination. When I saw him he had been about one year absent, during which time the citizens of rank in Mont Elrey had not suffered a marriage or baptism to take place in any of their families, until their common father could be there, to consent and give joy to the occasion by his presence. What greater proof could be given of their esteem and love?
In drawing a parallel between these two friends, I should say that Cordero was the man of greatest reading, and that Herrara possessed the greatest knowledge of the world. Cordero has lived all his life a bachelor. Herrara married an English lady in early youth, at Cadiz; one who by her suavity of manners makes herself as much beloved and esteemed by the ladies as her noble husband is by the men. By her he has several children, one now an officer in the service of his royal master. The two friends agree perfectly in one point---their hatred to tyranny of every kind; and in a secret determination never to see that flourishing part of the New World subject to any other European lord except him whom they think their honor and loyalty bound to defend with their lives and fortunes. But should Bonaparte seize on European Spain, I risk nothing in asserting that those two gentlemen would be the first to throw off the yoke, draw their swords, and assert the independence of their country.
Before I close this subject, it may not be improper to state that we owe it to Governor Herrara's prudence that we are not now engaged in a war with Spain. This will be explained by the following anecdote, which he related in the presence of his friend Cordero, and which was confirmed by him. When the difficulties commenced on the Sabine, the commandant-general and the viceroy consulted each other, and mutually determined to maintain inviolate what they deemed the dominions of their master. The viceroy therefore ordered Herrara to join Cordero with 1,300 men, and both the viceroy and General Salcedo ordered Cordero to cause our troops to be attacked, should they pass the Rio Oude. These orders were positively reiterated to Herrara, the actual commanding officer of the Spanish army on the frontiers, and gave rise to the many messages which he sent to General Wilkinson when he was advancing with our troops. Finding they were not attended to, he called a council of war on the question to attack or not, when it was given as their opinion that they should immediately commence a predatory warfare, but avoid a general engagement; yet, notwithstanding the orders of the viceroy, the commandant-general, Governor Cordero's, and the opinion of his officers, he had the firmness or temerity to enter into the agreement with General Wilkinson which at present exists relative to our boundaries on that frontier. On his return he was received with coolness by Cordero, and they both made their communications to their superiors."Until an answer was received," said Herrara, "I experienced the most unhappy period of my life, conscious I had served my country faithfully, at the same time that I had violated every principle of military duty." At length the answer arrived, and what was it, but the thanks of the viceroy and the commandant-general for having pointedly disobeyed their orders, with assurances that they would represent his services in exalted terms to the king. What could have produced this change of sentiment is to me unknown, but the letter was published to the army, and confidence again restored between the two chiefs and the troops.
Our company consisted of Lieutenant Jn. Echararria, who commanded the escort; Captain Eugene Marchon of New Orleans, and Father Jose Angel Cabaso, who was bound to the camp at or near the [river] Trinity; with a suitable proportion of soldiers. We came on 16 miles to a place called the Beson, where we halted until the mules came up. Marched again at four o'clock, and arrived at the river of Guadalupe at eight o'clock. Distance 30 miles.
Sunday, June 14th. When we left Saint Antonio, everything appeared to be in a flourishing and improving state, owing to the examples and encouragement given to industry, politeness, and civilization by the excellent Governor Cordero and his colleague Herrara; also to the large body of troops maintained at that place in consequence of the difference existing between the United States and Spain. Came on to the Saint Mark [river, Rio San Marco] in the morning; in the afternoon came on 15 miles further, but was late, owing to our having taken the wrong road. Distance 30 miles.
June 15th. Marched 20 miles in the morning to a small pond, which is dry in a dry season, where we halted. Here commenced the oak timber, it having been musqueet [mesquit, Prosopis juliflora] in general from Saint Antonio. Prairie like the Indiana territory. In the afternoon came on six miles further to a creek, where we encamped early. Distance 26 miles.
June 16th. Marched early, and at eight o'clock arrived at Red river [Colorado River of Texas]. Here was a small Spanish station and several lodges of Tancards-tall, handsome men, but the most naked savages I ever saw, without exception. They complained much of their situation. In the afternoon passed over hilly, stony land occasionally we saw pine timber. Killed one deer. Encamped on a small run. Distance 26 miles.
---
SONS OF DEWITT COLONY TEXAS
� 1997-1999, Wallace L. McKeehan, All Rights Reserved
New Spain-Index