SONS OF DEWITT COLONY TEXAS
© 1997-2015, Wallace L. McKeehan, All Rights Reserved
Gonzales Alamo Relief Force | Alamo Widows
Susannah Wilkerson Dickinson
1814-1883
Alamo Widow and Survivor
Angelina Elizabeth Dickinson | The Hannig Family
Little is known of the early life of Susannah Wilkerson Dickinson of Bolivar, HardemanCo, TN before she married at age 15 DeWitt Colonist, member of the Old Gonzales 18 and Alamo Defender Almeron Dickinson on 24 May 1829 with Justice of the Peace Joseph W. McKean officiating. According to family legend, Almeron and Susannah were sweethearts, but a spat caused Almeron to court a friend of both. Susannah was to be a bridesmaid at Almeron's wedding to the friend, but somehow her charms persuaded Almeron to marry her instead and after which they migrated to Texas. Present in the Alamo garrison during the siege and Battle of the Alamo in which Almeron was a casualty, Susannah Dickinson's life was spared by General and President Santa Anna and consequently she became the most extensively quoted eyewitness source to the final and subsequent events surrounding the Alamo defeat of 6 Mar 1836 in San Antonio. She was first found by English-speaking General Juan Almonte who asked for her and said "If you wish to save your life, follow me." Susannah was injured in the leg or ankle by a bullet, either stray or intentional, as she was escorted from her hiding place in the chapel. Almeron and Susannah Dickinson's 15 month old daughter Angelina Elizabeth (1834-1871) was also present and a survivor of the defeat. According to Susannah, when she was escorted into Santa Anna's quarters, she found Angelina sitting on the lap of the dictator. He offered to adopt her and provide the best education and support for her in Mexico. After refusal of the offer, Susannah was released and sent to Gonzales by Santa Anna escorted by one or more Negro servants with a letter dated 7 Mar 1836:
---
The General-in-Chief of the Army of Operations of the Mexican Republic, to the inhabitants of Texas:
Citizens! The causes which have conducted to this frontier a part of the Mexican Army are not unknown to you, a parcel of audacious adventurers, maliciously protected by some inhabitants of a neighboring republic dared to invade our territory, with the intention of dividing amongst themselves the fertile lands that are contained in the spacious Depart ment of Texas; and even had the boldness to entertain the idea of reaching the capital of the republic. It became necessary to check and chastise such enormous daring; and in consequence, some exemplary punishments have already taken place in San Patricio, Lipantitlan and this city. I am pained to find amongst those adventurers the names of some colonists, to whom had been granted repeated benefits, and who had no motive of complaint against the government of their adopted country. These ungrateful men must also necessarily suffer the just punishment that the laws and the public vengeance demand. But if we are bound to punish the criminal, we are not the less compelled to protect the innocent. It is thus that the inhabitants of this country, let their origin be what it may, who should not appear to have been implicated in such iniquitous rebellion, shall be respected in their persons and property, provided they come forward and report themselves to the commander of the troops within eight days after they should have arrived in their respective settlements, in order to justify their conduct and to receive a document guaranteeing to them the right of enjoying that which lawfully belongs to them.
Bexarians! Return to your homes and dedicate yourselves to your domestic duties. Your city and the fortress of the Alamo are already in possession of the Mexican Army, composed of your own fellow citizens; and rest assured that no mass of foreigners will ever interrupt your repose, and much less, attack your lives and plunder your property. The Supreme Government has taken you under its protection and will seek for your good.
Inhabitants of Texas! I have related to you the orders that the army of operation I have the honor to command comes to execute; and therefore, the good will have nothing to fear. Fulfill always your duties as Mexican citizens, and you may expect the protection and benefit of the laws; and rest assured that you will never have reason to repent yourselves of having observed such conduct, for I pledge you in the name of the supreme authorities of the nation, and as your fellow citizen and friend, that what has been promised you will be faithfully performed.
Antonio Lopes de Santa Anna.
---
Mrs. Dickinson, Angelina and the blacks eventually made their way toward Gonzales where they were met by Texian army scouts who took her to the camp of Gen. Houston and army assembling in Gonzales town proper where she reported the news of the disaster and Santa Anna's messages. Susannah is said to have been present at the Braches House where many Alamo widows and orphans had gathered as Gonzales prepared to evauate on the Runaway Scrape. It is said that the widows and orphans insistently pressed her for some last word, maybe a last note or message from their husbands, fathers and brothers. According to members of the Bruno family who had first encountered Ms. Dickinson and party on the way to Gonzales from the Alamo, Susannah and Angelina accompanied them on the flight by oxcart on the Runaway Scrape to East Texas and the Sabine River where they remained until after San Jacinto and establishment of the Republic of Texas.
In Houston in fall 1836, widow Susannah Dickinson appeared among the many widows and veterans applying to the Congress of the Republic for aid, backpay and bounty land. Her appeal was denied based on the argument that the young Republic had limited means and payment to her would open up appeals to many families of deceased veterans beyond means of the Republic to pay. Records indicate a troubled marriage with a John Williams (1837) in Houston which ended in divorce granted to Susannah 24 Mar 1838. The divorce was granted on the basis of allegations by Susannah that Williams had failed to provide support for her and Angelina, while exercising physical force sufficient to have caused an abortion and the beating and abuse of Angelina.
Legend says that Susannah was aided by and lived in the rowdy Mansion House at the corner of Congress and Milam streets run by Pamelia/Pamela Mann sometime between 1838 and 1840. The Mansion House was a gaudy, baudy, rowdy, hotel and restaurant and a center of much activity in the new capitol of the Republic. The house was frequented both by those of questionable and high class reputation. Mrs. Mann established her place in history as the matron who confronted Houston over return of her yoke of oxen which was pulling the "Twin Sisters" cannons as the army turned toward San Jacinto away from the road to Nacogdoches. Mann was known for her ability to control brawls, duels and police raids on her establishment. She was periodically charged with counterfeiting, immorality, larceny and assualt. At one time she was even sentenced to death for forgery and other crimes, but received executive clemency from President Lamar. Susannah is thought to have run her own boarding house not far from the Mansion House at Franklin and Crawford during the time when the capital of Texas was moved to Austin. On 20 Dec 1838, Susannah Dickinson Williams married Francis P. Herring of Georgia, a water carrier working between Beauchamp Spring and Houston. Herring died according to obituary of digestive fever, but some relatives said it was from excessive drinking.
On 15 Dec 1847, Susannah Dickinson Williams Herring married 37 year old Pennsylvanian and drayman, Peter Bellows (also spelled as Bellis and Bells in some records) who was listed together with Susannah, Angelina and a German boarder, R.E. Goodbaker, in the 1850 census of HarrisCo. Susannah was converted in the massive Baptist revival campaign of Dr. Rufus Burleson in Houston in 1849 where he remarked in his Memoirs "she was nominally a member of the Episcopal Church...I found in her a great bundle of untamed passions, devoted in her love and bitter in her hate...she was joyfully converted. In less than two months her change was so complete as to be observed by all her neighbors....she was a zealous co-laborer of mine in every good work...whenever she did wrong, especially in giving way to passion, she would confess and weep over it." According to family histories, members of the church objected to having Susannah as a colleague and through gossip and possibly more overt harassment, she withdrew from membership of her own accord, although Rev. Burleson supported and defended her continued membership. Family histories contend that Bellows was a poor husband and failed to support her and daughter Angelina based on evidence that she had to run her own boarding house to support herself and the child while married to him. In 1857, husband Peter Bellows delivered a devastating petition for divorce to HarrisCo court accusing her of abandonment, "adulting with several persons," and claimed that Susannah took up residence in a "house of ill fame...as one of its inmates for accommodation of the public..in constant habit of committing adultery with various persons." Susannah who was apparently already living in Lockhart, CaldwellCo at the time of the proceedings failed to appear and the court judged the allegations true and granted the divorce. Whether the allegations were true to the letter or the exaggeration of a punitive spouse is unclear.
In Lockhart east of the original land grant received by her and Almeron Dickinson as DeWitt Colonists, Susannah Dickinson Williams Herring Bellows life turned happy again for the first time since loss of her first husband Almeron Dickinson in the Alamo. Exercising her skills as a hostess and cook, she again set up a boarding house to support herself. How Susannah met her fifth and final spouse, German-born Joseph W. Hannig is unclear. Some say they met in Houston, others New Orleans and others Lockhart. Lockhart merchant and in-law E.A. Masur says "Hannig was a pioneer blacksmith, a man who really appreciated a good meal. When he sampled Susannah's cabbage, bacon, and cornbread, he just up and married her." In 1856 exercising the power of attorney given her by ex-husband Bellows and her daughter's family in 1854, she sold the Dickinson league near Lockhart to John S. McKean for $2500. Susannah and Angelina were also awarded at one time 640 acres and another 1920 acres in ClayCo, TX as descendants of Almeron Dickinson in the Texas Republican Army. With the assets from sale of the Dickinson league to begin on, the marriage to Hannig was a prosperous and happy one. In 1862, Susannah Hannig met again the Rev. Dr. Rufus Burleson who together with Rev. W.W. Harris was holding a revival in Lockhart at the Baptist Church. As the Rev. appealed for the converted, but backslidden "who had grown cold and wandered away, and now wanted to return to the path of duty" to come forward, among them was Susannah Hannig causing Burleson to remark later "...to my astonishment I saw the stalwart form moving up the aisle that I saw moving up the aisle in Houston in 1849." As they shook hands, Susannah remarked to him "erring and wayward, but still struggling to do right and serve my Redeemer."
In Austin of the late 1800's where the family moved, Mr. Hannig was a major business innovator and developer involved in numerous and diverse business ventures. Among these were furniture making, undertaking and milling in which he introduced new levels of quality in his products for the time and period. He owned a shop at 205 Pecan St. Susannah was the center of family life at residences on Pine Street (now 5th St.) between Neches and Red River St. In the 1870's the family lived at Duval and East 32nd St. facing Waller Creek, described as living in comfortable circumstances. Mr. E.A. Masur described his aunt as "a very dignified old lady and all who knew her respected her, and she was always ready to talk about her past experiences...[as a boy] I remember dreading being kissed by an old lady with hair on her upper lip." Mr. Hannig by standards of the day was a wealthy man and good husband providing for Susannah comfortable circumstances the remainder of her life, including numerous servants, mostly young German girls who became her friends. She was known to be the historic excellant cook of her youth and homemaker, she raised and educated her grandchildren in Catholic schools and convents, and was active in the church and social affairs around her.
In Austin circles, Susannah became somewhat a celebrity particularly among the circles in which her husband's activities in the community put her in contact. She was very active in relating her experiences in the Alamo and commemorating its heroes whenever called on. She was called on repeatedly to verify participation by various individuals in the siege in legal proceedings initiated by descendants, although husband Hannig disapproved of such extensive involvement in repeating tales of her past including the Alamo experience. Susannah is suspected by historians of adapting her tales to the audience over the years, as memory of the original event faded and the story was told and reported constantly over the years through secondary sources. She died in Austin on 7 Oct 1883. Mr. Hannig lived in San Antonio until his death in 1890 where he continued his successful businesses and contributions to civic affairs which included a marriage to Louisa Staacke.
Hannig had a marble marker placed on wife Susannah's grave in Austin's Oakwood Cemetery stating: Sacred to the Memory of Susan A. Wife of J.W. Hannig Died Oct. 7, 1883 Aged 68 Years. The Colorado Commandery of Knights Templar met Hannig's remains as they arrived from San Antonio and he was buried next to Susannah with a marker: My Husband Joseph W. Hannig born June 14, 1834; died June 6, 1890. In the Centennial Year of 1936, state historical markers were placed around the state for its heroes, but none for Susannah Dickinson. In-law E.A. Masur took up the crusade to mark her gravesite. After many denials by the legislature, on 2 Mar 1949, the state placed a marble slab of white marble over the gravesite of Alamo Widow and Survivor Susannah Dickinson, too late for E.A. Masur to witness it for he died in 1948. A cenotaph to Susannah Dickinson also stands in the Texas State Cemetery in Austin.
---
Angelina Elizabeth Dickinson
1834-1851
Babe of the Alamo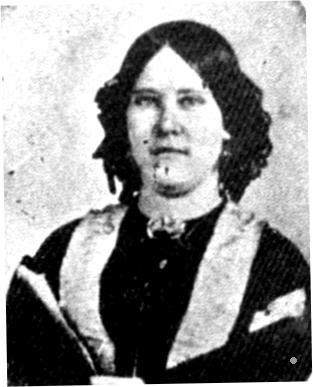 Angelina Elizabeth Dickinson (b. 14 Dec 1834), daughter of Almeron and Susannah, who became known as the "Babe of the Alamo" was 15 months old at the time and was said to be the recipient of Col. Travis' ring which he received from sweetheart Rebecca Cummings, daughter of Ms. Rebecca Cummings, one of the Old Three Hundred original Austin colonists. Angelina lived an even less fortunate and more stormy life of failed marriages and drifting which unfortunately never turned around to the happiness experienced by her mother in later life.
She married John Maynard Griffith in MontgomeryCo, TX in 1851, a boarder whom mother Susannah had met and with which she was impressed and according to family legend, chose as a husband for Angelina. Griffith was a farmer that had piloted steamboats in the cotton transport to and from Houston. They first lived on Griffith's farm in MontgomeryCo for five years where according to family, Angelina missed the life of the city and relations between her straight-laced husband were strained. The couple had children Almeron Dickinson (b. 13 May 1853; d. 13 Jul 1938; m. Jessie Freeman Tedford: Children Susanna Gertrude, m. Charles W. Ramsdell, two children; Maude, m. Ernest Griffith, child Margaret; Alice Lucile, m. Curtis McKallip, one child; Jessie Angeline, m. J.N. Allison; Marian Willard, m. Robert E. Nitschke Jr.), Susanna Arabella (b. 13 Jan 1855; d. 17 Jul 1929 San Antonio; m. Fred Sterling) and Joseph (b. 1857 Houston; d. 17 Jul 1924; m. Theresa Galverira: Children Joseph, Lorraine, Rosalind). After the couple separated, Almeron Griffith went to live with uncle Joshua Griffith and the two younger children moved in with grandmother Susannah after being placed for a time in a convent in New Orleans where Angelina had migrated to live the wild side of life.
In 1864, Angelina married Oscar Holmes in New Orleans and they had a daughter Sallie (b. 6 Sep 1865 New Orleans; m. Ben Barrera 1883; children: Susan, Jodie, Manuel, George). They separated, Angelina left her children and lived an uncertain drifting life. At least at one time she moved to Galveston and was involved in nursing victims of plague in the city. She was associated with a Jim Britton in Galveston who was the means by which the Travis-Cummings ring given to her during the siege of the Alamo was passed on and eventually reached its current home in the Alamo museum.
---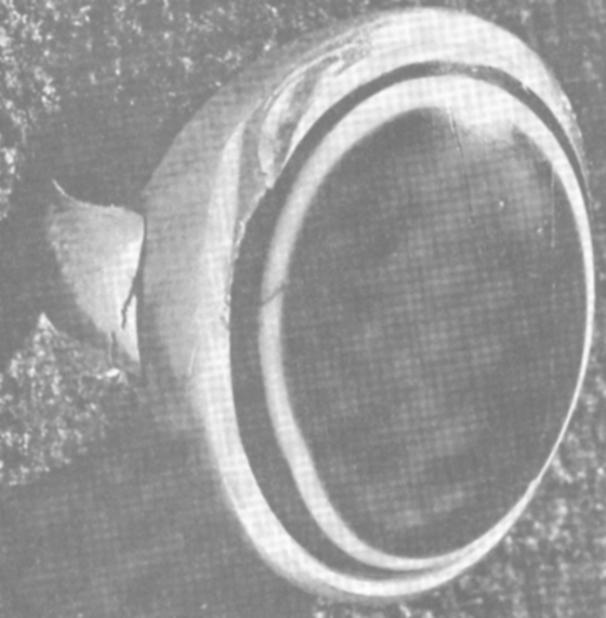 Footnote from Susannah Dickinson by C. Richard King: Now on display in the Alamo, the ring has brought some discussion. T. H. McGregor of Austin wrote Ed Kilman, Houston columnist, the following explanation: Prior to the Civil War she (Angelina Dickinson) lived in Galveston and was friendly with Jim Britton who at that time was connected with the operation of a train. She gave the ring to Britton. Britton had been raised at Lebanon, Tennessee, and had been an associate and close friend of Paul F. Anderson, a brother of my Mother and the late Mrs. S. S. Ashe of Houston. On the breaking out of the War Anderson and Britton returned to Lebanon where Anderson became a Captain and Britton a Lieutenant of the "Cedar Shakes," a company in Baxter Smith's Fourth Tennessee Regiment which was brigaded with the Texas Rangers [actually the "Cedar Snags" which was Co K of the 4th Tennessee Cavalry--WLM]. Anderson afterwards became a Colonel and Britton a Captain in the Confederate Army. Anderson had a younger brother who was a junior Lieutenant under Britton, DeWitt Anderson. Britton gave the Travis ring to DeWitt Anderson who wore it until his death in 1902 at Marianna, Arkansas, at which time the ring came into my possession. (Letter, T. H. McGregor to Ed Kilman, Jan. 21, 1942, in L. W. Kemp Papers, The University of Texas Archives.) T. H. McGregor gave the ring to his son Douglas McGregor, Houston attorney, who presented it to the Alamo museum. (Letter, E. A. B., Houston, Oct. 11, 1961, in Barker Library, The University of Texas, Dickinson file).
---
The place and circumstances of Angelina's death is uncertain. Family historians say she died in 1870 while visiting New Orleans. An article in a Galveston newspaper in Jul 1869 refers to her as Em. or Emma Britton, daughter of Mrs. Robertson, who were saved in the Alamo, and states that "she embraced the life of a courtezan" and died at age 37 due to hemorrhage of the uterus. An entry under "Angelina Dickinson Griffith Holmes" on the Find A Grave online database states an obituary for "Em Britton" in a July edition of a Galveston newspaper read: "'The Babe of the Alamo' has drifted away, first to New Orleans, later to Galveston. She lived recklessly. She aided victims of a yellow fever epidemic. She remarried and gave birth to a fourth child. And she died, of a uterine hemorrahage at age 34. She lived the life of a courtesan and died so last night." The entry goes on to say "according to family, her grave was in the far back corner of [Galveston] Evergreen Cemetery, also called Cahill Ground. The small headstone, simply inscribed "Britton" was washed to sea during the 1900 Galveston flood."

Texas Historical marker no. 7880 erected in 1980 to mark the homesite and cemetery of Austin Colony pioneers Noah and Esther Wightman Griffith, parents of John Maynard Griffith, near Dobbins in MontgomeryCo, Texas suggests that Angelina was buried there.
Despite numerous appeals to the legislature and government of the Republic including the following eloquent appeals by statesmen Guy M. Bryan (nephew of Stephen F. Austin) and Englishman from Brazoria, James Charles Wilson, aid to Angelina Dickinson based on her father's service were denied based on grounds that "many orphans were left in a more forlorn and dependent state that the one the bill is intended to relieve......If the finances of the state were in a condition to give a pension to all....the heirs of those who were killed, then would your committee treat the bill with more favor.....But as this is not the situation of our treasury, and as the subject of this relief does not appear to be in a distressed situation, but rather the reverse, being a young lady of some fifteen years of age, and entitled to the estate of her father, which consists of more than five thousand acres of land......"
Guy Morrison Bryan, 18 Dec 1849 on the floor of the legislature of the State of Texas speaking for a proposition to award $300 a year to the daughter of Capt. and Mrs. Almeron Dickinson:
I intended, Mr. Speaker, to be silent on this occasion, but silence would not be a reproach, when to speak is a duty. No one has raised a voice in behalf of this orphan child; several have spoken against her claim. I rise, sir, in behalf of no common cause. Liberty was its foundation, heroism and martyrdom consecrated it. I speak for the orphan child of the Alamo. No orphan children of fallen patriots can send a similar petition to this House---none save her can say, 'I am the Child of the Alamo.' Well do I remember the consternation which spread throughout the land, when the sad tidings reached our ears that the Alamo had fallen. It was here that a gallant few, the bravest of the brave, threw themselves betwixt the enemy and the settlements, determined not to surrender nor retreat. They redeemed their pledge with the forfeit of their lives---they fell, the chosen sacrifice to Texas freedom! Texas, unapprised of the approach of the invader, was sleeping in fancied security, when the guns of the Alamo first announced that the Atilla of the South was near. Infuriated at the resistance of Travis and his noble band, he marshaled his whole army beneath the walls, and rolled wave after wave of his hosts against those battlements of freedom. In vain he strove---the flag of liberty---(Mexico's flag of 1824), still streamed out upon the breeze, and floated proudly from the outer wall. Maddened and persistent, he reared his batteries, and after days of furious bombardment, and repeated assaults, he took a blackened and ruined mass---the blood stained walls of the Alamo. The noble, the martyred spirits of all its gallant defenders, had taken their fight to another fortress not made with hands ... but for this stand at the Alamo, Texas would have been desolated to the Sabine. Sir, I ask this pittance, and for whom? For the only living witness, save the mother, of this awful tragedy---'this bloodiest picture in the book of time,' the bravest act that ever swelled the annals of any country, Grant the boon! She claims it as the Christian child of the Alamo---baptized in the blood of a Travis, a Bowie, a Crockett, and a Bonham. To turn her away would be a shame! Give her what she asks, that she might be educated, and become a worthy child of the State!---that she may take that position in society to which she is entitled by the illustrious name of her martyred father---illustrious because he fell in the Alamo.
James Wilson also spoke in favor of the appeal:
When the Alamo fell, a nobler than Leonidas a more devoted band than the Spartans, sank amid its ruins. They shed their blood for us---they poured out their lives as water for the liberties of Texas! and they have left us, of that bloody, yet glorious conflict, one sole memento---one frail, perishable keepsake---the child whose petition for assistance is before us. Shall we turn her away? Shall we say---'Though your father served the State in his life; though he fell in the ranks of those men whose names history shall chronicle and nations shall delight to honor; though you alone, of all the children of Texas witnessed that direful scene, whose bare contemplation makes the stout heart quail; though the credit and honor of Texas are alike concerned in taking care of your childhood and watching over your youth, in providing for your happiness and respectability; though you, the Babe of the Alamo, will be an object of interest to all who may visit our State in the after years, when the pen of the historian shall have recorded your connection with the early glories and sufferings of our now happy land---yet for all this, we will suffer you to grow up in uncultured wildness, in baneful ignorance, perchance in vice, rather than make this pitiful appropriation to enable you to render yourself capable of occupying that position in society to which you are in a peculiar degree entitled by the strange and thrilling circumstances surrounding your life.' Sir, I trust such an act may not mar the history of Texas. Sure am I, by my vote it never shall. It is related of Napoleon, that when an officer whom he loved was wounded and, from the narrowness of the defile in which the conflict raged, was in imminent danger of being crushed to death by the feet of contending friends and foes, while the emperor looked on in deep anxiety for his fate, a female, an humble follower of the man, with a babe on one arm, pressed through the melee to the wounded man, and passing her other arm around him, conveyed him to a place of comparative safety near the emperor; but just as she turned away from the object of her daring and benevolent solicitude, a ball struck her dead at the feet of Napoleon. He, taking the motherless babe in his arms, called a grenadier, saying, 'Bear this child to the rear, and see that it is well attended to, for henceforth it is the Child of the Empire.' Mr. Speaker, the Child of the Alamo, is the Child of the State, and we cannot treat her with neglect without entailing lasting disgrace upon Texas.
---
The Hannig Family
From History of Gonzales County
Susanna Wilkerson Dickinson Hannig was born in 1814, the child of a poor Tennessee family. She married Almeron Dickinson when she was barely fifteen years old. Dickinson was nearly thirty, a blacksmith by trade and had formerly been an artilleryman in the United States army. Susanna and Almeron arrived in DeWitt's colony in February, 1831 along with some fifty-four others including Matthew Caldwell, Silas and Spencer Morris, Michael Gillen and John E. Gavin. The Dickinsons received one league of land in 1831 near the northern limits of the colony in Caldwell County along the San Marcos River. While he scouted for his league, he left Susanna in care of the colonists camped near the town site of Gonzales where the Dickinsons received Lots 1 and 2 Block 28 December 30, 1833, Lots 1 and 2, Block 16 September 27, 1834 and Lot 2, Block 7, Range 3 December 29,1834. There a small cottage was constructed in the outer town west of Water Street. Almeron became quite popular in Gonzales; he was active in matters of local interest and served with Green DeWitt as a commissioner to appraise the in and out lots of the town. In December, 1834 a daughter was born to the Dickinsons and given the name of Angelina Elizabeth. Almeron took part in skirmishes with the Indians and was a member of the "Old Eighteen". He was appointed lieutenant and given command of the artillery.
By October the volunteer force moved out of Gonzales for San Antonio with Lieutenant Dickinson still in command of artillery. Sue Dickinson accompanied the volunteers to San Antonio and before the massacre a the Alamo she helped with the cooking and care of those wounded. She was one of the last to see Colonel Travis and Crockett. As the Mexicans had killed all defenders in view, they began a search of the quarters for anyone who might be in hiding. In one of the small rooms they found Sue, holding baby Angelina, and some fourteen others. In a statement Susanna gave for state records she said
"After the fall I was approached by a Colonel Black, an Englishman who was an officer in the Mexican service. He sheltered me from Mexican injury and took me in a buggy to Mr. Musquez, a merchant in where I stayed until the next day. Then I was carried before Santa Anna who wanted to take me to Mexico with my child. I was later told to depart to my home in Gonzales."
She was grieved to speak of anything concerning the events of the Alamo; she did not relate being wounded nor did she relate any details concerning the confrontation with the dictator wanting to adopt her babe. Upon being brought before Santa Anna she was shot in the calf of her right leg. The shot fired either at random or intentionally caused a painfully bloody wound. Santa Anna, in an effort to destroy the morale of the soldiers camped at Gonzales, sent Susanna to deliver the news of the massacre to General Houston. Slowly Sue and Angelina in the company of the negro servants, Joe and Ben, made their way back to Gonzales. Traveling the long dusty road in an oxcart, they stopped only occasionally for food or water for they had word deliver. Nearing Gonzales they met Erastus "Deaf" Smith and Henry Karnes who gave them escort to the camp of General Houston. When Susanna arrived in Gonzales related the tragic news of the Alamo and produced a letter from Santa Anna which she gave Houston. Susanna and Angelina fled with the others in the famous Runaway Scrape. They remained in the area of Houston which was soon made the capital of the new republic. The next years proved very unhappy ones for Susanna. She had married again, several times but found only unhappiness each time. Running a boarding house there, she met a Mr. Griffith and decided that John Maynard Griffith was the man for Angelina, so they married in July, 1851.
The year 1857 found Susanna in the small town of Lockhart in Caldwell County where she had gone to sell the Dickinson league of land. Due to litigation over the property she sold it and began a boarding house in Lockhart. She soon became well known for her good meals and it was there she met Joseph William Hannig, a tall, handsome man with a dark moustache, who enjoyed good food. The meeting of the two marked the turning point in the life of Sue Dickinson. That year they were married in the house belonging to Hannig. Josephine Hannig Masur, sister to Joseph William, recalled that Joseph was born in Bardorf, Selesia, Germany in. the early 1830's and went to Texas and settled in Lockhart in 1851. Joseph followed the occupation of cabinet maker while his brother Frank was a gunsmith and blacksmith. Not long after Joseph and Sue's marriage, Angelina gave birth to a son whom she named Joseph in honor of Joseph William Hannig. Not many years after their marriage, Sue and Joseph were notified of the untimely death of Angelina, "The Babe of the Alamo." Susanna saw the skill and beauty that Joseph displayed in the cabinets and furniture he made. They realized that a greater enterprise could be enjoyed in the growing City of Austin and moved there in the early 1860's. They used a portion of the money received from the sale of the Dickinson league to set Joseph up in business. By 1870 Hannig was well established in the cabinet and furniture making business, then the fifth largest such business in the state. His workmanship was superior and was known to appear in many of the more elegant homes of the time. In 1876 a large three-story building was erected on the north side of Pecan Street with one of the most attractive ornamental storefronts in the state. That building was one of four that made up what was known as Hannig Row, restored as part of the "Old Pecan Street" historical restoration project. Ottelia, older sister of Edward Masur, lived with the Hannigs in Austin for some time and said many were the times that she helped dress the wound in the calf of Susanna's leg. Mrs. Frank Hannig of Lockhart said that Mrs. Susanna Dickinson Hannig frequently visited her home. She added, "…Susanna was a very portly woman and a most lovable character. Angelina was the sweetest girl, and the best mother in the world."
Joseph Hannig became prosperous through his business endeavors. He operated the best undertaking parlor in Austin as well as holding a major interest in many other enterprises. He helped organize the first chamber of commerce and served as alderman in 1873. Their prosperity and good fortune made Susanna very happy indeed and she greatly enjoyed the last years of her life. The Austin Statesman carried sad news in an article October 9, 1883. It stated,
"On Sunday October 7th there died, in this city, the lady whose name heads this article. Mrs. Hannig was at one time Mrs. Dickinson, a name indelibly attached to the bloodiest page of Texas history. She watched the advance of the bloodthirsty enemy from early dawn, when they advanced upon the fort, until its last defender fell; she saw it all; heard the bugles give the signal for advance; listened to the terrific rattle of musketry as the Texans, from the ramparts of the fort, poured volley into advancing Mexican lines; heard the moans of the dead and dying, the repeated calls of Castrillon for advance; she watched the scalers and heard the awful crash that opened the breach in the walls through which the Mexicans poured to do their deadly work; she saw Travis fall at the head of the fight; looked on the immortal Crockett while he weeded down Mexicans with his ponderous blade until he fell upon a hillock of victims. She heard the brave defense of Bowie, as almost helpless he rose from his sick bed, and with the expiring spirit of a patriot and a demigod, met his foes and gave more than one of them death. Mrs. Hannig often repeated the terrible scenes of which she was an eye witness on that awful day, when Texas gave up to immortality the last one of these brave defenders, and as often as they were so repeated, tears of woe coursed down her cheeks. But few women have passed through such scenes, and in the centuries to come, none, probably, will ever witness such another; certainly none will perform any part in any act where greater heroism may be displayed."
Susanna Dickinson Hannig was known as "The Messenger of the Alamo" and was the last living memorial of the Alamo. B.J. Benefiel (From The History of Gonzales County, Texas. Reprinted by permission of the Gonzales County Historical Commission).
---
SONS OF DEWITT COLONY TEXAS
© 1997-2009, Wallace L. McKeehan, All Rights Reserved
Gonzales Alamo Relief Force | Alamo Widows