SONS OF DEWITT COLONY TEXAS
© 1997-2006, Wallace L. McKeehan, All Rights Reserved.
Biographies of DeWitt Colony families (surnames beginning H-N) for which there is evidence they were residents or landholders in Gonzales Town or spent significant amounts of time in the town in public service or commerce. Biographies of other DeWitt Colonists may be found at 1828 Residents, The Battle of Gonzales-Old 18, Gonzales Alamo Relief Force, Land Grantees & Residents and Citizens-Free State of Lavaca.
For More Biographies, Search Handbook of Texas Online
---
HARGIS. William Kilpatrick Hargis, a South Carolinian, migrated to Texas in the 1830's, but verification of tradition that he was at "The Lexington of Texas" and received a citation from General Sam Houston was not made. It was known that he served as a second sergeant in L.P. Cook's Company of Mounted Gunmen in the Sante Fe Expedition of 1837 and that he was in both the Woll and the Vasquez Campaigns. The story was told that he was wounded during the Indian Wars and suffered from the result throughout his life. On July 6,1838 a certificate for 640 acres of land in Gonzales and Kendall counties was issued him and the 1840 list of Gonzales County citizens includes his name, though he did not register his land until 1852. Hargis married first in 1854 in Gonzales, Elizabeth, daughter of the Alamo hero, Dolphin Ward Floyd and Esther Berry House. Elizabeth died in her first childbirth and in October 1855 he married Esther Jane, daughter of Hindsberry and Emily Martin Glover who had immigrated to Texas from Carroll County, Mississippi less than a decade earlier.
To William K. and Esther Hargis, who lived their entire married life in the city of Gonzales, where, according to the census he was a broker, were born nine children. Elizabeth K. Hargis married first William Hodges, a descendant of Esther Berry House and second Texas Ranger Berry Brown. James Edward Hargis married Susie Butler Waller. In his youth Jim was accused of stealing a cow. His mother had to use the money she had received from the sale of Hargis land to pay a lawyer to defend him. His trail boss cleared his name, but the land and the money were gone. He died in the 1940's in San Antonio, a much respected old gentleman, a member of the Old Trail Driver's Association. Jefferson Davis Hargis was apparently a lifelong bachelor. Jeff's feet were frozen on a cattle drive up north. In the late 1890's he was a familiar sight, hobbling around the jail helping out his cousin, Sheriff Dick Glover. Richard Martin Hargis was killed in a bar room brawl in Oklahoma when he was in his twenties. Esther E. Hargis became the second wife of Robert H. Bundick and she had no children. William Kilpatrick Hargis, Jr. married Jennie Develin from Louisiana. After her husband's death in 1897 in Yoakum, she, her son and daughter returned to her home state and were not heard from again. Mary Hargis died at age eighteen and was buried, though not in the same plot with her parents and her brother, William K. Jr., in the Gonzales City Cemetery. Kenneth Hargis was born March 13, 1872 and married Sarah Jane "Sallie", daughter of James Tyler and Louisa Doyal Harvey of Harwood. Sallie was born November 2, 1875 and died February 14, 1920 in San Marcos. To the Kenneth Hargises were born Mamie Kenneth Friggle, Harvey Milton, John Howard, Myrtle Gertrude first a Gunstream then a Richard, Henry Virgil a veteran of World War II, Beatrice Lucill Isaacks, Clifton Doyal died an infant. Thomas Hargis was born in 1878. He married Addie Asher of another old Gonzales County family. They spent their lives and reared a fine family in Bisbee, Arizona. The mother of all these, Esther Jane Glover Hargis widowed at forty-two, brought her brood up in the Presbyterian faith and departed this life in 1893. From his father, who must have been a well-educated man for his times, Kenneth Hargis inherited an inquiring mind. An avid reader all his ninety-one years, he helped his children with their algebra problems in high school. A contractor and cattleman, he died at Orange, Texas but was taken back to Harwood by his wife for burial in her family lot.
So far as was known there were no Gonzales County residents who descended from this early settler, William K. Hargis, whose obituary appeared in the Gonzales Inquirer May 25, 1878. The loss of their land and other difficult times forced them to move elsewhere in order to sustain themselves. Lucill Hargis Isaacks. (From The History of Gonzales County, Texas. Reprinted by permission of the Gonzales County Historical Commission).
---
HENRY. John Henry received a sitio land grant on the east bank of the San Marcos River in current Guadalupe County. Land records indicate that he arrived with a family of 7 on 20 Feb 1831 receiving title on 5 May 1831. He arrived in the colony as part of the Tennessee-Texas Land Company contract. He also owned four lots toward the northern edge of the outer town tract of Gonzales.
---
HIGHSMITH. Samuel Highsmith. Ben Highsmith,
---
KELLOGG. John Benjamin Kellogg Sr. received Lots 4 and 5, Block 10 in the City of Gonzales September 25, 1834. He received the lots as "Benjamin", but other sources referred to him as John and John Benjamin Sr. The first city map showed no signs on the property or the lot north of it which was Kellogg property. The Gonzales Probate records of March 29, 1838 referred to Benjamin as a citizen of Gonzales. He died in Washington County October, 1836 just seven months after his son died at the Alamo. When his wife (unnamed) died in January, 1838 probate records were moved to Washington County where she died. The only heir mentioned was a child less than two years of age, son of John Benjamin Jr., who died at the Alamo. John Benjamin Jr. and Sidney Gaston, daughter of Rebecca Warfield Gaston Davis, were married circa 1835 in Gonzales. Sidney was previously the wife of Thomas R. Miller. Sidney and Mr. Miller had a son that died. Gonzales marriage records listed a marriage bond for them dated March 11, 1832 with an endorsement July 21, 1833 showing that they were separated. When handsome Johnny Kellogg came on the scene, Sidney fell in love with the boy her age. Their marriage was cut short when Johnny left for the Alamo February, 1836. The Runaway Scrape followed the news of the Alamo and Sidney was again in agony. She had lost her husband, brother and ex-husband at the Alamo. Then she lost her home as everything they could not carry was burned or buried. Six days later Sidney and Johnny's baby was born, but there was no time for rest. Sidney lay uncomplaining in the back of an open wagon, bouncing along in a driving rain headed east. She probably left with her mother and father-in-law, John B. Kellogg Sr., and lived with them in Washington County until she died some six months later. After Sidney died, her mother-in-law raised the baby until she died January, 1838. George W. Davis was named guardian of John B. III as the probate stated "his wife, Rebecca, was the nearest ('and only' marked out) relative of said minor in Texas." Since "and only" was marked out, indications were that he had relatives in Texas. Included in John B. Sr.'s inventory was a league and labor of land, headright claim, and one promissory note for $36 in military script on Drury McGee.
John B. Kellogg III was only ten when his grandmother Rebecca Davis died and almost seventeen when his stepgrandfather died. Doctor James A. Winbush was his guardian until he was about twenty-one and then he lived with Mr. Cardwell until January 27, 1859 when he married Alcinda Elizabeth Breeding in Gonzales. John and Alcinda had eight children: Sidney Ann, Elizabeth Inomae, William Crockett, Frances Adeline, Thomas Benjamin, Dora, John and James Edward. Sidney Ann was born December 10, 1859 and married July 28, 1881 Lemuel B. Whitehead. Elizabeth Inomae "Ina" was born December 4, 1861 near Flatonia, died November 26, 1949 and never married. Tradition held that Ina was in the church to be married when a jealous suitor shot and killed the groom. She was buried with Tom and Willie in the Pilgrim Cemetery. Frances "Fannie" Adeline born February 20, 1865 married January 10, 1883 in DeWitt County Frank P. Jones. Thomas Benjamin "Tom" born August 10, 1870 never married. Dora was born in 1874. John born circa 1876 died 1928 probably in San Angelo, Texas and married November 13, 1904 Etta "Ettie" Searcy (circa 1886). Etta Searcy was the daughter of George Searcy, a blacksmith who was born in 1852 in Alabama. Etta and John Kellogg had at least three sons, John, Frank and Dick. James Edward (circa 1880 - February 18, 1955) was probably the son that Frank Robinson said was buried at the Plowman place when the Kellogg family lived there. The weather was so bad that they could not get out to bury him at a cemetery. Susie (circa 1872) was listed with the family in the 1880 census, but her relationship to the family was not given. William Crockett "Willie" born April 5, 1863 at Flatonia, Fayette County moved to Gonzales as a baby and lived there until he moved to DeWitt County in 1883. On September 23, 1884 he married Lou Emma Whitehead and died in Gonzales County March 13, 1936. William Crockett and Lou Emma had ten children: James Austin married Myrtle Baker; Mamie married W.E. Quinney; Lizzie died 1890 unmarried; William Winston married Naomi Vickers; Laura married first Clint Whiteside, second John Miller; Florence married Oscar Vickers (brother to Naomi); Emma married Charley Yarbrough; Ora, a twin, married Will Robinson; Ola, a twin, married Frank Glover; and Ina Mae married Bill Wheeler. Alcinda Breeding Kellogg lived forty years after her husband, John Benjamin Kellogg III, died. Olyn Vickers stated that her hearse was pulled by white horses when she was buried at Pilgrim in 1922. Mrs. Robert A. Taylor (From The History of Gonzales County, Texas. Reprinted by permission of the Gonzales County Historical Commission).
---
KELSO. Alfred Kelso Sr. was born April 21, 1808, in Tennessee. He was the son of Henry Kelso Sr. and Jane (Wells) Kelso. Henry Kelso Sr. is credited with founding the town of Fayetteville in Lincoln County, Tennessee. Alfred Sr. had six sisters - Mary, Nancy, Elizabeth, Jane, Mandana, and Amytis and four brothers John, James, Jefferson and Henry Jr. Alfred Kelso Sr. married Martha Martin of Fayetteville, Tennessee. Alfred Sr. and his older brother, James, moved to Mississippi, where Alfred Jr. was born about 1828. Alfred Sr. moved to Texas in February, 1829, leaving his infant son with his brother, James, in Mississippi. The children born to Alfred Sr. and Martha (Martin) Kelso in Texas died in infancy. Alfred Kelso Sr. was a First Corporal in Captain William J. Heard's Company of the Army of the Republic of Texas. On April 21, 1836, Alfred Sr.'s twenty eighth birthday, he fought in the Battle of San Jacinto, for which he was awarded a league and a labor of land. At the time of the Texas Revolution, he owned 6000 acres of land on the River in Colorado County and some town lots in Columbus, Texas. Alfred Sr. wrote a letter to his brother-in-law, John H. Martin, nine days after the Battle of San Jacinto that tells about the Battle and the conditions in the Republic of Texas during that time. A copy of the letter is included in The Papers of the Texas Revolution 1835-1836. Alfred Kelso Sr. was the Sheriff of Gonzales County, which included part of what is now DeWitt County, during 1837, 1840, and 1841. One of the people that he arrested was Ben McCullough (sometimes called McCulloch) for fighting a duel. Later, Ben McCullough became famous as a Captain in the Texas Rangers and a Federal Marshall.
Alfred Kelso Sr. married Louisa Jane Barton on August 26, 1840 [Dixon and Kemp, Heroes of San Jacinto say 20 Mar, they had children William, Henry, Barton, Margaret, Sarah, Mary and Martha Ann (m. Winn).-WLM]. Louisa Jane was the daughter of Kimber W. Barton and Margaret (Lockhart) Barton and was born October 15, 1821. Margaret (Lockhart) Barton was an aunt of the girl, Matilda Lockhart, who was stolen by Comanche Indians in DeWitt County in 1838. Margaret was a sister to Byrd, Andrew, Sam, Charles, and Druscilla Lockhart. In 1847, Alfred Sr. and Louisa (Barton) Kelso were living in DeWitt County and Alfred Sr. was acting as agent for all of the heirs of Byrd Lockhart. The land transactions were so numerous that by 1850, Alfred Sr. and Louisa had moved to Lockhart, Caldwell County, where the major portion of the Byrd Lockhart estate was located. Alfred Sr. and Louisa Jane had other business interests in Lockhart. They owned part interest in the grist mill tract and its water rights, the market house on the public square, and a retail store for dry goods, groceries, and hardware. Alfred Sr. and Louisa Jane (Barton) Kelso moved to Travis County about 1870 and they bought some land in Austin on the west side of the Colorado River in 1874. Eleven months later, his son, Alfred Kelso Jr., moved from DeWitt County and bought some land beside them on the west bank of the Colorado. Alfred Jr. died in Travis County sometime after 1880. About 1880, Alfred Sr. and Louisa Jane (Barton) Kelso moved to Atascosa County, where his grandson Leroy Kelso was living. Leroy Kelso was the oldest son of Alfred Kelso Jr. Alfred Sr. and Louisa Jane were said to have been living with Leroy's family when they died. Louisa Jane (Barton) Kelso died on May 5, 1898, and Alfred Kelso Sr. died on May 12, 1898 [said to be buried in Brite Cemetery in the county--WLM]. Joe Hugh Hutchins (From DeWitt County History. Reprinted with permission of Curtis Publishing Co.)
Alfred Kelso Sr. describes his situation in Texas in a letter to brother-in-law John Martin in Fayetteville, TN in Apr 1836 after the Battle of San Jacinto:
State of Coahula and Texas Department, April 30, 1836
Dear Brother---A favorable opportunity presents itself at present to let you know that I am well. Your sister, Martha, was well some six or eight days since I heard from her. Martha is at the Sulphur Springs at this time, on the River Trinity. We live on the River Colorado when we are at home. I have been in the army ever since the latter part of the winter. The citizens marched from Colorado to Gonzales, the place of rendevous, on the River Guadalupe. The army retreated from Guadalupe to Colorado. The families remained on the Colorado until the army retreated from Colorado to the River Brazos. Your sister, with a great many other families, was on the river fourteen miles below our army. The river only divided the Mexican army and the army of the Americans. The army took up the line of march before the families got the news. The families were liable to be cut off by the enemy and were compelled to leave everything behind and get off as speedily as possible. We retreated from the River Brazos to San Jacinto, there we fought the great battle. The proposition made by our officers was that every man that wished to stay at the camps could do so---that they wanted no men to go into the battle that could not stand up to the point of the bayonet. Out of our army there were 667 men that turned out against 1,400 Mexicans. They had strong breastworks. We were marched up right in front of their breastworks, their cannoning playing on us. We were marched in forty yards of their breastworks before we allowed to fire our cannons. Our cannoning soon knocked their breastworks to pieces, and we were ordered to charge. We charged, and they broke immediately. They overshot us with their muskets, both. We killed five or six hundred of the enemy; took 500 prisoners. Our losses were five killed and eighteen wounded; three of the wounded have died since the battle. We took every officer that belonged to the Mexican army---even Santa Anna himself was taken a prisoner. The Americans have made a treaty with Santa Anna. There is one more Mexican army in Texas. Santa Anna sent for the General to come into our camp. He is in camp at this time. Santa Anna sent an express by our men to Larbadee for them to march west for the Rio Grande. The articles of the treaty are: Santa Anna is to have all his troops marched west of the Rio Grande. That is to be the line. He is to pay two millions of dollars for damage and is to be kept a prisoner until the money is paid and the treaty is ratified by the Mexican Government. Our battle was fought on the 21st of April, 1836. John, it is not worth while to write you about the beauty of our country and the richness of the soil, for you have heard them both spoken of so often and never heard the beauty nor the soil more spoken of than it naturally is. Land will be very valuable in Texas in a short time. I have 6,000 acres of land in Texas. John, I must say to you that Ophelia died on 23rd of August last. We have had one son since we came to Texas and called his name Martin Henry, and he is dead, also. You must write to me. Direct your letters to Columbus, Texas. We live sixty miles above Matagorda, on Colorado. Nothing more at present, more than if you see any of my people, give them my compliments, and also receive them to yourself. Alfred Kelso.

To John H. Martin, John, Martha and myself will be to the State in the fall and will come to see you. A.K.
Mr. Martin, you must pay postage on all leters coming this way or they will remain in the office at New Orleans. Alfred Kelso.
Alfred Kelso Jr. was born about 1828 in Mississippi. He was the son of Alfred Kelso Sr. and Martha Martin of Fayetteville, Tennessee. Alfred Jr.'s father and mother left him with his father's older brother, James Kelso, while they went to Texas in 1829. Alfred Jr. was raised by his uncle James Kelso. He married Catherine (last name unknown) and they had two children - Leroy and William that were born in Mississippi. Alfred Jr., Catherine, and their two sons moved to Texas with his uncle James Kelso and his family about 1850. Alfred Jr. and Catherine stopped in Gonzales County first and then moved to DeWitt County. There a girl, Jane, was born about 1852. Alfred Kelso Jr. and his wife, Catherine bought some lots in Clinton, Texas, and some land on Sandies Creek. Alfred Kelso Jr. married his second wife, Sarah Elizabeth Grier, in DeWitt County on January 17, 1856. They had two sons – Samuel born about 1858 and Felix born about 1860. Both of their sons were born in DeWitt County. Alfred Kelso Jr. married his third wife, Susan Ann Cunningham, in DeWitt County on March 15, 1865. They had two sons and a daughter - Robert E. Lee Kelso born on March 10, 1869, in DeWitt County, John born about 1872 in Travis County, and Ninta born about 1875 in Travis County. Alfred Jr., Susan Ann and their family moved to Travis County in 1870 and later bought some land in Austin, on the west bank of the Colorado River, next to that of his father, Alfred Kelso Sr. Alfred Kelso Jr.'s teenage son, Robert E. Lee Kelso, drove a mule team and wagon to haul pink granite for construction of the State Capitol Building in Austin, Texas, in the late 1880s. Robert E. Lee Kelso was the last of this branch of the Kelso Family to be born in DeWitt County. He married Amanda Simpson, daughter of Andrew J. Simpson, in Gonzales County on December 15, 1891. Robert E. Lee and Amanda (Simpson) Kelso had eight children: William R. "Billy" Kelso born November 9, 1892, married Lillie Mae (surname unknown); Ida Kelso born July 13, 1894, married Louis Seitz; Jarrett Stricklin Kelso born October 27, 1895, married Lela Lorena Sherry; Bessie Kelso born April 26, 1899, married Edward Seitz; Ben Kelso born April 19, 1902, married Mattie Blundell; Bertha Lee Kelso born February 21, 1904, married Jesse Robert Sherry; Alfred Leon Kelso born July 6, 1909, married Bertha Vida Sherry; Frank Pierce Kelso born July 6,1909, married Helen Lounieta Ragan. The last two children born to Robert E. Lee and Amanda were twins. The parents did not have names chosen for twins, so the attending physician marked the birth certificate "Tom and Jerry" Kelso. The official names of Alfred Leon and Frank Pierce Kelso were assigned later, but the parents did not get the birth certificate corrected. This oversight was finally, officially corrected in 1974. Frank Pierce Kelso married Helen Louineta Ragan, daughter of Robert Samuel "Bob S." Ragan and Mattie Helen (Williams) Ragan. Frank and Helen (Ragan) Kelso had one child, a daughter, Bobbie Denise Kelso born January 1, 1941, in Lockhart, Texas. Bobbie Denise Kelso married Joe Hugh Hutchins (a former resident of Nordheim, DeWitt County from 1945 to 1952) on January 12, 1963. Bobbie and Joe have a son, Christopher Kyle Hutchins born May 6, 1975, in Victoria, Texas. Joe Hugh Hutchins (From DeWitt County History. Reprinted with permission of Curtis Publishing Co.)
The following Kelso is listed in the Gonzales town district of the GonzalesCo census of 1850: Kelsaw, Alford, 35, m, $7,000, Va; Kelsaw, Catherine, 25, f, Mo; Kelso, Wm., 2, m, Texas.
---
LAWLER. Joseph P. Lawler arrived in the DeWitt Colony according to land records as a single man in 1831 where he received title to a quarter sitio west of the Gonzales town tract on the west bank of the Guadalupe River. His neighboring grantees were L.D. Sowell on the north and Claiborne Stinnett on the south. Across the river were prime tracts owned by empresario DeWitt. He received title to two lots in inner town block 2 on St. Matthew St. where he had a home on the St. John St. corner in 1836. On 22 Dec 1835, Capt. Mathew Caldwell complained of an attack on his person by Lawler to the provisional council of Texas and requested a reward be offered for his arrest.
---
LOW. Garett Low purchased blocks 2 and 3 in block 7 on Water St. and lots 2 and 5 in block 15 in inner Gonzales town in Oct 1834. He is speculated to be the "Garett Law" listed with the rear guard camped at Harrisburg of the Republican Army at San Jacinto.
---
MATTHEWS. William A. Matthews is credited, along with John C. McKean of introducing 17 families from Tennessee into the DeWitt Colony as part of the contract of the Tennessee-Texas Land Company. Matthews arrived single and received a quarter sitio land grant on the San Marcos River next to the Abraham and Adam Zumwalt tracts between Mule and Canoe Creeks listed as arriving in 1830. He is listed on the 1838 Tax Rolls of GonzalesCo and was an agent for Benjamin Fuqua, deceased. On 20 May 1838, Matthews married the "widow Fuqua," Nancy Gladden King Fuqua, the oldest of the daughters of John Gladden King. They had two children, Marion Matthews (b. 16 Nov 1840) and an infant James A. who died at thirteen months. Matthews was an agent for Almeron Dickinson and Elizabeth Cottle on the Tax Rolls of 1839. Matthews later married Naomi Q. DeWitt.
---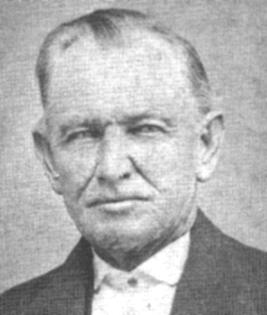 MCCULLOCH. (See also Capt. Benjamin McCulloch). (From the New Handbook of Texas.) Henry Eustace McCulloch (1816-1895), early pioneer, Texas Ranger, and Confederate officer, son of Alexander and Frances (LeNoir) McCulloch, was born in Rutherford County, Tennessee, on December 6, 1816. Although he played an important role in military affairs in early Texas, he received fewer accolades than his more famous cohorts John S. (Rip) Ford, John C. (Jack) Hays, and his older brother, Benjamin McCulloch. In the 1830s Ben and Henry McCullochs carried on several economic enterprises. They traveled the Mississippi River on log rafts to various markets, and by the end of the decade they had moved to Gonzales to survey and locate lands. In 1839, in the political struggles at Gonzales, Henry McCulloch shot and killed Reuben Ross, after the latter, intoxicated and obnoxious, drew his pistols. The angular­featured, gentle­looking McCulloch joined the Texas Rangers in the heyday of their role as citizen soldiers against Indians and Mexican troops. In the battle of Plum Creek in 1840 against the Comanches, he scouted, fought with distinction, and was wounded. In addition, he served as a lieutenant in Hays's rangers in their military operations against the Comanches and Mexican nationals. In 1842 in the attack on San Antonio and retreat by Mexican troops, McCulloch scouted, infiltrated enemy lines seeking information, and participated in the battle of Salado Creek.
For the next two decades he mixed his military career with other ventures. In 1843 he was elected sheriff of Gonzales and began a merchandising career there. The following year he moved his business to Seguin. During the Mexican War and afterward, he served as a captain of a volunteer company guarding the Indian frontier. He became especially adept at organizing regular ranger patrols in intervals from different camps to cover a designated area. In the early 1850s McCulloch served in the state legislature (both houses) from Guadalupe County, and at the end of the decade he accepted an appointment as United States marshal for the Eastern District of Texas. He served as a high­ranking Confederate officer during the Civil War. As Texas left the Union, he assumed command of the posts on the northwestern frontier from Camp Colorado to the Red River and used Texas secessionist troops to accept the surrender of federal forces. Given the rank of colonel by the Confederate Congress, McCulloch organized the First Regiment, Texas Mounted Riflemen, in 1861. This body of troops slowed down penetration of the western frontier by Indians through a system of patrols and small­scale engagements. After promotion to brigadier general, McCulloch commanded the Northern Sub­District of Texas from 1863 to the end of the war. In this role he faced the threats of Indian raids and the movement of Union forces. He also had to deal with the activities of draft dodgers, deserters, and bushwhackers. At one time he tried unsuccessfully to arrest William Quantrill for robbery and murder. With the war ended, McCulloch went home to Seguin with an armed escort for protection against deserters, who swore to take his life. After the Civil War he remained in the limelight. In 1874 he assisted the newly elected governor, Richard Coke, in removing Edmund J. Davis from the executive offices. Early in 1876, as a reward for his years of service, McCulloch was given the superintendency of the Deaf and Dumb Asylum (later the Texas School for the Deaf). Here his lax and inept administration brought about a legislative investigation that made him resign his position in 1879. He was married to Jane Isabella Ashby in 1840. He died on March 12, 1895, in Seguin, and was buried in San Geronimo Cemetery.
BIBLIOGRAPHY: Donaly E. Brice, The Great Comanche Raid (Austin: Eakin Press, 1987). Thomas W. Cutrer, Ben McCulloch and the Frontier Military Tradition (Chapel Hill: University of North Carolina Press, 1993). James K. Greer, Colonel Jack Hayes: Texas Frontier Leader and California Builder (New York: Dutton, 1952; rev. ed., Waco: Morrison, 1974). William J. Hughes, Rebellious Ranger: Rip Ford and the Old Southwest (Norman: University of Oklahoma Press, 1964). David Paul Smith, Frontier Defense in the Civil War: Texas' Rangers and Rebels (College Station: Texas A&M University Press, 1992). Walter Prescott Webb, The Texas Rangers (Boston: Houghton Mifflin 1935; rpt., Austin: University of Texas Press, 1982). Harold J. Weiss, Jr.
---
MCLURE-BRACHES FAMILIES. Sarah Ann Ashby. Bartlett McClure. Charles Braches.
---
MARTIN. Joseph L. Martin was deeded lots 3 and 4 in block 28 of the inner town where according to Darst's recollections of 1836 structures he had a home on the corner of St. Michael and St. Joseph Streets. This places the home on lots deeded to Almeron Dickinson, conceivably Darst's memory was imprecise and Martin's residence was on his deeded lots. Martin operated a store, gin and mill, the latter of which was further south and east of his residential lots outside the inner town boundaries. Some authors suggest that Gonzales merchant Joseph L. Martin was a brother or relative of Capt. Albert Martin, one of the Old 18 at the confrontation over the Gonzales cannon who was a member of the Gonzales Alamo Relief Force who died in the Alamo Mar 1836.
---
MIDDLETON. Samuel Porter Middleton was born in 1806 in South Carolina according to census. According to DeWitt Colony land records, he arrived as a single man on 30 Dec 1829 and received title to a quarter sitio of land 12 Dec 1831. His tract was on the east side of the Guadalupe River in current DeWittCo near Hochheim. His marriage to Mary Turner is among the earliest 11 marriage contracts recorded in JacksonCo records in 1837. Middleton also owned five lots on the San Marcos River in the outer town tract of Gonzales. Sam Middleton is listed on the Gonzales Tax Roll of 1839. He and Mary Turner had children Elizabeth Ann, William Charles, John A., Benjamin Franklin, Mary Amanda and Samuel Porter. Middleton apparently lived or did business in GonzalesCo, JacksonCo, VictoriaCo and Goliad Co.
---
MILLER. Dr. J.H.C Miller owned a home in innner Gonzales town at the corner of St. John and St. George St. He was an early Gonzales resident and doctor as well as a Gonzales minuteman. He led the response to a Comanche depredation in 1835 on a French and Mexican pack train on its way to Mexico near the home of John Castleman on Sandies Creek on the San Antonio Road outside Gonzales. In the force which encountered the war party of over 100 on the San Marcos near Rio Blanco were Daniel McCoy, Mathew Caldwell, Ezekial Williams, William S. Fisher, Bartlett D. McClure, David Hanna, Landon Webster and Jonathan Scott. Author John Henry Brown, History of Texas, dismissed Miller as a "tory" who "left Texas soon after this action and settled in Michigan."
On the contrary to this dismissal, Miller was active and a vocal advocate for an honorable peace as conflict between the central Mexican government and the colonists was building in 1835. He was active in trying to mediate between the colonists, particularly the DeWitt Colonists and their leaders, and the military government representatives in Bexar. Archival correspondence gives no indication that he was acting on behalf or in collusion with solely the central government. His strong wording, enthusiastic and sincere efforts on behalf of the colonists to avoid local confrontation and war through demonstration of loyalty to the government have been interpreted as those of a dedicated "tory." The source of his troubles was having expressed in writing, naming current fugitives who became future heroes of the revolution, in apparent agreement with the government's order for their arrest which was primary justification for the threat of military invasion of the colony. In response to increasing criticism, he explained in a published document in September 1835 his reasons for his position in July 1835. He pointed out that he represented the majority of opinion throughout the colonies at the time and some of his most vocal critics were among that majority, the only difference being that he expressed and acted on his beliefs, and they did not. He went on to express that his trust in a peaceful settlement was mistaken, but that he was for following a legal course in compliance with the constitution and laws.
Miller's diplomatic efforts were sufficiently recognized in July 1835 to be invited to sit on the Council of the Brazos District by Political Chief of the Brazos Wyly Martin:
San Felipe 29th July 1835 Excellant Sir: I have received your invitation to take a seat in the Council of the 1st of Aug. next, & impressed with the importance of the reasons for complying therewith, I have to assure your Excellency that in whatever concerns the public good you may depend on all the active aid & assistance which my efforts have power to render; & returning your Excellency my thanks for the flattering terms in which the invitation is couched, declare my acceptance. Permit me to take this occasion Excellent Sir, to assure you that I have full confidence in believing, that the uncompromising & decided staud taken by you in this present emergency, has saved our adopted country from the horror of a civil war, & that no ordinary measures and which the country can render will ever discharge what she owes to your Excellency's individual patriotism. I render to your Exc/. the assurance of my sincere respect & consideration. James H. C. Miller [Addressed:] To His Exy.Wyly Martin Political Chief of the Brazos San Felipe de Austin pr. Judge Chambers
Historian John Henry Brown's dismissal of Miller as a "tory" represented the view of the majority of contemporary historians reflecting vocal contemporaries of Miller by whom he was extremely criticized, sometimes vilified, for his vocal Peace Party position and attempts to prevent violent clashes between the colonists and the central government military. Miller's position and thinking is simply summarized in his letter of 4 July 1835 to T.J. Chambers:
....to take those obnixious persons & to establish their aduanas it will not require troops to do it......The people are anxious to adhere to the Govt. on the plan of the Constitution, & the general opinion is that 16,000 men have no business here---yet war is ruinous to every country, more especially if unnecessary.....
Miller apparently left Texas to settle in Michigan in late 1835 before the major battle of 1836 for reasons that have not been proven, but most assume he left because of the severe personal criticisms concerning his loyalty to the Texian cause.
---
MOTTLEY. Dr.Junius William Mottley.
---
NICHOLS. James Wilson Nichols (1820-1891) was born 27 Dec 1820 in FranklinCo, Tennessee. His parents were George Washington and Mary Ann Walker Nichols. The Nichols and Johnson Day families traveled crossed the Sabine River and entered Texas on 16 Dec 1836 according to Nichols journal, Now You Hear My Horn. Although their goal was San Antonio, both families eventually settled in Gonzales on 2 Mar 1837 after spending the interim in East Texas. Although the Nichols and Days moved considerably, they usually returned to the area around Seguin in GuadalupeCo or Gonzales. Nichols was a Texas Ranger and Minuteman in the early days of the Republic of Texas serving with Capt. James Callahan and Capt. Jack Hays. Nichols served under Capt. Mathew Caldwell in the Battle of Plum Creek in 1841 and the Battle of Salado in 1842 which he described in his journal. He was with Hays company in 1842 when they encountered a messenger from Gen. Rafael Vásquez on the outskirts of San Antonio asking the surrender of the city. Hays called for the evacuation of San Antonio, but before he could muster additional troops Vásquez retreated to the Rio Grande. He again served with Capt. Hays troops in the Mexican War of 1847.
Nichols was a furniture maker and trader. His journal indicates a pleasant storyteller with a sense of humor, but outspoken in his opinions on issues and individuals. He was against secession and came into conflict with secessionists in the 1850s. Nichols answered a town committee's order for him to leave the county in ten days with the threat that they would be greeted by "two double-barrel guns. Now you hear my horn." He was later convicted of trumped-up charges of horse-stealing charges, but Governor Frances R. Lubbock granted him a pardon followed by reversal of the conviction in court. Nichols married Mary Ann Daniell, daughter of Rev. George Daniell of GonzalesCo. He and his wife had twelve children. He died in Kerrville on October 8, 1891.
---
---
SONS OF DEWITT COLONY TEXAS
© 1997-2006, Wallace L. McKeehan, All Rights Reserved.