SONS OF DEWITT COLONY TEXAS
© 1997-2013, Wallace L. McKeehan, All Rights Reserved
I am near my ninety-third year, though my life seems short. All of my old comrades have passed away, and I, the last survivor, am yet spared. I give God the praise.--William P. Zuber 1913.
Last Reunion Old Texian Veterans--Goliad, Texas, 21 April 1906 From left: William P. Zuber, Austin; John W. Darlington, Taylor; Asa C. Hill, Oakville; Stephen F. Sparks, Rockport; L. T. Lawlor, Florence; Alphonso Steele, Mexia.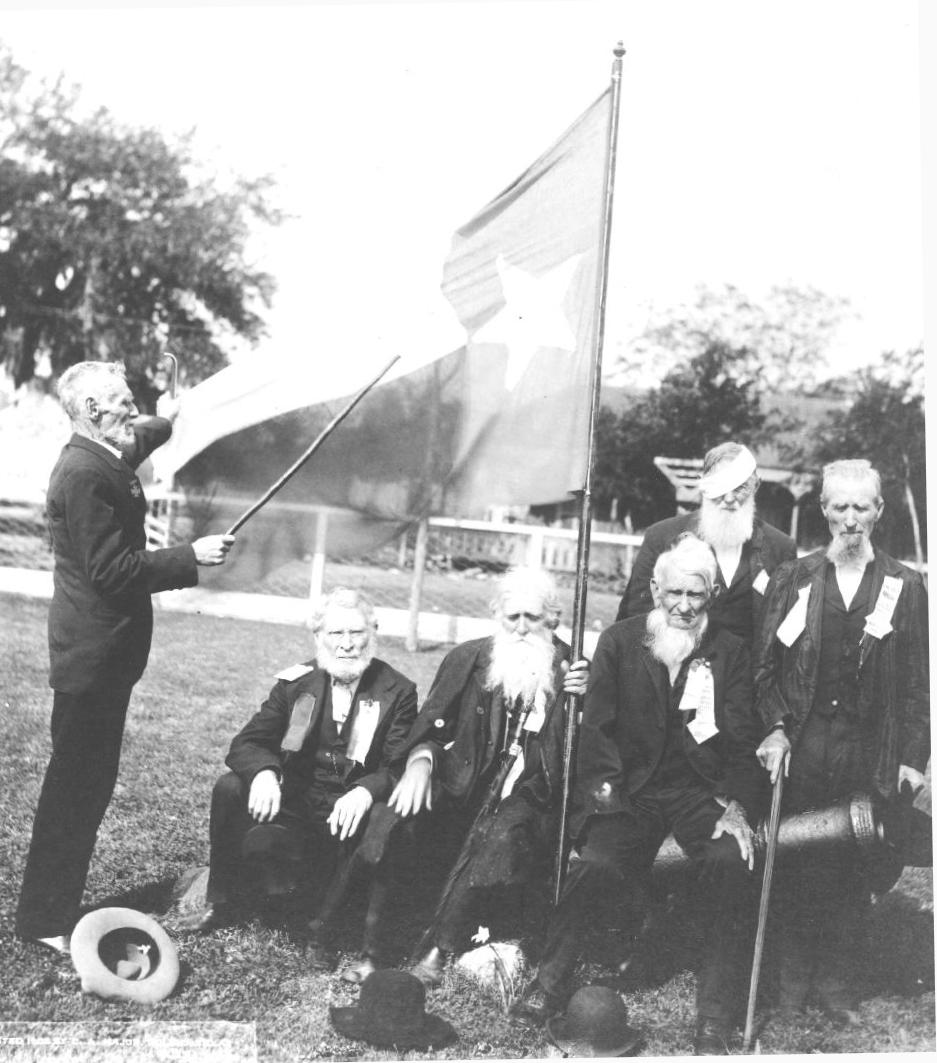 The sun was sinking in the horizon as the battle commenced; but, at the close of the conflict, the sun of liberty and independence rose in Texas, never, it is to be hoped, to be obscured by the clouds of despotism. We have read the deeds of chivalry, and pursued with ardor the annals of war; we have contemplated, with the highest emotion of sublimity, the loud roaring thunder, the desolating tornado, the withering simoon of the desert; but neither of these, nor all, inspired us with emotions like those felt on this occasion. There was a general cry which pervaded the ranks: 'Remember the Alamo! Remember La Bahia!' These words electrified us all.--Thomas J. Rusk, Secretary of War, The Republic of Texas 1836
[S.F. Sparks was the last president of the Texas Veterans Association, died 1908 age 89 in Rockport. According to Dixon and Kemp in Heroes of San Jacinto, Alfonso Steele was the last survivor of San Jacinto, died 1911 age 94 at Mexia probably because the authors did not consider those assigned to the rear guard as participants. More modern sources indicate that W.T. Zuber who was a member of the rear guard who died at age 93 in 1913 was the last. Photo: Texas State Library and Archives Commission]
In the photo below taken at the last reunion in 1906 of the old veterans in front of the Presidio La Bahia, William A. Pettus of Goliad (standing left) and six wives are shown in addition to the old Texian veterans (left to right) Asa Hill, S.F. Sparks, Alphonso Steele, W.P. Zuber, L.T. Lawlor and J.W. Darlington. W.A. Pettus (b. 1839) was the son of Texian veteran John Freeman Pettus. (From 300 Years in Victoria County by Roy Grimes, original photo in the McNamara-O'Connor Museum)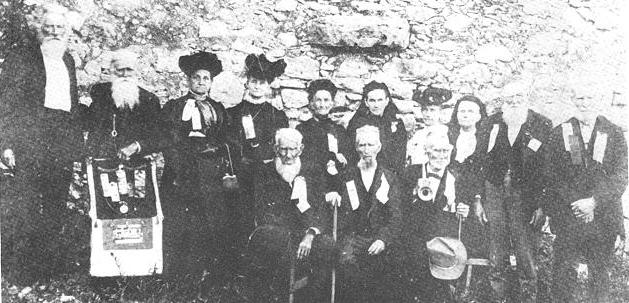 Visit Recollections of San Jacinto by Old Texians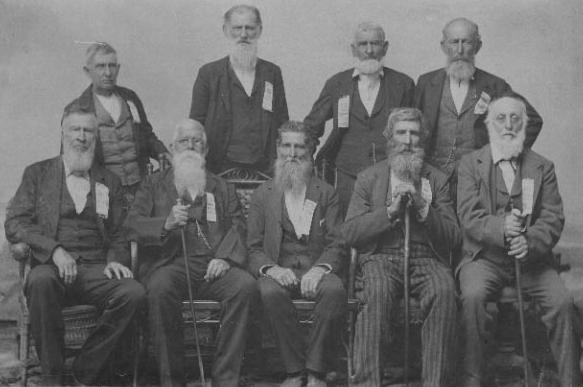 Photo of old Texian veterans that was taken by Houston photographer, Samuel Anderson. Veterans were escorted on a tour of the San Jacinto battleground by members of San Jacinto Chapter/Daughters of the Republic of Texas in 1894 for the purpose of describing in detail what took place during the battle. According to Nancy Burch, current 2004 member San Jacinto Chapter Daughters of the Republic of Texas whose great grandmother, Maggie Houston Williams, was on the tour, veterans L.C. Cunningham (1810-1896), J.R. Fenn (1824-1904), James M. Harbour, James M. Hill (1818-1905), F.R. Lubbock (1815-1905), John W. McHorse (1819-1897), Henry McCulloch (1816-1895), S.F. Sparks (1819-1908) and J.W. Winters (1819-1903) attended. Sion Bostick is sitting left, James Washington Winters Jr. is at front row center, on his left is James Monroe Hill. John McHorse is standing third from left and on his left is Texas governor Francis R. Lubbock. (Contributed by Winters descendant, Lori Richman. Readers are invited to contact the author if you can identify others in this photo)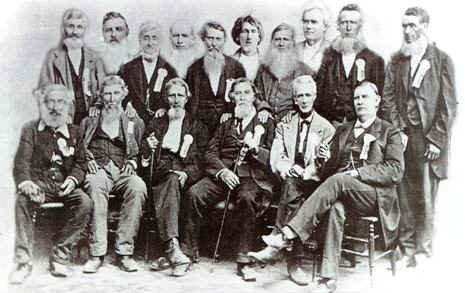 Photo of Texian Veterans
(From Ned Huthmacher. Help in source of this photo and identification of individuals is welcome)
---
DeWitt Colony Veterans of San Jacinto
Listed are DeWitt Colonists or residents of the area for significant times prior to or subsequent to (marked with asterisk) the battle with links to biographies where available. Although not on the official published rosters, Horace Eggleston, John P. Ferrell, John Newton Sowell Jr., John Stewart and Creed Taylor are listed based on family histories, memoirs or other records that indicate they were at the battle. Both Dr. John Tinsley of Gonzales, who met Houston's army with munitions on the way to San Jacinto, and Major Valentine Bennet, who was a major in the quartermaster corp, may have been present. Family legend says Samuel Highsmith was among the squad who captured Santa Anna. Identities of DeWitt residents Kokernot, Hodges, Low, McCoy, Morris, I.G. Smith, Thompson as those on rosters or in other sources are deductions by the author and not conclusive. Officer ranks are indicated. W=wounded; K=killed in action or of wounds.
Texian Force ca. 800-900: Killed 9; Wounded 15
Mexican Force ca. 1500+: Killed 600-700; Wounded 200; Prisoners 700-800; Escaped 75-100
Participants on the Field of San Jacinto
Baker, Moses

Crouch, Jackson

McCrabb, John

Scarborough, Paul

Shaw, James

Smith, William C.*

Tandy, Albert*

Taylor, William S.

Willoughby, Leaper (Capt.)
SONS OF DEWITT COLONY TEXAS
© 1997-2013, Wallace L. McKeehan, All Rights Reserved.