SONS OF DEWITT COLONY TEXAS
© 1997-2012, Wallace L. McKeehan, All Rights Reserved
Birth of the Colony-Index
---
Green DeWitt
1787-1835
Empresario from Missouri
Founder of the DeWitt Colony
Picture from History of Gonzales County Texas
The Gonzales County Historical Commission
Green DeWitt was born 12 February 1787 in Lincoln County, Kentucky and at an early age his family moved to the Missouri Territory. His parents are believed to be Walter and Sarah DeWitt. He was schooled in both Missouri and Kentucky to which he returned for two years at age 18. On his return to Missouri, he married Sarah Seely on 15 Dec 1808 in St. Louis County, Missouri. Sarah Seely was born 27 Jun 1787, 88 or 89 in Brooks County, Virginia and was the daughter of Jonas Seely. Green DeWitt was a Sargent in the War of 1812 in the Infantry of the Missouri Territory under Capt. John E. Allen and later under Lt. Colonel Dodge's command and is said to have achieved the rank of Captain before the end of the war. DeWitt lived in St. Louis and Ralls counties of Missouri where he was at one time sheriff in the latter. Green and Sarah Seely DeWitt and family arrived in Texas in 1826 with children Naomi Q., Eveline, Christopher Columbus and Clinton Edward. Oldest Missouri-born daughter Eliza remained in MO to finish school and came later and one daughter Minerva was born in Texas. The family is listed in the DeWitt Colony Census of 1828. James DeWitt who is listed as a widower in the same census was a brother of Green DeWitt. According to The Kentucky Land Grants Volume 1 Part 1, Chapter II Virginia Grants (1782-1792), Green DeWitt had uncles Phillip and Peter DeWitt living in Kentucky.
---
Parents and Brother of Green DeWitt
WALTER DeWITT (b. 1761 KY) who was born in Lincoln County, Kentucky is believed to be the father of both GREEN DeWITT (b. 1787 KY) and his well-documented brother James. His wife was named Sarah. Walter moved his family from Kentucky to the Missouri Territory about 1803, where he received a land grant. He died there in 1813 and his will was probated in St. Louis. The executors were his widow, Sarah, and son, Green. Walter and Sarah may have had one other son and a daughter.
The following is a biographical sketch of Green DeWitt's brother James DeWitt.
JAMES DeWITT (b. 1783, KY) lived in Missouri before coming to Texas with his brother Green 1825-26. He was living in Gonzales, age 45 and a widower, when the 1828 list of DeWitt Colony citizens was compiled. (The name of his wife is not known) James participated in the Texas Revolution in 1836, and fought in the Battle of San Jacinto. In 1837 he received land in Montgomery County (now Walker Co.) where he founded the town of New Cincinnati. At some point, he married Sara Ann (maiden name unknown). Their only child was a daughter named Georgina. James died in 1838, only a short time after getting the town established. He was buried in New Cincinnati. His will, probated in 1840, left everything to Sara Ann and Georgina. (Sara Ann later married Frederick Pomeroy, a citizen of New Cincinnati in 1839. She died before 1841)
A second DeWitt family from Missouri came to Arkansas and descendants moved into the former DeWitt Colony area in the Republic years.

ROBERT DeWITT (b/btw. 1780-90, prob. KY) appears on the same Missouri land records as Green and James DeWitt and left Missouri in the same time frame in which Green and James came to Texas. Robert moved his family to Arkansas prior to 1830. He was listed in the 1830 Pope County census and in land and tax records in the Johnson County area between 1830 and 1838. His name does not appear in the 1840 census, indicating he likely died in 1839 or 1840. Robert's wife seems to have been Sara Stackhouse (b/abt. 1780 PA). They appear to have had at least two sons, Howard J., and Josiah W., and a daughter, Amanda. SARAH STACKHOUSE DeWITT died in Gonzales Co. 1859-60. Her will, probated in May, 1860, left all property to son, Josiah. Nephew Christopher Columbus DeWitt, son of Green DeWitt, was executor of the will. The relationship of Robert to Green and James has not been established, although given the lack of records on the family, it is conceivable he could have been a brother. More likely he was a cousin, but the exact relationship remains to be established. It has been also speculated that Robert DeWitt was a son of Green DeWitt's uncles, Phillip or Peter DeWitt.
Children of Robert and Sarah DeWitt:
HOWARD JEFFERSON DeWITT (b/abt. 1814 KY) arrived in Gonzales County, (now Caldwell County) Texas, by early 1847 and bought land along Plum Creek, a few miles south of Lockhart. He, his daughter, mother Sarah, Amanda and her family (husband Joel Wood and four sons) and maybe others arrived to stay during the fall of that year. Howard was apparently a widower at the time he came to Texas. Of his children, only daughter, Amanda, (b/abt. 1838 AR) is known. He married Rhoda Watts in Lavaca County, Texas in 1849. They moved to Williamson County prior to the census of 1850 and were living in Lavaca County by 1860. According to information in 2012 by 2nd great granddaughter, Karin Huffman Galindo, Amanda married John Levy Huffman on 9 Apr 1857, possibly in MilamCo, TX. The record is uncertain because of the fire that destroyed all courthouse records. A family bible record indicates the marriage, birth and death dates as Amanda Jane DeWitt Huffman. b. 08 Jul 1838 AR; d. 29 Apr 1890 TX; buried: Lilac Cemetery, Sharp, Milam Co., TX. Husband John was still alive in 1900 working as a servant. He remarried in 1897 to "a not very nice woman" according to family legend.

JOSIAH DeWITT (b/abt. 1820 MO) and his family (wife, Matilda, and two children) also came to Caldwell County. I believe, however, they came after Howard and the other family members, possibly 1849, as their son, Robert, according to the 1850 census, was born in Arkansas and was two years old at the time. Josiah and his family continued to live in the Caldwell/Gonzales County area. Their children were: Howard J., Robert C., b. AR, Sarah Jane, Delinda, and Amanda, b. TX.

AMANDA DeWITT (b. 1822 MO) came to Gonzales (Caldwell) County in the autumn of 1847. Amanda's husband, Joel Wood appears to have died around 1849 and was probably buried in a country grave somewhere along Plum Creek. (Amanda and Joel are the great greatgrandparents of the author, DAG) Their children were: John C. Wood, Ambrose Crane Wood, Leander DeWitt Wood, and Joel Green Wood, all born in Arkansas 1840-1847. Amanda married Curtis Williams (b.1811 TN) in Caldwell County, January 22, 1851 and about 1853, they moved to Milam County. Curtis died there in 1860 and Amanda in 1863. Their daughter, Delinda Jane Williams, was born in Caldwell County County, December 12, 1851.
The above information is a summary of efforts of numerous researchers, public records, and the research and family records of Don A. King, San Marcos, Texas (contributed Nov. 2003). Information, comments and corrections are welcomed.
---
No doubt Green DeWitt knew personally and was influenced by both Moses and Stephen Austin as fellow Missourians on the development of Texas through the Empresario System. His first petition to the Mexican authorities in 1822 for a contract was turned down. After a visit to Texas in 1824, DeWitt went to the capital Saltillo of Coahuila and Texas and was awarded a grant on April 15, 1825 to settle 400 colonists on the Guadalupe River. Peter Ellis Bean accused DeWitt of misappropriation of public funds back in Missouri that would disqualify him from an empresario grant, but with the support of the Baron de Bastrop and Stephen Austin nothing came of it.
Because his efforts gave rise to the birth and development of the DeWitt Colony, Green DeWitt can be considered the second most successful Texas Empresario after Stephen F. Austin. Because of personal limitations and/or circumstances, his personal political and military impact on the development of Texas culminating with independence in 1836 was apparently much less. This assumption is based on the paucity of archival documents about or from him (his name is mentioned only 2 times in the over 5000 documents of the Texas Revolution compiled by Jenkins). At best he was not a writer or communicator leaving records reflecting his activities. Consequently, few details are known of Green DeWitt's character and personality relative to Austin and other personalities of the period. He appeared to neither exhibit the persistent and astute salesmanship and organizational skills nor possess the vision and zeal for mission that was exhibited by Austin. His efforts appeared to focus on fulfilling his contract in order to reap the payoff in fees and land and in these efforts he was overwhelmed by circumstance. He appeared not to take an active part in the political leadership of the area other than in security matters related to Indian raids that would affect attraction of colonists. There is record of exercise of his authority to perform legally binding marriages, the first of which appears to be that between John Oliver and Nancy Curtis. He is notably absent as a leader in the political records of Gonzales town causing historians as Lukes in DeWitt Colony of Texas to suggest he had the same or less interest in development of the town, its government and economy than an average citizen. DeWitt was apparently in touch with others in the Austin colony as resistance to the centralista government of Mexico increased up until just before his death in Monclova. Besides his own letters concerning official business of the colony to the government, Austin, Kerr and a signatory to some land grant documents, one of the two times he was mentioned in Papers of the Texas Revolution was in a letter of 15 Apr 1835 from Monclova written by F.W. Johnson to Gail Borden Jr. in San Felipe
".....just think we have had one fight between the Militia of this town and the regular troops of Santa Rosa---no body killed and what is worse not a gun fired nor were the contending at any time nearer each other than the short distance of three leagues---but the best of the joke, Williams, Peebles, Milam, DeWitt and myself were volunteers and like true patriots shouldered our guns and marched to the Gov. House to wait orders...."
The second is in passing at the end of a letter from James Kerr to Gail Borden in Jun 1835 which referred to his earlier death in Monclova. A note from John Blackaller to Samuel May Williams describes a bill for $6.00 from Martin Villatrago in Monclova for DeWitt's coffin.
Green DeWitt is said to have been among the land speculators seeking control of more land outside the colonies in Monclova in 1835 where he died. His most significant personal business arrangement on record was a contract with J.D. Clements in 1830 to build a saw and gristmill on the Guadalupe River north of Gonzales. In his memoirs, Recollections of Early Texas, John Holland Jenkins states that Sam Houston delivered a speech at "DeWitt's Tavern" upon his arrival on 11 Mar 1836 in Gonzales to organize an army after the Texas Independence Convention and his appointment as Major General of the Texas Republican Army. Green DeWitt's immediate personal income theoretically possible from fees from new settlers and land titles was cut short by limitations on immigration by the central Mexican government in 1830. As Stephen F. Austin pointed out in a letter (See Powers of the Empresario by Austin), premium lands rewarded to the empresario could not be eaten or could not be made into clothes. Their value was in the future. Consequently, DeWitt left lands of large future value to his family, but likely was in near poverty toward the end of his career as empresario because of putting all of his assets into development of the colony. His financial position is suggested in the special petition by wife Sarah Seely using her maiden name for a title to land in the colony in 1830: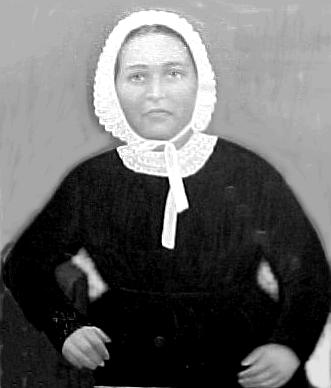 [Oil painting in the GonzalesCo Museum, photo courtesy John A. Moehring] "I, Sarah Seely, wife of Green DeWitt, with a family of six children, with all due respect and in the best form of law, present the following statement: In the year 1826 I arrived in this country with my above mentioned family from the state of Missouri, one of the United States of the North. Since the year, 1826, until now I have dwelt on a sitio of land, chosen by my husband on the right bank of the Guadalupe River, opposite the town of Gonzales. My husband, before mentioned, has made improvements such as houses and out buildings for the family and has opened a rather large farm. The family has suffered much in consequence of being in an unpopulated country on the frontier, through exposure to the incursions of the savage Indians, and for want of supplies. For these reasons and also because my husband, the said Green DeWitt, finds himself much embarrassed in his affairs on account of the enterprise that he has undertaken, and because of other circumstances which have placed the family in an unfortunate situation, I, the petitioner, with a view to acquiring and preserving a secure estate for the maintenance of myself and children, humbly beg your excellency to have the kindness to concede to me and my children in fee simple for myself and my heirs the sitio of land above mentioned on which I now live, with the understanding that all the requirements of the law in the matter will be fulfilled. Therefore I ask and beg you be so kind as to favor me by doing as above stated."
Stephen F. Austin and Samuel W. Williams endorsed the petition. DeWitt stated that the petition had been made with his knowledge and consent. He stated that at the time of marriage to Sarah Seely she had possessed considerable property which he had spent in development of the colony, that he had no means to repay her, he had conceded all improvements on the land and he hoped for grant of the petition. Sarah Seely was granted the title in February 1831 in her maiden name. According to descendant Edna DeWitt in her compilation Lest We Forget relates that
"....early settlers here always took pride in sharing the hospitality of their home. Mrs. Sarah Seely DeWitt made an ideal mate for her empresario husband, Green DeWitt. Her home was noted far and wide for its welcome to the wayfarer and guest, nevertheless Mrs. DeWitt found time to take an active part in religious work of the colony, and helped design amd make the first two Texas flags carried by soldiers in the battle for Texas independence. There was one thing, however, that Mrs. DeWitt refused to do--and that was to prepare a hot meal for guests in her home on the Sabbath. It was against her religious scruples. If the visitor would dine of an abundant meal--minus the heat--he was welcome. If not he must eat his Sunday dinner elsewhere."
Historians complimentary to Empresario Stephen F. Austin have pointed out that throughout developments leading to separation of Texas from Mexico, he took his position between loyalty to Mexico and the most extreme hawks of the War Party for independence always with the welfare of his colonists in mind and his personal fortune a secondary consideration. The empresario system in its strictest form was one in which power and personal fortune was dependent, at least initially, on welfare of the colonists. Independent of the balance between welfare of the colonists, Texas and self-service exercised by empresarios Austin and DeWitt, in the end the personal fortunes of both went unfulfilled while their colonies were the major force in the progression to an independent Texas Republic.
The Sarah Seely league is just south of Gonzales town in the bow formed by the Guadalupe River where it meets the San Marcos River to the north. Just across the Guadalupe on the north side on the town border is the labor granted to Green DeWitt where the family made their original homestead. The area was subsequently referred to as DeWitt's or Santa Anna's Mound. Across the Guadalupe River on the northeast border of the Sarah Seely league were two more labors of land granted to DeWitt, one on the town border in the cluster of labors of land granted to Braches, Berry, Burket, Oliver and Zumwalt. DeWitt was granted two more leagues on the east bank of the Guadalupe River north of Gonzales just south of the league granted to his oldest daughter Eliza DeWitt. Green DeWitt died on 18 May 1835, probably of cholera, and was buried in an unmarked grave while seeking control of more land for speculation in Monclova, Mexico. His widow, Sarah Seely DeWitt died on 24 Nov 1854 in Gonzales and is buried, as are numerous descendants, in the DeWitt Cemetery near Gonzales.
On April 1, 2004, the DeWitt Cemetery was designated a state historical site by The Texas Historical Commission due to efforts of the Gonzales Historical Commission.
---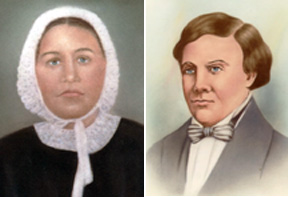 The Green & Sara Seely DeWitt Family
(Images restored and colored from achives courtesy of John A. Moehring)
Eliza DeWitt (1809-) is listed in the DeWitt Colony Land Grant Titles as a widow who received title to a land grant in the DeWitt Colony on 15 Apr 1831 with date of arrival as 19 Jan 1830. Her first husband was Thomas Hamilton whom she married on 22 May 1830. On 21 Dec 1834 she married James C. Davis, alcalde of the Gonzales Ayuntamiento of 1834 until his murder by Indians. It is unclear if the pair had children. On 26 Oct 1836, 2 times widowed Eliza DeWitt Hamilton Davis married Thomas Jones Hardeman (1788-1854) in Houston, Texas. Hardeman was son of Thomas and Mary (Perkins) Hardeman and born at Hardeman's Stockade near Nashville, Tennessee 31 Jan 1788. His family moved to WilliamsonCo, Tennessee in 1803 where he married Mary Ophelia Polk in 1814. Hardeman was captured by the British and sustained a head injury refusing to talk under interrogation. After the death of his wife in 1835, he move to Texas with his brothers Blackstone and Bailey. Hardeman served in numerous offices in Texas including the Congress of the Republic as representative from Matagorda County in 1837-39. Thomas Hardeman and Eliza DeWitt had three children. Four sons of Hardeman's first marriage in TN were Thomas Monroe Hardeman, William Polk Hardeman, Owen Bailey Hardeman and Leonidas Polk Hardeman. With Eliza DeWitt, children were Laura (1849-1927; m. Aaron Burleson Jr.), Sara Eliza (1842-1865; m. Capt. William Henry Jones) and Thomas Hardeman Jr. (b. about 1848). Hardeman died on 15 Jan 1854 and was buried in Bastrop County. In 1937 his remains were removed to the State Cemetery.
---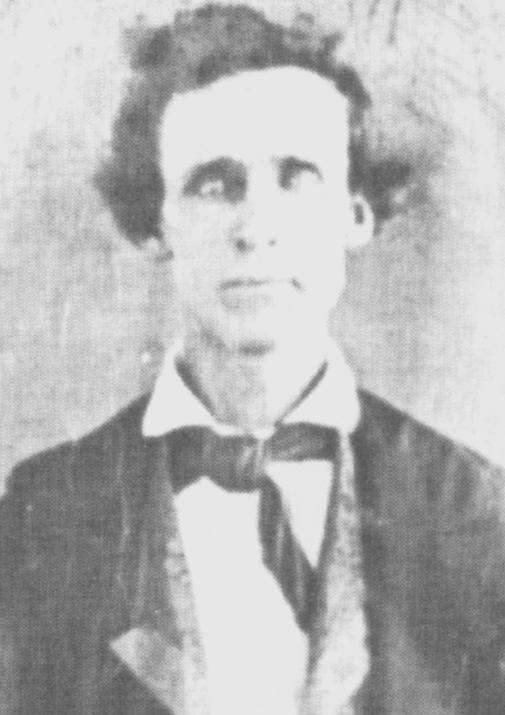 Thomas Monroe Hardeman (left) was born in Bolivar, Tennessee, the son of Thomas Jones Hardeman Sr., came to Texas in 1832 with his father and uncles who settled on Caney Creek in MatagordaCo, TX. Hardeman was a veteran of the Battle of Gonzales and fought in infantry company F, 1st Regiment under Capt. W.J.E. Heard at the Battle of San Jacinto. He was a militia major in the Battle of Plum Creek in 1840 under Gen. Felix Huston. He later married Miss Susan Burleson, daughter of Joseph Burleson, the brother of Col. Edward Burleson. They lived in Prairie Lea in CaldwellCo. where Susan Hardeman died in 1861. In 1862 Hardeman joined the CSA and died enroute to his unit in VA at Knoxville, TN and is buried in the Polk Family Cemetery in Bolivar, TN.
Thomas M. and his brother, William Polk Hardeman (1816-1898), were among a group of about 21 commanded by Capt. Phillip Dimmit, who met and assembled at Gonzales under the command of General Houston with intentions, as several reported in later life, to go to relief of the besieged Alamo. Author John Henry Brown relates:
In answer to [Houston's] order [of 12 Mar], a few days later Captain Dimmitt, with a small body of men, rode into Gonzales to find it in the possession of the Mexican army, General Houston having retreated i the night of the 13th. Dimmitt and his command narrowly escaped into the bottom, southeast of the town, after a brush with the enemy in which a dozen Mexicans were killed on the bank of Kerr's Creek, near the home of Francis Berry. Among those with him were Nathaniel Lewis (afterwards a famous merchant of San Antonio), Daniel Elam, of Old Caney, and a youth subsequently known to Texian annals as General Wm. P. Hardeman, or "Old Gotch."
One of the party, L.E. Daniell related in later years that the horses were abandoned due to exhaustion by forced marches and they retreated on foot down the Guadalupe River for four days without food. A claim filed in 1838 supports the report:
This will certify that Thomas M. Hardeman lost in a skirmish with the enemy near Gonzales on or about the 20th of March 1836 a Bay American horse valued at two hundred dollars by the undersigned. The above horse was abandoned by order of Capt. Dimit and fell into the hands of the enemy. [Signed] Daniel Elam, S.A. Larch, G. Trafmale. Subscribed & sworn to before me this 4th day Jan 1838. A. Hook, J.P.

This is to certify that W. P. Hardeman was a volunteer in my command in my march to join the major Genl. Sam Houston at Gonzales he lost a mare in the encounter with the enemy. Sworn 7 Jany 1838. P. Dimit Capt. Port of Lavaca, Dimit's Point.
W.P. Hardeman subsequently served as a Texas Ranger on the frontier and for a time under Deaf Smith. He was with Col. John Henry Moore's rangers against the Comanches at Wallace's Creek in1839 and also participated in the campaign against Córdova in East Texas the same year. He was at the battle of Plum Creek, pursued Gen. Rafael Vásquez after his invasion of Texas, was part of the Somervell expedition and served in the US-Mexican War. He rose to Brigadier General in the army of the CSA and with his cousin Peter Hardeman escaped to Mexico where he served as a battalion commander in Maximilian's army and was part of a colony of Confederate exiles near Guadalajara. He returned to Texas where he was active in public service and was one of the founders of the Agricultural and Mechanical College of Texas (Texas A&M). Hardeman was married to his uncle Bailey's widow Rebecca and later to Sarah Hamilton. He died on 8 Apr 1898 and is buried in the State Cemetery, Austin.
---
Naomi Q. DeWitt (1815-1877) married William A Matthews and they had a son William C. who died young. It was Naomi's wedding dress that is said to have provided the material for the Old Come and Take It flag displayed by DeWitt Colonists in the first resistance to centralista dictatorship under Santa Anna.
Eveline DeWitt (1817-1891) married Charles Mason, they had children Charles W. (1841-1867; m. Alvina F. Mathews), DeWitt (1844-1890; m. Maria Pratt), and Isham (born about 1856).
Christopher Columbus DeWitt (born 1820) married Parmelia Narcissa Barrow. Sworn affidavits attest that C.C. DeWitt served in the Republican Army of Texas in the Battle of Gonzales, the Siege and Battle of Bexar that followed, the Comanche Battle of Plum Creek and in response to the raid on San Antonio by General Vasquez in 1842. In later years he was a Gonzales County Judge. C.C. and Parmelia DeWitt had children Green (1843-1911; m. Mary Ella Harris), Sarah E. (1845-1869; m. Robert B. Lockridge), Thomas Jones Hardeman (1848-1879), Jonas (1850-1851), Minerva (m. A.D. Walker) and Christopher Columbus Jr. (died 1913; m. Anna Electra Burrows). The family is listed in the 1850 GonzalesCo census, Town of Gonzales: DeWitt, C.C., 30, m, $5,000, Mo; DeWitt, P.N., 22, f, Tenn; DeWitt, Green, 7, m, Texas; DeWitt, S.E., 5, f, Texas; DeWitt, T.J.H., 2, m, Texas; DeWitt, J., 6/12, m, Texas; Neathery, T.S., 28, m, Ky
Clinton Edward DeWitt (1823-1860) married Sarah Naomi Elizabeth Frazier. Clinton served in the Battle of Salado in 1842 and served as Gonzales County Sheriff 1850-1852. They had children Nancy, Naomi Q. (born 1850; m. Henry Clay Denman), William Augustus (1851-1863) and Narcissa (1860-1923; m. Lucien L. Chenault. Clinton DeWitt died in a shooting for which his brother-in-law, Thomas Frazier was charged and acquitted. The family is listed in the 1850 census of GonzalesCo, Town of Gonzales: Dewitt, C.E., 26, m, Sheriff, 3,000, Mo; Dewitt, S.A.E., 18, f, Tenn; Dewitt, Nancy, 10/12, f, Texas.
Minerva DeWitt (born 1829) married Isham Green Jones, brother of Capt. Augustus Harris Jones and William E. Jones. They had five children Charles (D.D.) (born about 1847), DeWitt (born abt 1849), Isham G. (died about 1898), Minnie (m. William Mooney Dilworth), and Buckner (Buck) Harris. The family was counted in the 1850 census of GonzalesCo, Peach Creek District, living near Jones brothers Augustus Harris and Russell III in household 16-16: Jones, I.G., 26, m, $5,000, Ga., 650, Nov. 2; Jones, M., 20, f, Texas, 650, Nov. 2; Jones, Charles, 3, m, Texas, 650, Nov. 2; Jones, Dewitt, 1, m, Texas, 650, Nov. 2; Stevens, Henry, 21, m, N.C., 650, Nov. 2. Isham Green Jones died on 15 Feb 1867 of lung problems resulting from a lead bullet wound.
---
MAJOR JAMES KERR
1790-1851
Missouri Civic Leader
Surveyor-Manager of the DeWitt Colony
Anglo-Mexican Federalist & Patriot
Texas Independence Leader
On-line--A Texas Family by James Kerr Crain 1957
Major James Kerr was born near Danville, KY on 24 Sep 1790, the son of Baptist minister James Kerr and wife Patience Wells. Information on Kerr's family was recorded in his family bible. His sisters Mary Kerr (m. John Alexander Clark) and Margaret Kerr (m. Captain Henry Stephenson Brown) and families were also early residents of the DeWitt Colony area. His grandparents were James and Hannah Kerr and Richard and Mary (Nancy?) Brown Wells. Major Kerr moved with his family to St. Charles County, Missouri in 1808. He served in the War of 1812 as a Lt. in the company of Capt. Nathan Boone and with Capt. Boone's Rangers in maintenance of security of the area. He was said to be a favorite friend of Nathan's father, Daniel Boone. He was elected Sheriff of St. Charles County, MO and studied law on his own. In 1819 he married Angelina Caldwell, the daughter of General James Caldwell from Saint Genevieve, MO, who was speaker of the House of Representatives of the Territory of Missouri. He was elected twice to the Missouri State legislature and in 1824 to the Senate, but at the close of the session he resigned to go to Texas. It is said that Kerr resigned and removed to Texas in part because of unpleasant relations with his father-in-law who he had defeated in the election for Missouri Senator. Major Kerr was well known by fellow Missourians who emigrated to Texas and he knew many of them well including Stephen F. Austin. Austin and Kerr were lifelong friends and colleagues in the development of Texas. Austin was godfather to Mary Margaret Kerr and Kerr is said to have been present at Austin's death.
James Kerr arrived with his wife, three children and black servants, among whom were Shade, Jack and Annis, at the mouth of the Brazos River in Feb 1825. He first settled or camped in Brazoria where his wife died at Perry's Landing in Brazoria in June 1825. According to family histories, five year old John James died on a trip with his father, brother and sister and black servants to the DeWitt Colony and Gonzales area in August 1825. According to John Henry Brown in History of Texas, Major Kerr left his infant daughter Mary Margaret (later married Capt. Isaac Mitchell and then J.C. Sheldon of Galveston) with friends (the William Pettus family) in San Felipe and then proceeded to the DeWitt Colony in July with his servants. In 1833, Major Kerr married Sarah G. Fulton, an adopted daughter of John Linn, the founder of Linnville on the coast near current Port Lavaca. Father Valdez of the Goliad region performed the Catholic ceremony. Sarah Fulton was the daughter of David and Sarah Moor Fulton, Irish immigrants to New York. Family legend says she was orphaned when her parents died on the voyage to America. James and Sarah Fulton Kerr had children Charles Linn who died in infancy, James David, Thomas Richard who died while serving in the Confederate Army, and a daughter Sarah Angeline (m. General W.P. Laughter). Major Kerr was surveyor-general of the DeWitt and DeLeon colonies. He was given power of attorney by both DeWitt and Ben Milam to manage affairs of the DeWitt Colony and Ben Milam's abortive venture as an empresario.
Although Major Kerr's homebase was in current Jackson County near Edna as early as 1827 on the site known as the Old Kerr Farm in the Austin Colony, he was the first on-site developer and settler in the DeWitt Colony and had major impact on the colony and its welfare throughout its life. Between 1825 and 1833 his home was a headquarters or meeting place of sorts for discussion and planning sessions related to the developing problems with Mexico and Indians. He was an active participant in the consultations of October 1832 and April 1833 at San Felipe which set Texas on a course of independence from Coahuila y Texas and the central Mexican government. Kerr was severely suspicious and critical of land speculators as exampled in a letter to Chambers in Jul 1835 in which he suggested that several critics of the the Mexican government were motivated by it. He was chairman of the meeting on 17 Jul 1835 at Millican's Gin of settlers from the Lavaca and Navidad River regions which was the first declaration or call for an independent Texas. He helped form the provisional government at the third consulation of 3 Nov 1835 at San Felipe and was a delegate with Elijah Stapp from the Municipality of Jackson for the convention of 1 Feb 1836 at Washington on the Brazos which formally declared the Independence of Texas. He failed to attend the meeting because of occupation with the safety and flight of family and Jackson area residents on the Runaway Scrape after the Alamo defeat. It is said that he and Elijah Stapp drew straws for which one would be in attendance. Like Stephen F. Austin, James Kerr was an unwavering and loyal Anglo-Mexican patriot working for the welfare of the Texian colonists, their economic and political freedom as adopted citizens of Mexico, above all other interests. He was a prototype of the majority of DeWitt colonists in that he was intensely loyal to the adopted Federalist government of Mexico and its Constitution of 1824 while working for regional autonomy of Texas within that system. As late as Jan 1836, Major Kerr made it clear in a letter of that date that independence to him meant the independence of Texas as a state of the Republic of Mexico under the Constitution of 1824 and that the fight was in its defense and against its subversion by the Centralista dictatorship. When all hopes for the Constitution were subverted by the racist and militaristic Centralista dictatorship, Major Kerr played a key role in the break with Mexico and the struggle for establishment of an independent Republic of Texas.
Major Kerr was active in organization of local government in what is now Jackson County during the years 1836 to 1846 under the Texas Republic. He served in the Congress of the Republic in 1838-39 and was author of numerous pieces of legislation that is characterized as important to Texas development. Among these were a law to prevent dueling and for move of the capital from Houston to Austin. Major Kerr was recognized as a practicing physician from skills learned solely from experience in the field. All eye witness accounts of his life and historians use superlatives as splendid intellect, well-cultivated, prudent, wise, kind, genial, firm, generous and humorous to described his personality. Although Major Kerr was an owner of numerous slaves, 8 or 10 of which he brought to Texas, he was known to treat them as family and he gave each homes, livestock and provisions after they were freed in 1865. In a letter from Nathaniel Cox to Stephen F. Austin of Apr 1825, Cox suggested that, as numerous potential immigrants to Texas from the southern United States, Kerr might be inhibited from emigrating to Texas if anti-slavery laws prevented him from bringing his servants because "it would ruin a helpless family should he lose them." According to family tradition, Kerr was able to bring his black servants into Texas legally because they were technically not "American slaves" whose importation of which were forbidden by Mexican law. They were exempt by having been born or lived in Missouri when it was Spanish territory. The fact that Major Kerr considered his black servants as family is supported by their listing along with family members in his family bible. According to John Henry Brown in The Indian Wars and Pioneers of Texas, his former servants Jack and his parents Shade and Annis were the parents and grandparents of numerous offspring, who became widely known and greatly esteemed for their fidelity and patriotism in every conflict.
In a letter of Mar 1836 to David Burnet, first President of the Republic of Texas, Kerr donated his DeWitt Colony tract to the public:
San Felipe de Austin 23rd March 1836. His Excellency David G. Burnet President of the Republic of Texas, Harrisburg Sir, Desirous of contributing, in an efficient manner, to the cause of my Country, by throwing in a mite towards alleviating the pecuniary wants of the same, I hereby place at the free disposal of the Government, subject to whatever arrangements and conditions may be adopted, one quarter league of good land, situate in DeWitt Colony on the Guadalupe and forming part of a league deeded to Mr. Staff from whom I acquired it. Permit me, Mr. President, to congratulate you on your elevation to the high office of guiding the destinies of our new born Republic, and to present to you my ardent wishes for a successful career. I remain respectfully your Excellency's Obt humble Servant James Kerr.
Kerr family stories relate two anecdotes about his appearance. At one time he was in a contest for Jackson County's ugliest man, during the judging Major Kerr smiled and the contest judge asked him to quit making faces so he could be judged along with the others on the way the Creator made him. Another goes that in a saloon in Texana, a very homely man was noticeably looking him over. The man came over and said
"I'm sorry, but I am going to have to kill you."
In reply to Major Kerr's question why, the homely man said:
"I have always said that if I ever saw a man uglier than I am, that I was going to shoot him."
Kerr asked the man to come near a window so that Kerr could examine him, he looked him over closely and the Major said:
"Shoot away, stranger, if I'm uglier then you I don't care to live."
Another story says that at the camp in Brazoria where his first wife died in 1825, she was buried in a liveoak log hewed out for a coffin. Thirty years later, Major Kerr decided to move the body to his home in Jackson County, the body in the live oak coffin was exhumed and found perfectly preserved by onlookers, but it immediately crumbled into dust when exposed to the air. Major James Kerr died in Jackson County on his farm 7 miles north of Edna on Kerr's Creek in the Kerr Cemetery. Engraved on the vault over his site is
"Sacred to the memory of Dr. James Kerr, born in Boyle County, Kentucky, September 24, 1790. Emigrated to Missouri in 1808, then to Texas in the year 1825. Having participated in most of the trying scenes of the struggle for Texas Liberty, he died in Jackson County December 23, 1851."
Kerr County, Texas was named in his honor.
---
SONS OF DEWITT COLONY TEXAS
© 1997-2012, Wallace L. McKeehan, All Rights Reserved