SONS OF DEWITT COLONY TEXAS
� 1997-2008, Wallace L. McKeehan, All Rights Reserved
David Burket-Index | DeWitt Colony Expansion | Burket Land Grant
David Burket
1798-1845

Mary Ann Zumwalt
1800-1887
The DB above is David Burket's cattle brand no. BD-2 registered in Gonzales 13 Dec 1840.
Three genealogical works cover the David and Mary Ann Zumwalt Burket family in depth. These are A Concise Genealogy of David Burkett and Horace Eggleston (An Allied Family) by Ruby Millicent Burkett Fisher, Dallas, TX, 1972; The History of the Burkett-Gilliam Generations by Maxine Burkett Seltzer, Ft. Worth, TX, 1976; and Burkett-Green-Woodrome by Mina Mae Woodrome Giesler, ca. 1976. The author is indebted to these researchers, all deceased, for their information base and stimulation for continuation of their work-WLM.
From Germany to Pennsylvania to Missouri to Texas. The spelling Burket as signed by David Burket on his land grant was changed by his children to Burkett. In addition, the name has been spelled in various records from Germany, Pennsylvania, Missouri and Texas as Burchard, Burkhardt, Burcket, Burchet(t), Burget, Burget, Burgit(t) and Burdet(t). The earliest known ancestor of DeWitt Colonist David Burket has been traced to Jorg and Apollinia Meyer Burckhardt who married before 1649 and were from Niederstoltzingen in the Schwabische region about halfway between Stuttgart and Munich. They had a son named Andreas Burckhardt born in 1649 in Niederstoltzen who married Anna Maria Brachholdt in Herbrechtingen in the same region in 1670. They had children Johannes, Andreas and Samuel. Andreas Burckhart (b. 1676) married Margaretha Schneider and they had a son Johannes Burcket who was born in 1708 in Herbrechtingen. He married Katrina Hebert (Abear) from the Province of Berry, France. Family lore says she was a petite, dark-eyed girl who was a descendant of French Huguenots. Their son Johann Dedric (John) Burcket was born abt. 1720 probably in or around Herbrechtingen and married Polly Koontz (Coonts, Counce) who according to family lore was of "Prussian nobility" (father Jacob Koontz) and an accomplished pianist. Johann (John) Dedric and Polly Koontz Burcket made their way up the Rhine River to Amsterdam and arrived iin Philadelphia in 1741 on the ship Loyal Judith with baby son Jacob Burket (1740-1835) who is thought to have been born in Amsterdam or nearby prior to departure. Johann (John) and Polly Koontz Burcket had children Jacob Burcket/Burket, William, John, David, George, Anne, Margaret, Sarah, Mary and Elizabeth. According to family histories, Polly brought modest trappings of her European background to America including some silver and china, but could never adapt to the harsh frontier life and she and John returned to Germany where they died. Johannn Dedric Burcket was recorded as "Johan Dedrick Buckert" when he was naturalized as a citizen of Great Britain on 11 Apr 1741 in PhiladelphiaCo, PA, a provision made by the British Parliament for German Protestants arriving in the colonies.
David Burket's grandfather, Jacob Burket who arrived as a "babe-in-arms" in America and began to use the spelling Burket served in the Revolutionary War under Captain Davies' Second Company, Tenth Battalion, Lancaster County, Pennsylvania and returned to Brecknock-Carnarvon Township in 1777 where he is listed as a private eighth class. David Burket's grandmother, wife of Jacob Burket, was Barbara (Babs) Fisher (b. 1742) who was from Philadelphia, Pennsylvania with Quaker background, but is said to have not practiced devoutly after marriage to Jacob Burket. The couple were married in Christ Church in 1763. They had children Henry, Patrick, John William Burket, James (Jim), Jacob, George, Sarah, Nathan, Anna and Josiah. Barbara Fisher was the daughter of William Fisher (abt 1715-1787) and Sarah Coleman (1718-1806). William Fisher was Mayor of Philadelphia in 1773. The couple were also the grandparents of Austin Colony pioneer and Texas Statesman Samuel Rhoades Fisher.
Catherine McClure (1776-1833) married John William Burket (1774-1833) on 3 June 1794 in Bedford County, Pennsylvania. The wedding occurred at the home of John William Burket's brother George Burket, an innkeeper in Bedford County. It was performed by the Rev. David McClure (1748-1820), Scotch Presbyterian itinerant minister who described his experiences while wandering in a published journal in 1772 (Diary of David McClure, Doctor of Divinity, 1748-1820). The relationship, if any, between Catherine McClure and David McClure is unknown. John William Burket was born 12 Jan 1774 in LancasterCo, PA while Catherine McClure was born in BedfordCo, PA. They are thought to have had children John, Abraham, Absalom, Jacob, Elizabeth, Polly, David Burket and Phoebe Burket. David Burket was born 22 Feb 1798 in Bedford County, Pennsylvania. In 1805, the 200 acre tract on Stony Creek in Quemahoning Township, Bedford County was surveyed 1 Sep 1795 by John Wells, Esq. and the survey filed in the offices of John McClean, Deputy related to property warranted to John Burket on 15 Aug 1793. As certified on 29 Jun 1805, the land was sold to Abraham Rhodes (kin of John's mother, Barbara Fisher Burket).
The Territory of Missouri. The above transaction coincided with the appearance of the John Burket family in 1804 in the St. Charles District of the newly organized Louisiana District of the Indiana Territory (Louisiana Territory in 1805), which became the Territory of Missouri in 1812. In 1816, he was among the taxpayers of Howard County that was formed from part of St. Louis County on the south and unorganized areas of the Missouri Territory to the north. Cedar Creek, a reliable water supply flowing south into the Missouri River near current Jefferson City, was the eastern border of HowardCo and the unorganized sector between HowardCo and St. CharlesCo in 1816. Between 1818-1820, John Burkett received certificate no. 14 at the town of Franklin, Missouri issued for the northeast one-fourth of Section 20, Township 45, Range 11. On 2 Nov 1818, John Burket purchased 160 acres at the Howard County, Missouri land office at Franklin. In Mar 1819, John Burkett and Jacob Zumwalt were taxpayers in Cedar Township (township 45, range 11), Howard County, MO. It is believed that the western half of the northeast fourth of section 20 in township 45 was the John and Catherine Burket family homestead until it was sold when they emigrated to Texas in 1830, although John Burket obviously owned and traded other properties in the area. Neighbors on the north in section 19 of the township were A. Langham to the west and Jacob Zumwalt north of the Langham tract. Bosmon Clifton owned the tract west of Jacob Zumwalt. Langham, Zumwalt and Clifton obtained their tracts on the same date in 1818 as did John Burkett. In 1821 BooneCo was organized from the southeastern tip of HowardCo and CallawayCo was established from the previously unorganized tract on the west that was sandwiched between Howard and Montgomery counties. Cedar Creek became the border between Boone and Callaway counties. According to Zumwalt researcher, Teresa Blattner, who still lives in the area, Cedar Creek, which was the historic eastern boundary of HowardCo in 1820, then the boundary between Boone and Callaway counties, can become a raging river at times. As a consequence, the creek changed course over the years, sometimes without immediate agreement by residents that the river would remain the boundary. The creek flooded in 1820, 1843, 1883, 1903, 1956 and 1993. The flood in 1820 influenced establishment of the boundaries between Howard, the unorganized tract between Howard and Montgomery counties which became CallawayCo and subsequent boundaries of Howard, Boone, Callaway and Montgomery counties. Blattner described the John Burkett plot as one of the best in the area. With access to Cedar Creek, it was comprised of gently rolling hills easy to clear and farm, 2.5 miles from the Missouri River and the Nashville Road constructed in 1821 which ran from Cote Sans Desseir to Nashville, MO. Even though the property was near the Missouri River, it is high enough that it does not flood and escaped the record flood of 1993. It is believed that although the John Burkett family is listed in several county records, they always lived on the same homestead. John Burket (John Burgit Sr.) and son David Burket (Burgit) are listed along with in-laws and associates, Jacob Zumwalt, Adam Zumwalt, Andrew Zumwalt and Bossian (Bosman) Clifton, on the tax list of 1819 and 1820 for Montgomery County, MO. After Missouri was admitted to the USA in 1821, John Burket Sr., John Burket Jr. and David Burkett are recorded as residents of Callaway County from 1822-1824. A land patent filed in vol. 1, pg. 117, in CallawayCo, MO 18 Mar 1823 shows "John Burkett, assignee of Elizabeth McKinney of Howard County, Missouri.....full payment made for the north east quarter of section thirty in Township forty five of Range Eleven containing 160 acres...." This tract is a little south west of the main Burket homestead and was later owned by Christopher Zumwalt Sr.
See Burket Family Missouri Homestead Site Visit 2001
Despite the apparent successful life, favorable homestead sites and presence of extended interrelated and historic pioneering families in Missouri which included the Boones, Bryans, Healds, Zumwalts, Kents, the Burkets and their Zumwalt and Kent relatives must have disliked the restrictions accompanying progress and development and learned of the opportunities offered by the newly independent Mexican Republic in Texas from fellow Missourians, particularly empresarios Stephen F. Austin and Green DeWitt. The following land transaction indicates final disposal of the 80 acre homestead on Cedar Creek in CallawayCo prior to the summer that the family emigrated to the DeWitt Colony of Texas:
Deed John Burkett & wife & David Burkett to James Oliver, 22 Mar 1830, CallawayCo Records, Fulton, MO, pg. 358. State of Missouri County of Callaway I, Irwin O, Hockaday, clerk of the Circuit Court and recorder within and for the County aforesaid do certify that this deed was produced to me in my office for record on the 25th day of March AD 1830 and thereupon the same has been duly committed to record as required by law. Witness my hand and the seal of said Court of Office L.L. date aforesaid Irwin O. Hockaday

This Indenture made this twenty second day of March in the year of our Lord one thousand eight hundred and thirty between John Burkett and Caty his wife and David Burkett of the County of Callaway and State of Missouri of the one part and James Oliver of the County of Boone and State of Missouri of the second part witnesseth that the said John Burkett and Caty this wife and David Burkett for and in consider of the sum of one hundred and ten dollars current money of the United States to them in hand paid the receipt whereof is hereby acknowledged, do grant, bargain, sell and confirm unto the said, James Oliver all their right title, interest and claim that they each of them have in and to the following described tract or parcel of land, viz. The west half of the northeast quarter of section twenty in Township forty five of range eleven containing eight acres lying and being in the County of Callaway and the district of the lands directed to be sold at Franklin with all appurtenances, to have and to hold the said tract or half quarter section of land with all its appurtenances unto the said James Oliver and his heirs to the sole use benefit and behalf of him, the said James Oliver and his heirs forever; and the said, John Burkett and Caty, his wife and David Burkett do for themselves and their heirs covenant with the said, James Oliver, that the said, John Burkett and Caty, his wife; and David Burkett, the said tract of land or half quarter section of land with all its appurtenances unto the said James Oliver and his heirs against the claims of all persons whomsoever shall warrant and will forever, defend. In witness whereof the said John Burkett and Caty, his wife, and David Burkett have hereunto subscribed their names and affixed their seals the day and year first above written. Enterlined before signed John (hisXmark) Burkett, Caty Burkett, David Burkett. State of Missouri, County of Callaway.

Be it remembered that on the twenty second day of March in the year of our Lord eighteen hundred and thirty before me a justice of the Peace within and for the County aforesaid personally came John Burkett and Caty Burkett, his wife, and David Burkett all personally known to me to be the persons whose names are subscribed to the foregoing instrument of writing and having executed the same to be their act and deed for the purposes therein mentioned she the said, Caty Burkett being by me first made acquainted with the contents thereof and examined separate and apart from her husband whether she executed the said deed, relinquishes her dower to the said lands and tenements therein mentioned; voluntarily, freely and without compulson or undue influence of her said husband; acknowledges and declares that she executed the said deed and relinquishes her dower in the said lands and tenements therein mentioned voluntariily freely and without compulsion or undue influence of her said husband. Taken and certified the day year aforesaid. George King, Justice of the Peace

State of Missouri, County of Callaway. I Irwin O. Hockaday, clerk of the Circuit Court and Records within said for the county aforesaid do certify that this deed was produced to me in my office for record on the 27th day of March A.D. 1830 and thereupon has been duly committed to record as required by law. Witness my hand and the seal of said Court of Office L.L.......date aforesaid. Irwin O. Hockaday, Clerk.
Mary Ann Zumwalt Burket (1800-1887). David Burket married Mary Ann Zumwalt in either 1817 (Family Bible) or 1818 (gravestone) in St. Charles County of the Missouri Territory. Mary Ann Zumwalt was born 1 Jan 1800 in the St. Charles District of the Louisiana District of the Indiana Territory. The birthdate is thought to be certain because of it being on New Year's day at the turn of the century which was remarked about by descendants who probably received the impression first hand from Mary Ann. The precise identity of her parents is uncertain. There are three theories. The first and most quoted in multiple sequential genealogies, many of which draw from each other, over the years place her as the daughter of Jacob (abt 1752-bef 1820) and Catherine Miller (abt 1758-1799) Zumwalt. Jacob was son of the original Alsatian immigrant to America, Johann Wilhelm Andres (Andrew) Zumwalt (abt 1698-bef 1765). There are no contemporary references such as interviews, letters of children living when she was, or obituaries that state that Mary Ann Zumwalt Burket was a daughter of a person named Jacob. The fact that a relative named Mary Ann Zumwalt (b. abt 1789) appears on estate settlement records who could be a daughter of Jacob Zumwalt has been used in the argument. Deed records of Callaway County, MO suggest that this Mary Ann Zumwalt of Callaway County, MO was still listed with the Zumwalt surname in 1826. Long time researcher on the Zumwalt family, Jax Zumwalt, has suggested that this individual may have been a widowed daughter-in-law of Jacob Zumwalt instead of a child or grandchild that retained the Zumwalt surname. Numerous sources cite that Catherine (Queti, Caty) Miller was buried on 30 Jul 1799 according to an official certificate. If this document is valid, then Mary Ann Zumwalt Burket cannot be a daughter of the couple. Although such a document is quoted often in genealogies on the family, researcher Jax Zumwalt has raised questions concerning whether such a document actually exists since it cannot be found currently or the original has never been reprinted in available family history sources. He believes that Catherine Zumwalt was still living after that date and is the Catherine that appears on documents related to a Jacob Zumwalt and children. Catherine is thought to have died before Jacob Zumwalt married second wife Francis Price (abt 1776-aft 1850) on 4 Nov 1800. Given this information and some variations in dates, it is conceivable that Mary Ann Zumwalt Burket was either the youngest child of Catherine and Jacob, or even the first and oldest child of Jacob and new wife Francis if the 1 Jan 1800 birthdate is in error. In this event, it is likely that Mary Ann Zumwalt Burket was born on the Ft. Zumwalt homesite of Jacob Zumwalt
Zumwalt researcher Teresa Blattner has raised the possibility by the process of elimination from records on the Zumwalt sons and grandsons of original immigrant Andrew Zumwalt that Mary Ann Zumwalt Burket was an elder daughter of Christopher Zumwalt Jr. (1777-1829), son of Christopher Stoffel Zumwalt (1750-abt 1811), son of the original immigrant Andrew Zumwalt. However, there is no record of a daughter named Mary Ann. Christopher Jr. is thought to have died on the way to or shortly after arrival in Texas on which he and a son named Abraham M. Zumwalt (1808-1846) and family embarked after the death of Christopher Zumwalt Jr.'s wife, Elizabeth Keller (1780-1827). A Mary Ann Zumwalt was not mentioned in Christopher Jr.'s will, however, the will implies that there were more children than those named who are speculated to have been married or had already received assets while he was living: "…..None of my children except those above named are intended by this my last will to receive any part or share of my estate.…". It is speculated that widower Christopher Jr. and son Abraham Zumwalt were on the way to Texas either with daughter and sister Mary Ann Zumwalt Burket and party (Jun 1829) or were on the way to meet them and other Zumwalt relatives in Texas when Christopher died. The latter is unlikely since executor Jacob Zumwalt (named 13 Jun 1829) presented Christopher's will for probate on 13 Jul 1829 in St. Charles County, MO. The fact that an Abraham Zumwalt came to the DeWitt Colony in 1829-1830, but returned to Missouri and that an Abraham Zumwalt was an uncle to Mary Ann Zumwalt Burket's children has further supported the above theory. At least two sons of Christopher and Elizabeth Keller Zumwalt, Urijah (Elijah) (b. 1820) and Joshua Zumwalt (1822-1911), who were minors at the time of his death, came to Texas later in the mid-19th century.
The third theory is that Mary Ann Zumwalt Burket was the daughter of a Jacob Zumwalt Jr. and wife Catherine and actually the granddaughter of Jacob Zumwalt Sr. and Catherine Miller. The existence of a Jacob Zumwalt Jr. and wife Catherine is not certain, however, dates and place of documents referring to Jacob Zumwalt and the uncertainty of the name and number of children assignable to the marriage of Jacob and Francis Price Zumwalt would be compatible with the existence of two generations of Jacob Zumwalts with wives of the same name who migrated from Kentucky to the Missouri Territory. Some Zumwalt histories refer to a Jacob Zumwalt Jr., son of Jacob Zumwalt, as born about 1783 in Harrison County, KY. It is speculated that he might be the oldest son of Jacob and Catherine Miller Zumwalt born soon after their marriage in Shenandoah County, Virginia in 1774 and others suggest he was the third or later son. On 28 Aug 1799, a Jacob Zumwalt (spelled Zumalt) with wife Catherine signed a deed to James and John Berry and a second deed to John Rowland with a "Z" in Harrison County, KY, residence of Jacob and Catherine Miller Zumwalt Sr. before moving to the Missouri Territory in 1796. The Jacob Zumwalt who signed the marriage bond for Susannah Zumwalt to marry Lewis Crow in Bourbon County, KY on 29 Aug 1799 also used the spelling Zumalt and the "Z" as signature. This Jacob Zumwalt has been presumed to be Jacob Zumwalt Sr. of Missouri who returned to KY to dispose of property and arrange the wedding of his daughter Susannah after the death of her mother, Catherine Miller Zumwalt, before 30 Jul 1799. However, Jacob Zumwalt Sr. of Missouri signed with an "X" (his mark) on the deed transfer of the Ft. Zumwalt property to Nathan Heald in St. Charles County, MO and the same way on his marriage bond to Francis Price in Nov 1800.
One scenario suggests that Susannah Zumwalt may have never gone to MO with her parents in 1796 and remained in KY with family, paticularly an older brother Jacob Jr., both families of whom moved subsequently to Missouri. Paul Reed in The Andrew Zumwalt Family lists children of Jacob Zumwalt Jr. as Jacob, Abraham, Frederick (1818-1895; m. Mary), Anthony Leroy (1816-1885; m. Sarah Martha Peak), James, Anada (m. Kagens), Mary (Marie) (m. Delaney, Hickman and a third) and Andrew and cites several sources. Others have assigned Anthony Leroy, Frederick, Abraham and Nancy to Jacob and Francis Price Zumwalt Sr. Helynn Carrier in her compilation, One Zumwalt Family, lists Jacob Zumwalt Jr.'s children as Nancy (abt 1808-1868; m. Lewis Crow), Jacob (b. abt 1811; m. Sarah), Frederick (b. abt 1814; m. Mary N. Burgett) and Abraham (m. Phebe). Researcher Jax Zumwalt feels there is little firm basis for existence of a Jacob Zumwalt Jr., son of Jacob Zumwalt Sr., son of immigrant Andrew Zumwalt. Moreover, questions surrounding the oft quoted 1799 death date for Catherine Miller Zumwalt make it possible that it was parents Jacob and Catherine Zumwalt who signed the documents for Susannah's marriage. Records indicate that illiterate Zumwalts in Missouri used the mark "Z" carved in trees to mark land boundaries making it not unlikely that Jacob Zumwalt might make his mark on documents with either the conventional "X" or at other times "Z".
The working hypothesis of this author (WLM) until more definitive data emerges is that Mary Ann Zumwalt Burket was the daughter of a Jacob Zumwalt, either Jacob Zumwalt the elder, most likely with wife Catherine Miller Zumwalt, or a Jacob Zumwalt Jr., son of the elder Jacob. The movement from the St. Charles District to CallawayCo of the Burket family coincides closely with that of the elder Jacob Zumwalt and relations described above. The marriage of Mary Ann Zumwalt and David Burket in 1817/1818 is the time in which the elder Jacob Zumwalt sold his O'Fallon homestead at Ft. Zumwalt to Nathan Heald and apparently moved to CallawayCo.
---
Remains of the Jacob Zumwalt cabin at Ft. Zumwalt, O'Fallon, St. CharlesCo, MO 1937. In June 1937, the remains of the cabin built in 1798 was photographed and catalogued in the Historic American Buildings Survey, District of Missouri. Bryan and Rose in Pioneer Families of Missouri in 1876 related that "Christopher and Jacob Zumwalt settled in St. Charles county, on Peruque Creek, in 1796, and in 1798 Jacob built the first hewed log house that was ever erected on the north side of the Missouri river. It is still standing, on land owned by Mr. D. Heald, about one and a half miles northwest of O'Fallon Station, on the St. Louis, Kansas City and Northern Railway. The house was used as a fort during the Indian war, and often as many as ten families found shelter within its walls at the same time. The first Methodist sacrement in Missouri was administered in this house, by Rev. Jesse Walker, in 1807. The wine was made by Mrs. Zumwalt and Mrs. Col. David Bailey, from the juice of polk berries, sweetened with maple sugar; and for bread they used the crusts of corn bread." A chimney which is presumably preserved from parts of the original still stands in a protected area in Ft. Zumwalt Park in O'Fallon.
---
On the Guadalupe River at Gonzales. On 20 Nov 1831, David Burket petitioned for title to both a labor and league of land 24/25 sitios or 4250 acres and 1/25 sitios or 177 acres which is recorded in the Spanish Archives of the General Land Office, Austin,Texas. The arrival date of the family was listed as 1 Jun 1830 on the petition. According to son Nathan Burkett's memoirs, the family arrived with five other families from Missouri on 16 Jun 1830. Since arrival dates on later petitions for land titles are not precise and Nathan Burkett may have been in error as well, based on multiple records it is conceivable that the Burket family and related Abraham Zumwalt, "Black" Adam Zumwalt Jr. and Andrew Kent families departed Missouri and arrived in Matagorda Bay from New Orleans at the same time. Whether the Adam Zumwalt Sr. family arrived with them is unclear, but land records which are not always precise indicate that he arrived a year earlier in 1829.
The Burket labor was described as on the northeast margin of the Guadalupe River immediate to the Commons of the Town of Gonzales (Burket-Zumwalt-DeWitt Cluster). As a stock raiser, he petitioned for the league on the waters of Peach Creek and Lavaca about 25 miles from Gonzales town. The league is 75 percent in Lavaca County and the line between Gonzales and Lavaca counties runs across the northwest sector. Big Hill, Burkett's Mound and a Burkett Cemetery are all on the Burkett league. Moulton is just south of it on the William Chase league. It is believed that David and Mary Ann Zumwalt Burket and family and father John William and Catherine McClure Burket first settled on the labor of land on the Guadalupe River on the southern boundary of the town of Gonzales when they arrived in 1829. Neighbors were cousin "Red" Adam Zumwalt, Francis Berry and C.H. Braches on each side. Nearby in the area were Green DeWitt, E. Berry and J. Oliver. In 1833, both Adam Zumwalt and David Burket served as witnesses and bondsmen for the marriage of Adam's daughter Elizabeth to Eli Mitchell (1797-1870). On 1 Feb 1835, both Adam Zumwalt and David Burket were voters from the Gonzales Municipality to elect delegates to the Texas Independence Convention in Washington-on-the-Brazos. In Mar 1836, General Houston placed David Burket and Adam Zumwalt in charge of evacuation of Gonzales residents on their flight east in front of the Mexican Army after the fall of the Alamo in San Antonio ("The Runaway Scrape" or "Flight to Sabine").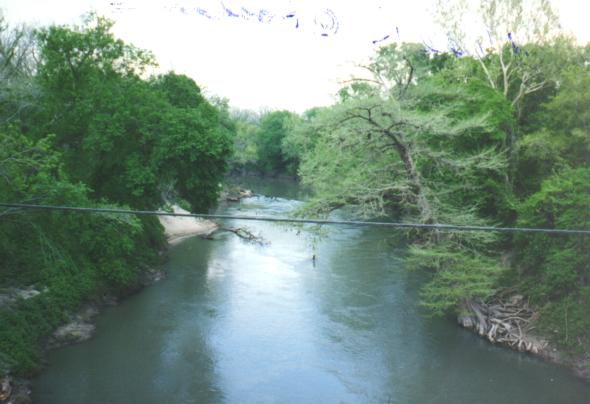 [Click on photo for more]. On the Guadalupe River--The McCoy-Hughes Tract. David Burket and family returned to Gonzales in 1838 and soon after settled south of Gonzales on the Guadalupe River on the Gonzales-DeWitt County lines. As suggested by the land transfer to youngest daughter, Sarah Ann Burket Green, in 1855, they obtained land on the Guadalupe River that was part of the original Jesse McCoy grant near Hochheim, "part in Gonzales county and part in DeWitt county." Jesse McCoy died in the Alamo in Mar 1836. Another transfer record indicates that David Burket bought 555 acres of adjacent land on the Guadalupe River from Graves Fulshear in June 1840 for $1000. The Burket's were neighbors and associates to the Fulshears. Benn Fulshear's land grant was just across the Guadalupe from this property. Graves Fulshear also obtained 700 acres of the original Burket league on the GonzalesCo-LavacaCo line. This Guadalupe River homeplace is likely the one described in Nathan Boone Burkett's memoirs.
A letter from Mary Ann Roseanna Green Rae to a daughter in 1927 relates the scene on the Gonzales-DeWitt County homeplace related to her by her grandmother Mary Ann Zumwalt Burket:
"They settled on the old homeplace on spring branch. They built first a log hut. The first dinner ever eaten on that old homestead, General Henry McCullough called and ate with them. He was on a big white horse. Grandpa killed a wild turkey in the bottom close to the river. Grandmother cooked it on the campfire. Grandmother said 'We have no table yet, sir.' So they turned a washtub upside down and sat the oven in the middle of the tub and went to work. The general said that was the best dinner he had ever eaten."
Cholera and Premature Death--Distribution of the Burket Estate. David Burket's parents John William and Catherine McClure Burket died in 1833 in the cholera epidemic across Texas and northern Mexico in that year in which many settlers and residents of Mexico lost their lives (Empresario Martin DeLeon and the family of James Bowie in Monclava were among them). They are said to have been buried on the Burket grant on the side of a hill with stones for markers. This likely was the Burket labor on Kerr Creek rather than the league out on the Gonzales-LavacaCo border. It is unclear if any members of the family ever lived on the Burket league before the war in 1836. David Burket died suddenly and intestate on 7 Dec 1845 of unknown causes at the age of 42. He is believed to have suffered from a severe wound from an Indian fight throughout his life. Edna, daughter of Tom Jefferson Burkett, son of Isaiah Burkett, who was a son of David Burket, related to relatives that her orphaned father Tom as a boy often stayed with his aunt Sarah Ann Burket and husband Little Berry Green on the 1500-acre Green farm which fronted on the Guadalupe River at Hochheim. Little Berry took Tom fishing on the river many times and pointed out a large tree where his grandfather David Burket was buried. The place was not marked and Little Berry often told Tom to remember that tree. Years later Tom and descendants went often to the river bottom in search of the site, but could not remember the location.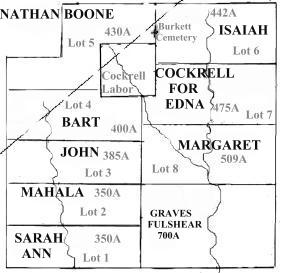 The David Burket League. The Gonzales-Lavaca County line (solid) ran southwest-northeast through the league (north at top) on which was the headwaters of the Lavaca River draining to the southeast. The extended ridge known as the Big Hill area near which nomadic bands of Indians, mostly Comanches, on their way to the coast usually passed prior to the 1840s ran partly through the league causing streams to the northwest including Peach Creek to drain toward the Guadalupe and San Marcos Rivers. Current Moulton is just south of the southeast corner of the league and Old Moulton is just south of Lot 1 deeded to Sarah Ann. The Cockrell labor and 700 acres held by Graves Fulcher were obtained from Burket prior to his death. Arthur Swift performed the survey for the settlement of the estate in 1845. Lots deeded to the Burket children are indicated.
David Burket died unexpectedly on 7 Dec 1845 intestate. Widow Mary Ann Zumwalt Burkett moved remarkably quickly to have the estate appraised and legally partitioned. The estate was comprised of over 3341 acres of the original league plus other holdings from purchase and land certificates. On 11 December, a special session of court was assembled to start the process. The survey, appraisal and 7.5 handwritten pages of the settlement was finished by 21 December 1845 and signed by Mary Ann Burket with her mark since she was unable to write. The commissioners signed on either 21 or 27 December and the document was recorded on 17 February. It is thought that Mary Ann was aided by relatives Adam Zumwalt and close friends of the family Charles Braches and Capt. Augustus H. Jones, the latter of which were county commissioners, in achieving the formalities in such a short time. It is unclear what her motivation for quick settlement was. Perhaps she wished to insure there would be no current or future dissension among her children and in-laws. Family tales indicate problems with Simon Cockrell, husband of oldest daughter Edna. The time just before statehood was a volatile period in regard to land titles in the area and in the Republic of Texas in general. Texas was increasingly being populated by land hungry settlers many of whom were squatters and among both the type and clever unscrupulous residents were those who felt lands deeded under the defeated Mexican government were not necessarily legally valid. The eight lots on the league on the Lavaca-Gonzales County line were divided among the Burket children while Mary Ann reserved "a child's share for herself" as a homestead for her and the minor children over whom she obtained legal guardianship. She partitioned among the children what remained of the original Burket league into 8 parts and retained the 555-acre homestead on the Jesse McCoy and James Hughes headright on the Guadalupe River on the current DeWitt County line for herself (see Graves to Burket transfer of June 1840). A 533 acre land certificate was awarded to David Burket in 1839 for service to the Republic of Texas and was described as on the Guadalupe River and about 21 miles northwest of the city of New Braunfels in current Comal County. The tract was that added to son Nathan's share in the partition described below. In the Federal census of 1850 for DeWitt County,Texas, widow Mary Ann Zumwalt Burket and family are listed: Mary Ann Buget, 45, b. MO; Isaih Buget, 21, farmer b. MO; John Buget, 17, farmer b. TN; Margaret Buget (blind), 13, b. TN; Barthalomew Buget, 12, b. TN; Ann Buget, 10, b. TN. The births listed TN are a misprint, the children were born in TX.
---
The partition of the David Burket league is recorded in Vol F9, pages 1-15 in the Deed Records of GonzalesCo:
To Augustus H. Jones, C. C. Cotton and Chas. Braches, Commissioners appointed at the extra session of December 11th, 1845 by the Hon. Probate Court of Gonzales County, to make partition of the Estate of David Burket, deceased, in the division of the Estate you will divide it in such a manner as to make all my children equally interested with myself, hereby relinquishing the right to one half of the Estate and only take a child's part that I may do with it as I please forever after. Gonzales County Dec 21st 1845 Attest: Chas. Braches, Cullin C. Cotton; Mary Ann (her X mark) Burkett
To the Hon. The Judge of the Probate Court of Gonzales County. The undersigned a majority of the commissioners appointed by your honorable court for the purpose of making a partition of the Estate of David Burkett, deceased, among the several heirs as mentioned in the order for said partition have ordered after having taken into considerationthe particular instructions of Mrs. Mary Ann Burkett relinquishing her claim to one half of the Estate and ony claimng a childs part. To divide the estate as follows.
1st Real Property. The undersigned after having carefully examined the land, lying on the headwaters of the Labaca, being a part of the headright League of David Burket, deceased, and containing according to the late survey hereby annexed only 3,341 acres have found the land and timber of a superior quality from what it had been represented to them at a former period when the undersigned were called upon as appraisers to appraise the land, and in consequence thereof believe that the homestead, the late residence of David Burket, deceased, will form but a fair portion of the Real Estate of said Burket, deed, to wit one-ninth, they have proceeded and divided the remainder of the land, it being as above mentioned 3341 acres, paying due regard to the advantages of good tillable land, timber and water into eight shares, numbering from one to eight with the number of acres annexed to each share as the plot from the County Survey on Page No. 1 more clearly will show the Commissioners have where the land and timber was less valuable than at others made up the deficiency in a greater number of acres and moreover attached to Lot No. 5 the Certificate for one Labor of Land. The undersigned proceeded to the division and allotted to Mrs. Mary Ann Burket the homestead containing 555 acres of land with all Improvements as her share of the Real Estate and drew for the other heirs the following parcels of Land (to wit):
For Simon Cockrell in right of his wife (Edna) Lot No. 7 475 acres
For Nathan Burket Lot 5 430 acres
For Isaiah Burket Lot 6 442 acres
For Mahala Burket Lot 2 350 acres
For John Burket Lot 3 385 acres
For Margaret Burket Lot 8 509 acres
For Bartlet Burket Lot 4 400 acres
For Ann Burket Lot 1 350 acres.
2nd Personal Property
As it was impractical for the Commissioners to make such a division of the livestock such as horses, cattle and hogs as to make it bear equally on all of them, a proportionate amount of stock would be bringing to many different interst into to samll a compass, in short the undersigned family believe that it would contibute to the interest of all parties concerned that the stock should be appraised and set aside to any or more of the heirs who are capbable by Law to take it and become responsible to the other heirs for their proportionate share in money or stock in accordance with the appraisement, Whereupon we appraise the same as following.
17 cows and calves at $8.00 $136
5 cows without calves $5.00 $25.00
two 4 year old steers $8.00 $16.00
three 3 year old steers $6.00 $18.00
thirty two one and two year olds?? $4.00 $128
one yoke of oxen $35 $35
Total Cattle $358
5 head of horses one mare and colt $30
one brown horse $45
one brown mare $45.00
one Dan colt $14.00
Total Horses $134
Hogs 30 head of hogs which are gentle $0.75 $22.50
13 head of hogs not gentle $0.50 $6.50
Total Hogs $29
Total $521
Mrs. Mary Ann Burket by the consent of Simon Cockrell in right of his wife and Nathan Burket the only major heirs, has taken the whole stock amounting to five hundred and twenty one dollars out of which sum she owes to each of the following heirs, to wit, Simon Cockrell in right of his wife, Nathan, Isaiah, Mahala, John, Margaret, Bartlet & Ann Burket, the ninth part viz fifty seven dollars and eighty cents. The Commissioners have further agreed that all kitchen and household furniture together with all tools and farming implements shall not be divided, but be retained by Mrs. Mary Ann Burket free from any charge as all parties share equally in the benefits of them. All of which we respectfully submitted to your honors consideration.
Gonzales County December 21th [or 27th-WLM] 1845 Chas.Braches, Cullin C. Cotton, Commissioners Sworn to & subscribe before me. I. M. Baker, Chief Justice. [Legal and detailed description of the survey by Arthur Swift of the lots is given on five legal size, hand-written pages-WLM] Recorded February 17th, 1846
---
Mary Ann Zumwalt Burkett, Sarah Ann Burkett and Little Berry Green and other Burkett and Green children are buried in the Hochheim Cemetery, Hochheim, DeWitt County, Texas. In 1960, descendants placed a permanent granite memorial to DeWitt Colony pioneers David and Mary Ann Zumwalt Burket. A Texas Highway historical marker stands on Kerr Creek at the site of his labor and homestead near Gonzales.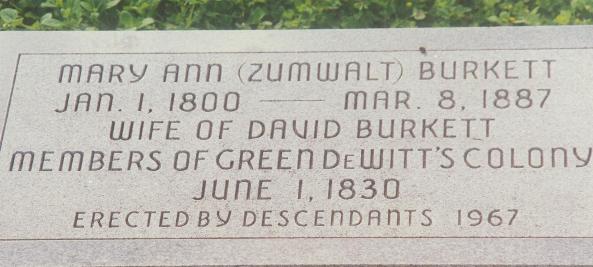 ---
David Burket-Index | DeWitt Colony Expansion | Burket Land Grant
SONS OF DEWITT COLONY TEXAS
� 1997-2008, Wallace L. McKeehan, All Rights Reserved